20 Moms Night Out Ideas You've Never Even Thought Of!
How often do you do a moms night out with your mom friends? I've got some new, fun ideas that'll get you reconnecting and bonding with your girls in no time! Whether you're planning a night away by yourself or you're going away with friends, every mom needs to have a mom's night out. It's hard to figure out what you should do for your moms night out. I mean there's only so many dinner and movie dates that you can do, right?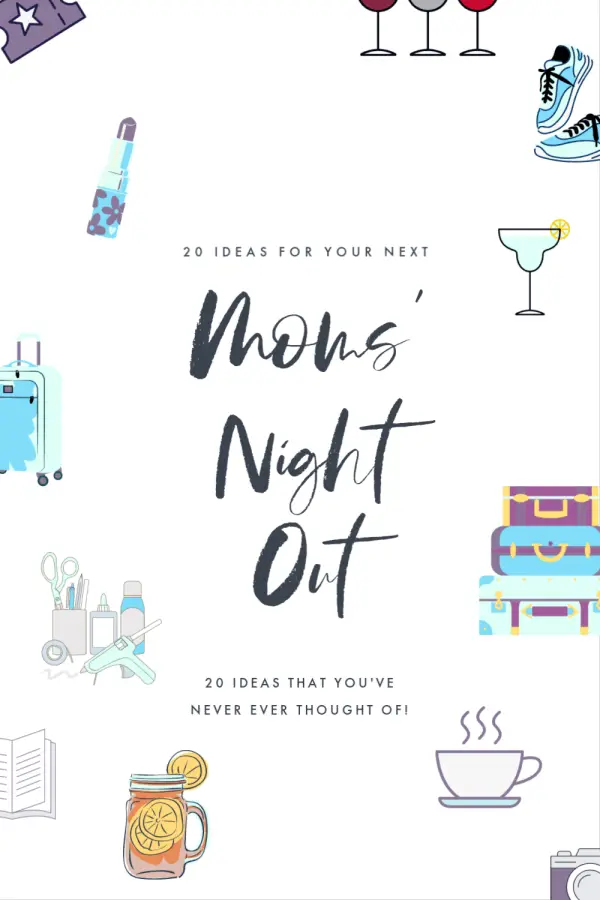 As an Amazon Associate I earn from qualifying purchases.
What is a moms night out?
A mom's night out is exactly what you think it is: a night when a mom goes out with her friends. Now, this could cost a pretty penny with all the lavish fixings and luxuries or it could cost nothing. The beauty of having moms night out is that it can be whatever you want it to be. You can have it be small and intimate or you could invite a large group of moms from an organization together like a MOPS (Mothers of Preschoolers) group.
What should I do for my mom's night out?
It's really up to you and I'll give you a whole list of ideas for your night out later on. Try to think about what each friend would like to do and what your objective is for the evening. Do you want to help build community with a group? Think about doing group activities like an Escape Room or maybe do a high ropes course if you have one that's easily accessible. Do you want to rest and relax? Maybe your night out turns into a day out at the spa or you could create a spa party in your own home. The sky is really the limit when it comes to hanging out with your girlfriends. It's not rocket science so don't stress too much over the planning process. Need some ideas? I've got 20 great ideas for your next moms night out below!
20 Moms Night Out Ideas
We are a participant in the Amazon Services LLC Associates Program, an affiliate advertising program designed to provide a means for us to earn fees by linking to Amazon.com and affiliated sites.
Under $25 Night Out Ideas
A lot of these ideas will either be completely free or will cost a little depending on whether or not you'll need supplies or ingredients. Whether or not it's completely free, the price of a good mom's night out is worth its weight in gold.
Slumber Party – You know like the kinds we used to have when we were kids. If you can, send the kids away, and transform your living room into the best slumber party ever. Rent movies, bring some games from home and have your guests bring a snack to share.
Faux Slumber Party – Can't make it an actual overnight? Kick the family out for the evening and then pretend to have a sleepover. Everyone needs to leave at a somewhat reasonable hour and the kids can still sleep in their own beds.
Viewing Party – Have a show that everyone loves? Why not get together to watch it? If you have it on demand you could choose any time to get together or watch multiple episodes.
TV Show Marathon – A TV show marathon requires more than an evening so make it a getaway and binge watch Gilmore Girls or FRIENDS. Both series are available on most streaming services or maybe you own them from back in the olden days before everyone streamed everything. Oh wait, am I the only one who owns the entire series of both FRIENDS and Gilmore Girls?
Book Club – A monthly book club is a great idea because you can check books out from the library and get together once a month to discuss. Or…just use the book as an excuse to get together anyways and never really discuss them!
Cook a Meal – Maybe you know someone who could use a few meals; use their need as a way to do something good together and bond at the same time or take a cooking class together.
Meal Prep – Plan out a menu for the week and come together to prepare everything. Everyone goes home with their meals prepped and ready to go.
Movie Night – We all know there are some movies that our families have absolutely no desire to watch with us. Why not use this as a reason to get the girls together? Movie popcorn with your favorite concession stand fountain drink and you've got a pretty sweet thing going right there.
Favorite Things – You could really put any kind of limit on this idea but what you'll want to do is have each person bring their favorite thing, one for everyone to bring home. Depending on how many mom friends you invite things could get spendy fast so keep that in mind when you're planning. You could even give a theme to the evening – favorite book, favorite pampering product, etc.
Use these Moms Night In ideas to inspire your next get together.
$25 – $50 Night Out Ideas
Do an overnight in a hotel – A lot of deal sites like Living Social and Groupon have specials for local hotels; book an overnight with two or three of your closest mom friends and split the cost for the overnight. You can go out if you want or just hunker down with some snacks and adult beverages either way, you should be kid free for a good 12 plus hours.
Take an adult class – A lot of places have classes for adults that you can sign up for. Some art studios offer painting classes, craft classes, pottery classes, etc. Get your most artistic friend and take the class together.
Dinner AND a Movie – Why not take that movie idea a step further and plan a night out with dinner either before or after the screening?
Dinner – If you live near a metropolitan area like I do (Minneapolis or St. Paul) access to higher rated restaurants is more readily available. Get a little dolled up and go downtown for a fancy dinner out with the girls. Order fun drinks, get something off of the menu you normally wouldn't order. Experience all of this with a friend.
Take thee to the theater – Go to a performance! This is easier to do if you live near a metropolitan area but even if you don't you can scope out some local performances. Do dinner before or drinks afterwards so you can discuss and chat a bit.
Food Tour – Do a food tour around your city! Try delicious foods throughout your hometown; apps in one restaurant, entree, dessert in different restaurants and then a night cap at a fun bar.
$50 and over
If you want to really up the moms night out idea with your girls maybe it's time to make it a multiple day event. The sky is really the limit on this kind of multi-day moms only excursion. Think big and bold!
Plan a weekend getaway in-state. Some friends and I went to a lovely resort in northern Minnesota called Quarterdeck Resort for a two night stay. It was the best thing for all of us. You can read all about it here on the blog.
Plan a trip to a tropical place! I know a group of moms that took a wellness retreat to Mexico with a company called Fit & Fly Girl. They worked out, had a private chef, personal trainer. If you're into working out it might be the kind of trip you want to do with your fit mom community. Traveling with girlfriends is definitely something that should be on your mom bucket list.
Stay stateside. Don't have the cash for an extravagant vacation? Plan a road trip and stay stateside. Check out my post on all the fun fall festivities that happen in the adorable town of Galena, IL.
Check out this post about a girlfriend getaway in Washington DC. How about visiting St. Simon Island, GA?
Shopping, dinner and drinks – You don't have to have a lavish trip to up your night out with your mom friends. Go out to dinner, shop a little and then have some drinks. You'll spend quality time together and hopefully you'll be able to get some new things for you!
Spa Day – There is nothing like having a short getaway with the girls at a spa. Massages, maybe a pedicure or manicure.
Concert – Whether you're seeing a favorite band from your high school glory days or you're catching the newest up and comer in music, a night out singing and dancing with the girls is sometimes all the doctor ordered.
How many times should I try to do a Moms Night Out?
In my opinion at least four times a year. Ideally, I'd want for you to do it once a month. Connecting with girlfriends is so essential to helping you maintain your identity as a woman. We need that adult conversation; I don't know about you but when I don't have it my brain starts to feel all mushy. Then I feel isolated, lonely and in general just not good at all. Spending time with my friends fills me up and makes me feel like myself again. I can focus on myself and have fun with friends.
Whatever you decide to do for your Moms Night Out it's imperative that you make it happen. You'll have fun and come back feeling refreshed and ready to be the best mom ever.