There's no better time to play dress-up for Halloween than right now and I've got the perfect list of easy Halloween costumes for moms. Whether you love trick or treating with the fam, you're looking to find a Halloween costume for mom and daughter or you have a fun adult party to attend, Halloween is not just for kids! Grab the candy and put on HOCUS POCUS and let's get those creative juices flowing! As an Amazon Associate I earn from qualifying purchases.
As an Amazon Associate I earn from qualifying purchases.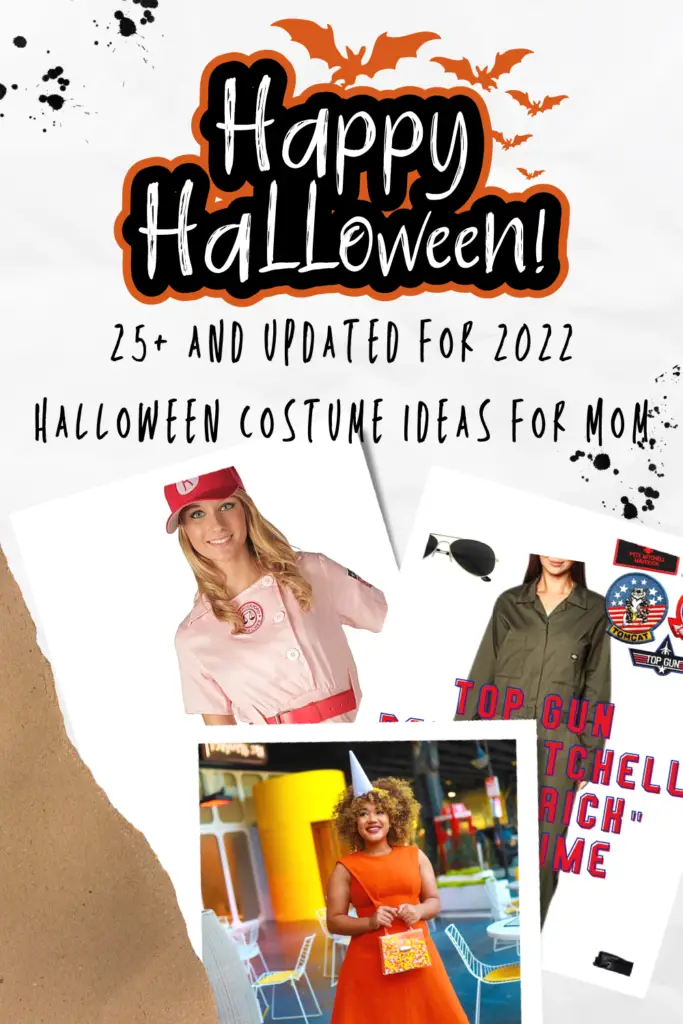 Halloween Costumes for Moms – 25 Ideas that are sure to win any costume contest
I've scoured the interwebs and here's what I've found for fabulous Halloween costumes for moms. They are easy and that means you can totally be as cute as your little trick-or-treaters!
DIY Halloween Costumes for Moms Using Everyday Clothing
If you've discovered Sarah J Maas and her Court of Thorns and Roses series, or any romantasy book involving the fae, you'll get my costume here. Yes, I wasn't a fairy. I was a faerie. The look was so easy to put together. I simply found a maxi dress and some fairy wings on Amazon. Then I got some jewels for my face and liquid eyeliner. I think my favorite part of Halloween is putting together the make-up. Too much fun! You can complete the look with these products that I found on Amazon.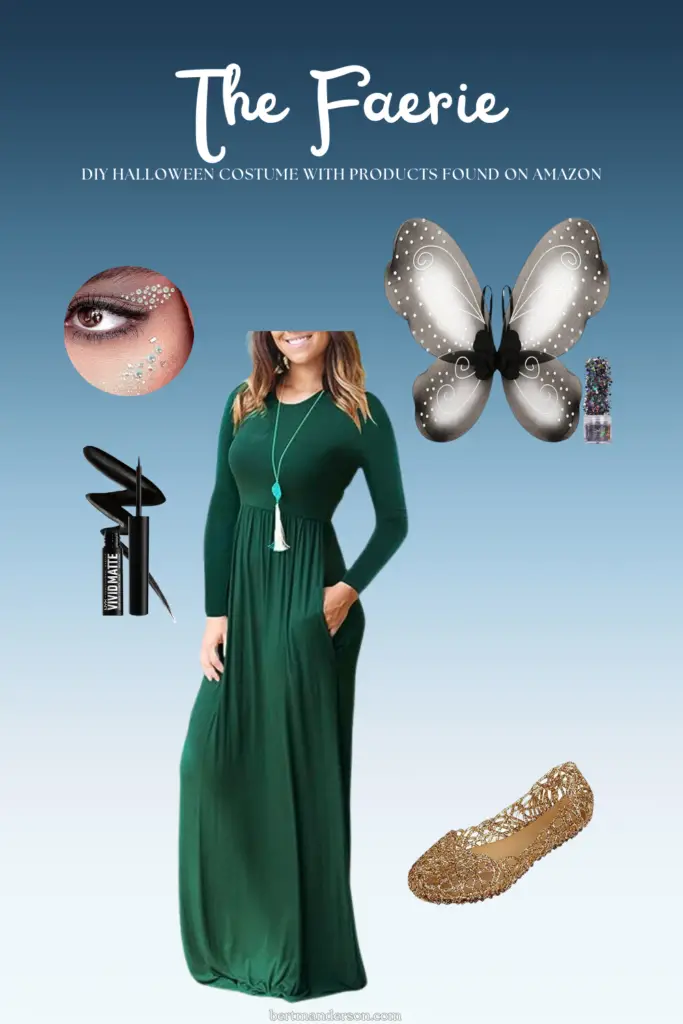 Auselily Long Sleeve Loose Plain Maxi Dress with Pockets (I got it in Dark Green)
Domucos Womens Sandals Flat Jelly Shoes Slip On Hollow Out Loafers – Gold
Funcredible Black Butterfly Wings | Dark Fairy Wings with Chunky Glitter Set – Black
Glitter Sticker for Makeup Stage Show Festivals
NYX PROFESSIONAL MAKEUP Vivid Matte Liquid Liner, Smear-Resistant Eyeliner with Precise Tip – Black
Please invite me to your Halloween party!!! I so want to use this witty Smarty Pants costume for mom! It's new sew and the only cost is a bag of Smarties! Really what you see is what you get with this one but if you want visit the Good Housekeeping website for the tutorial.
How adorable is this basic (but definitely not basic) candy corn costume?! I love the simplicity of this costume as well as the reusable aspect of the different pieces. Check out Color Me Courtney's Food Themed costume DIY post for this one. She is hella talented.
The thing I love about this DIY Vanellope costume from Patty at No-Guilt Disney is that it's comfortable. Patty talks about how this is a Run Disney costume and if you can run in it, you can trick or treat in it! Get the extensive tutorial for the Vanellope costume here.
I love this idea for Halloween costumes for moms from Thrifty NW Mom! You can easily find all of these items and since they don't scream costume you can just wear it the items separately. Click here to get this look.
You can easily find the clothes needed to transform yourself into Nicelander Mary from WRECK IT RALPH 2: RALPH BREAKS THE INTERNET. In fact, make it a family thing and use See Vanessa Craft's tutorials and where she found the supplies for her Nicelander Mary costume. Get the Nicelander Mary costume tips here.
Okay, my girl Patty from My No-Guilt Life is giving me life with this adorable Donald Duck costume she made!! Get the look for this Halloween costume for mom here.
This Orange Bird costume from Sarah in the Suburbs is so easy to do and you can find most of the items in your closet or you can purchase them and then use them again. Get the complete look here.
Try to recreate this look from As the Bunny Hops without eating all of the candy first, that's my challenge to you! I love this because I have little girls at home so really I can re-purpose one of the many fairy wings we have in our home. Get the look here.
Becoming a Disney princess isn't just for little girls! This look from Style on Main is so great. Click here to get this Halloween costume.
Okay this is so simple, so so so simple!! I love it though and if you love Fixer Upper like 99% of America you have to do this costume from Lola Lambchops. Get the instructions here.
This Disgust Halloween costume for mom is inspired by the Disney/Pixar film, INSIDE OUT, not only looks chic but it's easy to create. Visit Life Unadorned for the skinny on how you can recreate this Halloween costume.
This hooded cape looks pretty easy to make on your own, yes, you do have to sew it together but I think I may be able to figure it out and if I can, you can. You can get the instructions here on Fleece Fun.
Some things never die, like that little black dress Audrey Hepburn wore in Breakfast At Tiffany's. Everyone's got an LBD (well, except me, I don't have one anymore) and this look is easy to put together on a whim. Get the look here.
I think this Rosie costume is pure brilliance! Watch the video so you can recreate the look.
Nothing says cute Halloween costume than a nod back to America's sweetheart Lucy from I Love Lucy. Bonus points if you have an Ethel to your Lucy. Get the look over at Living After Midnight.
Is this not the most adorable cost you've seen?! I love how simplistic it is and how pink it is!! Get the full-on tutorial on Dress Cori Lynn
No-Sew/Minimal Crafting and Store Bought Halloween Costumes for Moms
There's something about a fighter pilot uniform isn't there? My dad was in the Air Force, not a pilot, a dentist, I grew up around fighter pilots on base. Here's how you can assemble your own Maverick costume for this year's Halloween. I haven't priced out anything to see if there's a less expensive way to do this though.
With Amazon's new series premiering there's been a resurgence of A League of Their Own merchandise and my family's loving it. I have two softball players and this is my oldest's favorite movie, after all, there's no crying in baseball. Get the look on Amazon.
One year my husband and I got in on the action and dressed up like Luke and Lorelai from The Gilmore Girls. Everything we wore was either something I purchased, or something we owned bringing this costume cost to a whopping $15 for both of us. I purchased the wig from Amazon. As always when  you're purchasing from Amazon, be sure to read the reviews and if the product is coming from overseas make sure that you buy it now. That's also where I bought my husband's blue baseball hat. As for the coffee cozy with Luke's Café on it? I just found a logo online and printed it off onto some cardstock, then I wrapped it around my travel mug. Voila!
My hubby is a hunter and this costume made me laugh so hard! We have a deer head in our basement so this would be an epic costume. For the tutorial visit The Merry Thought.
I am living for this Bob Ross, Happy Little Tree & Squirrel costume from C.R.A.F.T.! I think I might actually do this if I can convince my husband that it's a great idea. Get the DIY on this Halloween costume for mom here.
How adorable are these Care Bear costumes from See Vanessa Craft? They're no-sew and no intimidating to recreate at all, especially if you're like me and crafting is not your thing. Click here to get this look.
I love this no-sew cave woman costume from Sew Much Ado! Get the entire look by clicking here. Take it up a notch and involve the entire family with this creative Halloween costumes for families.
I laughed out loud when I saw this no-sew Halloween costume from Karen at Desert Chica. It's brilliant one of the easier Halloween costumes for moms that I could find and you'll for sure stand out at that PTA Halloween party. Get the look and instructions here.
With the film CHRISTOPHER ROBIN coming out last past summer what better time to pay homage to your favorite honey-loving bear and mine, Winnie the Pooh. This costume is so easy to recreate, visit Moms and Crafters here to see the full tutorial.
Simple and fun. That's how I like to roll so you've gotta love this Mrs. Pacman costume from Costume-Works. Click here to see how to do it yourself.
A no-sew bat costume that's cute and not creepy like a real bat. This is one of easiest Halloween costumes for moms in my opinion and can be found right here on SheKnows.com
I love the Snapchat inspired Halloween costumes on Oh Happy Day! They're no sew and not complicated which makes for a perfect Halloween costume for mom.
Store Bought Ideas for Funny Mom and Baby Halloween Costumes
My friend Rhiana is so creative I mean so so so creative, seriously check out her Instagram. She always has the best Halloween costumes that feature her family and specifically her babies.
We are a participant in the Amazon Services LLC Associates Program, an affiliate advertising program designed to provide a means for us to earn fees by linking to Amazon.com and affiliated sites.
This is one of the more clever bun in the oven costumes that I've seen. You can find it here on Amazon. You can find the Bun Maker costume here.
This particular Halloween Rhiana had just had her second child and what better way to show off her new bundle of joy than by being a Bee Keeper and his Bees!
Like I said, I live in Minnesota and that means there's always a possibility that Halloween will either be snow covered or cold. This Winnie the Pooh family costume idea is great because it's one that will keep you warm and can be easily worn over jackets.
This is my sister and her little girl, she dressed her up as a strawberry and just carried her for Trick or Treating with her oldest. You can complete the costume and go as a pair by dressing up as a gardener with her little strawberry patch. You're best savings is to put the costume together yourself. Look at your local second hand store for items like overalls, plaid shirts, boots, and if you can't find a straw hat, buy this one.
Happy costuming! Have fun and remember to eat all of the Butterfingers from your kids' loot!
More Halloween Content:
All the Spooky Dinners You Could Ever Want: 10 Fun Halloween Dinner Ideas
Disney Pumpkin Carving Ideas with Stencils