Five Reasons a Mall of America® Trip Needs to be on your Travel Bucket List.
As an Amazon Associate I earn from qualifying purchases.
I remember when the Mall of America® (MOA®, as we Minnesotans call it) opened. It was huge, bright and beautiful. The possibilities seemed endless back then and I'm happy to report that that feeling's still present over 25 years later. If you have never visited the MOA this is the year to do it. If you're local to the MOA consider planning a staycation and seeing the tourist side of the MOA. Thank you so much to Radisson Blu and the Mall of America for inviting us to stay with you and experience all the fun you have to offer.
Is the Mall of America the biggest mall in the United States?
As of March 2017, no, the Mall of America is the second biggest mall in the US. The first is the King of Prussia mall in Pennsylvania which is 2.9 million square feet. The Mall of America is 2.5 million-square-foot which means that King of Prussia is 13,958 square feet bigger than the Mall of America. That likely won't hold true as developers are always looking to build something bigger and better.
How many stores are in the Mall of America?
Currently there are 250 stores in the Mall of America and the MOA just went through a major renovation and expansion adding a brand new food court, 50 more stores and a new hotel, the JW Marriot which also connects to the Mall.
Five Reasons a MOA Trip Needs to be on your Travel Bucket List.
The Radisson Blu is connected to MOA! 
If you aren't native to Minnesota seeing how skyways work is really a unique experience and the Radisson Blu at MOA is directly attached to the Mall. Plus, the decor and ambiance is so glam it's hard not to feel like a starlet as you're checking in to your room.
Insider tip: Go to lunch at their restaurant Fire Lake for lunch, especially if you have children and make sure you get the popovers. Splurge on your reservation and try to stay in a suite if you're traveling with kids and also be sure to get in on their continental breakfast. Check out my live video below to see what our room accommodations were like during our stay.
Nickelodeon Universe – The Amusement Park INSIDE the Mall!
The amusement park that's at the center of the MOA is definitely one of its tourist highlights. Boasting 27 rides for little thrill seekers and older ones, mild thrill seekers to dare devils, Nickelodeon Universe has something for everybody. My kids loved the Bubble Guppies ride and that was enough thrill seeking for them. They're overly cautious when it comes to adventuring.
Insider Tip: Every Friday night at 9:30 Universe of Light, from Nickelodeon Universe,
Mall of America® guests will be brought together nightly for an experience that will take visitors on an emotional journey through music and lights. Universe of Light will underscore the unexpected and surprising characteristics of MOA, combined with the fun, playful nature of Nickelodeon Universe. The nine-minute light show is an ongoing attraction for mall visitors. Lights, music and smoke effects will transform the air space into a Technicolor dream that is sure to excite and engage.
Also get ready for character photo opps! Think Disneyland but with your favorite Nickelodeon stars! Also visit on Tuesday mornings and you'll get to experience Toddler Tuesdays.
Get your tickets and plan your trip here!
Hit the greens and play a round of mini golf at Moose Mountain
If you have yet to experience mini golfing with your children, especially if they are three-years-old, you are in for a real treat! I'm not competitive when it comes to golf at all so I just wandered around with Kendall, my six-year-old, and Keira, my three-year-old. The view was fabulous.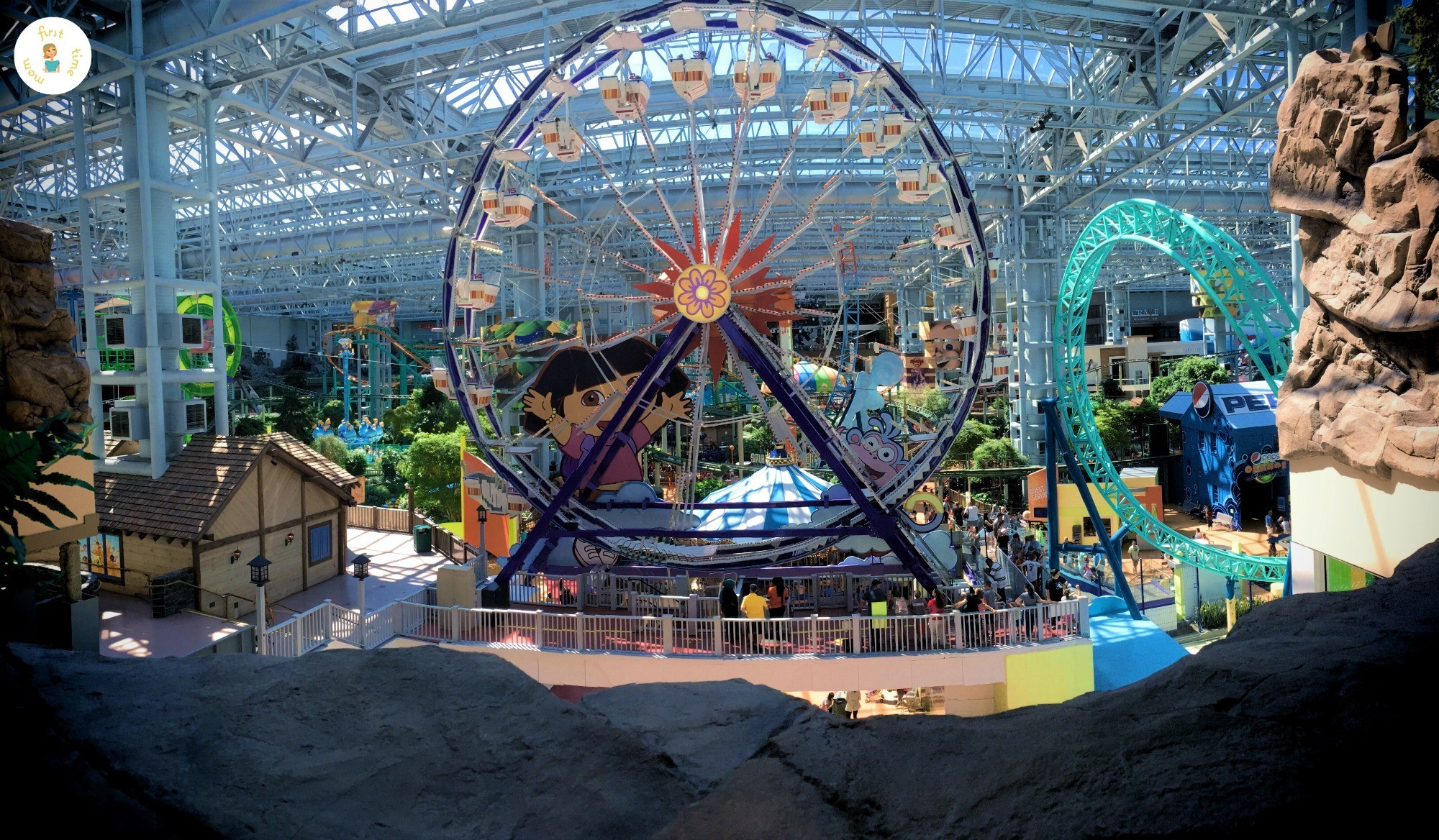 Insider Tip: Plan to go in the morning before there's a line. The waiting area isn't huge and can be a little awkward when you're waiting for the golfers ahead of you are getting started. Also, the newly renovated food court is across the way from Moose Mountain so you can grab some lunch after.
Click here to learn more about Moose Mountain.
Sea Life® Aquarium – An aquarium in a mall!

There's something so magical about Sea Life® Aquarium at the Mall of America. I don't know if it's simply because it's in a mall or because it's always warm and this is Minnesota but I love experiencing it. You could spend half a day at the aquarium so plan for some extra time. Home to thousands of sea creatures, including sharks, sea turtles, rays, jellyfish, seahorses and more, Sea Life is a breath of fresh tropical air during the wintertime or on a rainy day. My favorite exhibit is the jellyfish exhibit. Their aquariums are beautifully lit up with colored lights. They also have a Finding Nemo– esque exhibit and you can pop your head into the middle of that aquarium and feel like you're in Marlin and Nemo's world.
Insider Tip: Be sure to pick up the free activity book. There are stamps that your kids can get while they go through the aquarium and it's really great for older kids who like games.
Check out more about Sea Life of Minnesota here.
For more information about the Mall of America, subscribe to their newsletter or follow them on their social media platforms. And while I wasn't able to experience every single things that MOA has to offer that should just go to show you that it's a very large place with so much to do. You won't be bored and it'll cost less than that family cruise. Just saying.
To learn more visit www.mallofamerica.com or follow them on Facebook, Twitter, and Instagram.