How to get the most out of your Minnesota State Fair experience
It's Minnesota State Fair time! Whether you're going to experience the Great Minnesota Get Together with your family in tow or you're going to have a girls night or date night, I've got the inside scoop on where the family friendly bathrooms are, where you can feeding your infant in a comfy and cool spot, as well as what new foods you can look for. If you're wanting to know how to fit in all of new, must try, state fair food then this is your go-to place! I was given a sneak peek at what the Fair has to offer this year as well as a few helpful tips to help you plan your Minnesota State Fair outing.
As an Amazon Associate I earn from qualifying purchases.
How to get the most out of your Minnesota State Fair experience
2018 Must-Have *New* Foods
Like I said, I was able to get a sneak peek at some of the new foods that are available this year. Of course, there's your usual suspects, bacon, food on a stick and fried foods, however, this year, when it comes to new foods none of those categories is present! Crazy, right?
Pro Tip: If you're trying to find a specific food or vendor use the State Fair app's Food Finder.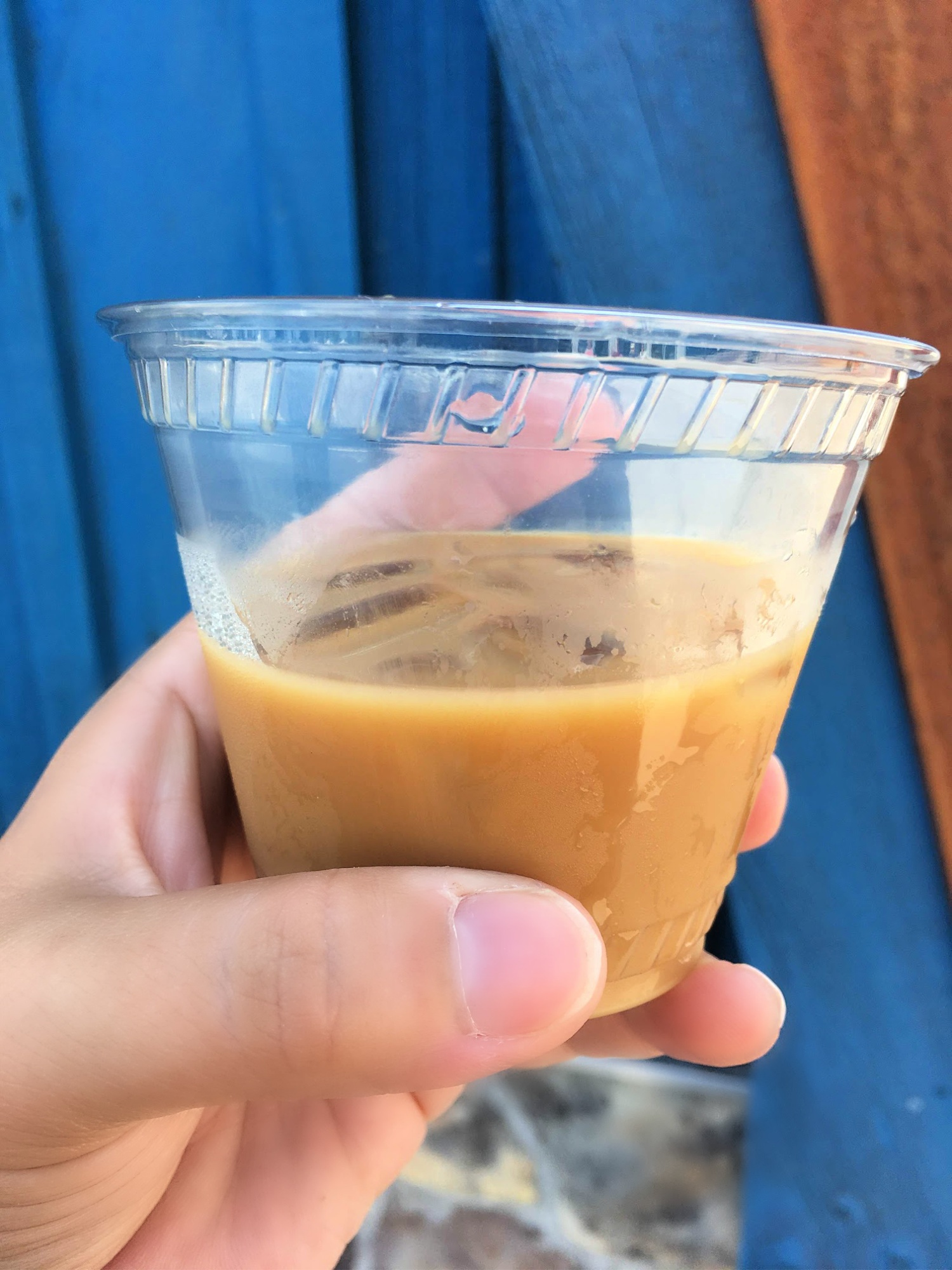 The Anchor Coffee House – Finally a great cup of coffee!
New to the State Fair this year is the Anchor Coffee House. Located outside of Ramberg Music Cafe, you'll find probably the best cup of joe on the State Fair grounds this year. Whether you like it iced or hot, with cream or without, you're going to love this coffee for its rich flavor and smooth feeling.
BBQ Split from Midtown Global Market's Mama D's
My mouth is watering right now remembering what this tasted like. The Midtown Global Market is doing something different this year, the first six days of the fair Taco Cat will be serving their tasty tacos, especially their General Tso Chicken Tacos. The second six days of the Fair, Mama D's will be serving up their southern inspired dishes like the BBQ Split, which is what I got to try and am currently craving, at the preview. Mama D's also has a really yummy gluten-free mac-n-cheese, and sweet tea to wash it all down.
Sweetie Cakes
Choose from black forest cake, birthday cake, or chocolate peanut butter cake. It's all baked in a cup and packed with Sassy Pecan toffee bits and served warm, topped with real whipping cream and real toffee bits; that's what you get when you taste Sweetie Cakes. If you are allergic to tree nuts, like pecans, I'd suggest asking if they have a nut-free version. This would pair perfectly with some coffee from The Anchor Coffee House.
UpNorth Puff Pasty
From the mother-daughter team of Sausage Sister & Me, the Puff Pasty is made with Porketta sausage, cheese curds, coarse grain mustard and chopped dill pickle baked in a puffy crust sprinkled with pepper and sea salt. It's really warm and definitely hits that comfort food spot in your belly.
Bananas Foster French Toast
An old, State Fair mainstay, the Hamline Church Dining Hall, is bringing a new dish to their menu. Featuring cinnamon swirl French toast topped with slices of fresh bananas in an orange-rum-flavored caramel sauce and finished with a dollop of whipped cream. The Hamline Church Dining Hall has been serving meals at the Minnesota State Fair since 1897.
Find the Baby-friendly Restrooms and myTalk's Lactation Station at the MN State Fair 
The MN State Fair has a great interactive map that allows you to zoom in on any section of the fairgrounds so you can see it in greater detail. You never know when duty is going to call; maybe it's a major diaper blowout or a baby-needs-to-eat NOW emergency. Local talk radio station myTalk is bringing back their super helpful Lactation Station and I cannot emphasize the importance it is for you to utilize their space if you have an infant. The Lactation Station provides a nice and comfortable place for mothers to feed their babies. There are comfy gliders as well as breastfeeding support pillows and cozy changing tables. I'm telling you, knowing that the Lactation Station was at the State Fair was my saving grace when I attended the Fair with my two month old in 2011. myTalk is located on Underwood Street SOUTH of Randall Avenue. Click here to print the below map.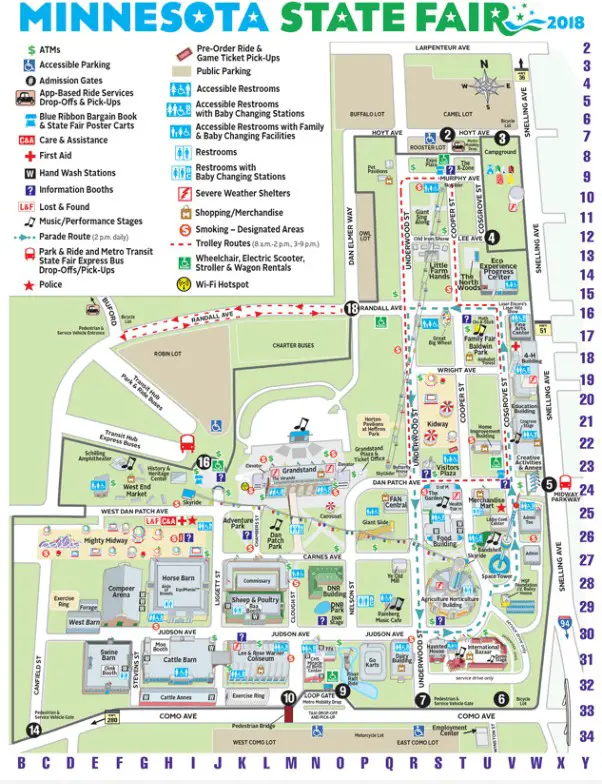 If you have a smartphone download the Minnesota State Fair App! 
Getting the most bang for your time is key when you visit the Fair with an infant. You can't wander aimlessly around searching for that delicious Salted Caramel Puff malt or sundae from the Dairy Goodness Bar (ahem…it's located in the Dairy Barn) while you're on the clock with your family in tow. Before you visit the Fair download the State Fair App. On the app you'll find helpful tools like Food Finder, Merch Finder and Fun Finder all for FREE. Once you're at the Fair you can display results from the Food Finder or Merch Finder two different ways: proximity based search results or alphabetical order by clicking on the Food Finder icon (fork and knife) or the Merch Finder (shopping). The app is available for download on the App Store or Google Play store.
Side Note: If you are experiencing difficulty with the State Fair App on an iPhone with iOS8 or higher installed, turning location services on should resolve issues. Go to Settings>Privacy>Location Services, then locate the icon for the MSF app and turn on.
What days are the least busy at the Minnesota State Fair?
Planning a trip to the Fair is all about understanding that there will be crowds. They don't call it the Great MN Get Together for nothing. The Minnesota State Fair is world renown for its food, vendors, and exhibits; it's going to be hot and there will be lines. Once you can wrap your brain around that idea you'll be able to enjoy the Fair. If you want to know what days are the least crowded I've got that information for you. In 2017, the busiest weekend was Labor Day weekend, the last weekend of the Fair, with approximately 684,256 people attending the State Fair. The least attended day was opening day (which is always a Thursday) and Wednesday. Some private and charter schools have started so attendance is low because of that and obviously it's a work day so people have to request time off to attend. To see more statistics click here.
How to do the Minnesota State Fair if you're gluten-free, dairy-free, or have other dietary restrictions?
If you have a gluten allergy check out the interactive map sponsored by Twin Cities ROCK.
If you have food allergies simply ask the vendor before you purchase their food. Most vendors have allergy warnings on their stand, however, this isn't a requirement of them so it's always safer for you to ask if you aren't sure.
State fair attendees are allowed to bring in food and non-alcoholic beverages (WATER, bring your own water!). Your bags and coolers will be searched when you enter and again, alcohol is not allowed to be brought in. Sure you can buy it and there are a lot of new craft beers to try out this year, but it's not a BYOB situation.
Where do I buy tickets for the Minnesota State Fair?
You can purchase your tickets early online (click here), at the State Fairgrounds Ticket Office, or by calling 800-514-3849. Presale tickets are $11 up until opening day on 8/23/18. There are several discount days; you can find out about those dates here. Children 5-years-old and under are always free.
Don't forget to get your Blue Ribbon Bargain Book for more savings inside the State Fair.