Our Recent Family Photos with LOULOU Photography
I received product in exchange for this review. The thoughts and opinions are 100% my own.
There's a new photographer in Rogers, Minnesota, and let me tell you, you need to book your session with her, like…yesterday.
As an Amazon Associate I earn from qualifying purchases.
Andrea Olson, wife and mother of two, isn't your typical "I have a good camera so I'm going to be a photographer" entrepreneur. She comes with experience and an artist's eye for design. Starting out as a wedding photographer with a large professional company, Olson starting taking risks in her photography and eventually was asked to be lead on a wedding shoot. Olson shared with me how she felt having that first job,
I took a leap of faith because for so long people would tell me to get into the wedding business, that people would hire me! I was scared, scared that I would do something wrong, or something bad would happen to my camera.  That is a day you can't get back, everything was so permanent.  No retakes.  The idea of that was [frightening].  I took the job with the confidence that they would teach me, and never leave me alone until I felt confident.  Well after my first wedding I thought to myself, Silly girl, YOU got this!! I continued to shoot weddings and finally made it to a lead shooting position.
While she's trained to do wedding photography she says that kids and families are a favorite for her and she thinks of those sessions as a hobby, she's actually been shooting children and families for years as a hobby. That's the kind of person you want to capture your family: the person who genuinely enjoys it. Why? Because when we had our session with Olson the kids were anything but excited for taking family photos.
The Boy, my oldest, wanted to play with a friend who was not invited to our session. Pippy, my oldest girl, was just excited that her big brother was home from school so she couldn't wait to get back to playing. And Missy, the littlest, is really into that stranger danger phase most 18-month-olds go through so she was anything but happy to have her picture taken by some stranger. I was ready to give up. Ready to throw in the towel and just call it a day. That's where Olson shines: She's able to give direction to all of us, putting us parents at ease and works so well getting the kids to relax and have fun. Most importantly, she's creative enough and pays attention to detail in such a way that she's able to go with the flow to capture awesome images. She quickly figured out that while Missy wouldn't have anything to do with her, she'd willing show off her new walking skills by walking to her daddy. The Boy was interested in a kid-sized wheelbarrow prop so in between shots Olson promised that the older two could play with it; they just needed to listen to her and smile.
Here are a few of my favorite images.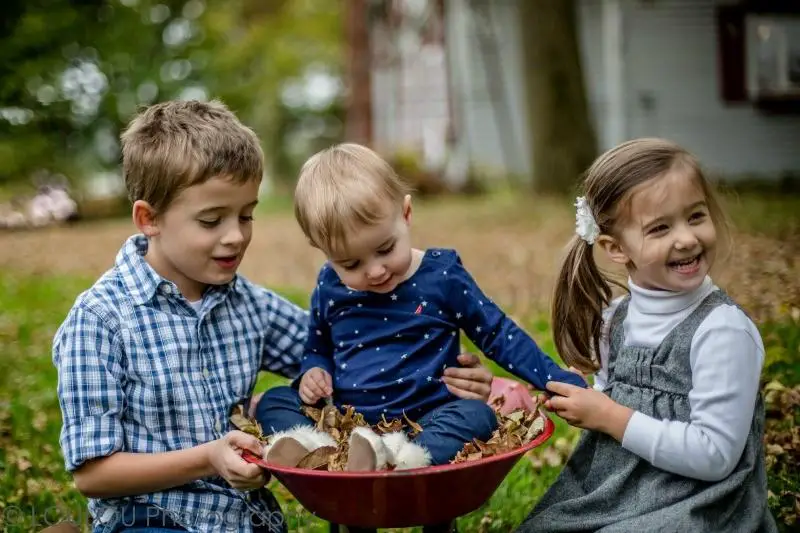 I love all of the photos she sent to me! I feel like waving my hands enthusiastically yelling, "PRINT ALL THE PHOTOS!!!!!!" As you can see her style is very candid with some posed shots because let's be honest, we do want some family pictures after all. When I asked her what her process was when preparing for a shoot she responded,
When a client asks me to capture their memories of their family, I find out what ages of the family members, talk to them about what kind of feeling they are looking to get from the shoot and possibly what their favorite backdrops are.  I plan a location, select some props if any and head for the shoot.  I do have a lot of poses in my head that I shuffle through but you really have to get a feel for the dynamics of the family.  Are the kids young? Do they follow direction well? For the most part you just have to go with the flow at that point.  I think the best pics are taken in people's natural element. They laugh more, interact more, and genuinely have more fun.  With that many more great moments are captured and people don't just endure an hour of saying "CHEESE."
And the name, LOULOU Photography? Well, there's a story behind that,
I started thinking about my life and the people who have helped shape me into the person I am.  My mom is amazing, she means the world to me, but also there was my grandmother…. my second mom. She helped raise me and had a huge impact on who I am today.  She was a women full of strength and admiration.  She had 6 children, 5 boys and 1 girl (being my mom). I think it takes a superwoman to have successfully raised all those boys as well as one independent woman!  I spent every week with her up until the day she passed (which was far too soon, she was only 72). I called her just about every week.  I won't go into details of my life but just know that she is a huge part of who I am today.  Her name is Mary Lou Hawkinson.  We called her Grandma LOU LOU.
Need family photos? Upcoming wedding or special life event that needs to be captured? I can't recommend a better photographer than LOULOU Photography. She located in Rogers, MN, but is willing to travel.