Special thanks to Disney for providing travel and accommodations on this press trip to Disneyland and California Adventure.
While I was at Disneyland for the CARS 3 world premiere and press junket I had the opportunity to hang out at California Adventure. More specifically, I had the opportunity to go on the new Guardians of the Galaxy Mission: BREAKOUT ride. Oh my goodness. It was SO MUCH FUN!!! Terrifying? Perhaps. Stomach drops? Most definitely. Thrilling? You betcha!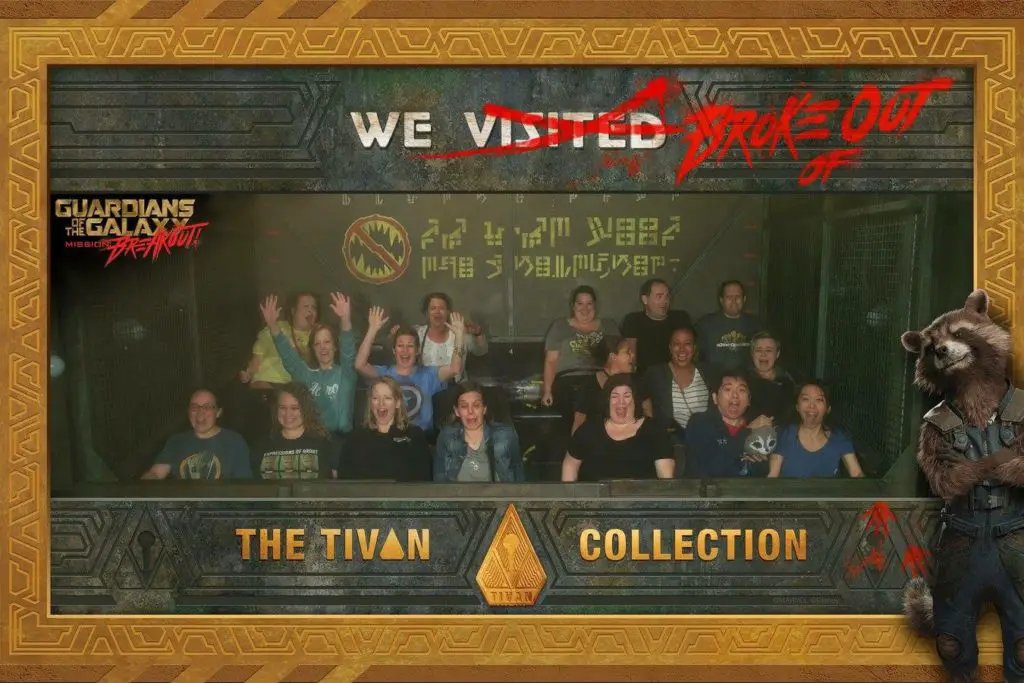 That photo above was from the ride and as you can see every person in the picture is either thoroughly enjoying themselves or horrified and wanting to go home. It's everything you'd want from a thrill-seeker's ride.
I'm not going to lie to you, the line to get the Fast Pass for Guardians is long and it typically fills up towards the middle of the day so if you're going to be at the park in the morning, just get the Fast Pass. That should be the first thing that you do. If you are with other people maybe send them out to enjoy themselves and then have one person from your party stand in the line. And believe me, you want to stand in the line. This is worth it. 100% worth it. Disneyland Resort says,
Guardians of the Galaxy – Mission: BREAKOUT! entices guests with an original storyline based on "Guardians of the Galaxy" films, comics and animated television series, with a rapid rise into chaotic adventure and surprising visuals. The fast-paced action rocks to the beat of music inspired by the films' soundtracks, including classic rock and pop music from the '60s, '70s and early '80s. And with multiple ride profiles, guests never know which adventure they'll get.
There are six different songs and that means that guests could potentially get a different experience each time they ride. The songs are:
"Hit Me With Your Best Shot" by Pat Benatar

"Give Up The Funk" by Parliament

"Born To Be Wild" by Steppenwolf

"I Want You Back" by The Jackson 5

"Free Ride" by The Edgar Winter Group

"Burning Love" by Elvis Presley
When I went on the ride our song was "Give Up The Funk".
Now, you may be familiar with how the ride looks. See it? It used to be The Twilight Zone's Tower of Terror but let's be honest, that needed an uplift and what better time to do that than during the park's Summer of Heroes event. Beginning May 27, 2017, special entertainment and limited-time experiences will thrill guests of all ages as some favorite Super Hero stories come to life in Hollywood Land. There are tons of fun special events happening in the park as well as yummy food! My pal Sarah over at Savoring the Good put together this awesome video featuring some of the featured Summer of Heroes food that's available, you may even catch a glimpse of moi shoveling that Spider Bite donut in my face.
Some of those special appearances and entertainment that happen daily are:
"Guardians of the Galaxy: Awesome Dance Off!"
Heroic Encounters with Spider-Man and Captain America in Hollywood Land
Avengers Training Initiative – Throughout the day, young guests will participate in this daring adventure on the Hollywood Backlot, to see if they have what it takes to become "Earth's Mightiest Heroes."
Heroic Encounter with Black Widow – When not training new recruits, the heroine Black Widow canvasses the Hollywood Back Lot, interacting with guests and civilians in a black armored vehicle, known as the Avengers Armored Transport.
There's also the new "Disney Junior Dance Party!" This is a high-energy, live concert that features interactive entertainment, some favorite songs from Disney Junior TV shows and appearances by beloved characters. I didn't get a chance to see the show but the line was super long to get in so that usually means it's a good one. I was able to meet my kids favorite toy doctor while I was wandering the streets of Hollywood Land.
The question is: Would I make a special trip to Disneyland to go to California Adventure's Summer of Heroes? It really depends on where I lived and if I was willing to also spend time in Disneyland. The parks are across from each other but you can purchase a park hopper pass that will give you access to both Disneyland and California Adventure. Honestly, I would plan a trip and do Disneyland and California Adventure. If you're new to travel and Disney and if you have young children I think that the size of both parks is very doable for little legs and short attention spans. There's also so much for adults to do that it's well worth your money. And if you go there this summer do me a favor will ya? Eat a Spider Bite for me, I'm still dreaming about that amazing doughnut.
Helpful Links:
https://disneyland.disney.go.com/vacation-packages/
Remember to use the hashtag #SummerOfHeroes to keep up with all of the action this summer.
As the creator of the lifestyle blog Me Before Mom, Bert supports millennial moms facing the challenges and changes of motherhood. Me Before Mom is an online community that offers support through real life stories, encouraging advice, and answers to questions about how a woman maintains herself during this self-sacrificial time of parenthood. Stories from Bert Anderson have helped women across the globe through the Huffington Post, Today's Parent, and on the Harry show. Whether weathering the first year of motherhood or walking through the later stages of motherhood, Bert has helped many continue to find herself while still in the throes of motherhood.