What you didn't see on HARRY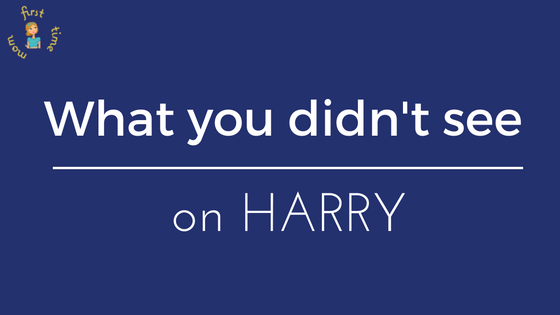 As an Amazon Associate I earn from qualifying purchases.
Television is amazing. Really it is, everything that goes into a production is mind boggling. So many people work on one show and to be honest, I had no clue what all went into creating the kind of segments similar to the one I was in on HARRY. In all, that day the crew, as well as Harry Connick Jr., was at my house until about 12:30pm. The first film crew arrived at the house at 7:00am. I was under the impression that this was just like a trial run to see how my family and I did on camera. I've received a lot of questions about if I was really that surprised when I opened the door and saw Harry. Yes, I was truly surprised because I honestly thought there were a few other families they were also looking at.
Part of the story that didn't make it onto the cutting room floor was that I was going to the spa with my dear friend Crunchy Shannon. Shannon and I had been trying to get together and see each other for months. We both have kids who are the same age and due to schedules and it being tax season we just could not make it happen. When Harry told me that I was going to be going to a spa he said that I was going to the spa with Shannon. Tax season is such a lonely time of year for me and I'm an extrovert. When I'm not surrounded by people it's honestly draining; I feel alive and energized when I'm with a group of people.
The other part that wasn't shown at all was the show found an entertainment company A Touch of Magic to come to my youngest's birthday party that we were having the next day. She's the baby of the family and I admit she is spoiled, some of her milestones are often overshadowed. I'm not a party planner by nature. I think up ideas of how I want for an event to go but truth be told my husband is the one who pulls it off. I just don't think about the details and I'm not organized. The producers basically planned my youngest's birthday party and believe me, what they created for her was far better than anything I could have come up with.
Lori from Touch of Magic was there, she's the entertainer the company recommends for parties where really little children are the guest of honor. The day that Harry and his crew were at our house there was an actual clown there from Touch of Magic (actually he's Lori's husband). Keira just could not get over the clown makeup; she literally would not go near him. She was still shy around Lori but at least she didn't cry every time Lori looked in her general direction. The older kids adored Lori, Keira's two-years-old and has, um, opinions.
Lori is incredibly talented when it comes to face painting and I have to say that was the big hit with all of the kids.
Face painting for everyone!!!
What meant so much to me during filming was how much Harry, the Stangel brothers, and the producers genuinely cared for my family. I'm certain that this genuine respect is there for all of the families whose lives they're entering interrupting (positively interrupting). They proceeded with caution and were so respectful of the kids and what they were comfortable with. For example, Keira is rather shy and rather than forcing her to be on camera they just let her be.
Common questions I've had since the show aired:
Were you really that surprised? Yes, they producers had told me a back story. I had a film crew in my house but I thought we were auditioning and hopefully we'd get onto the show.
Did you really leave or were you just in the background? Yes, I really left for a few hours with my friend, Shannon. My husband was there behind the scenes kind of doing his own thing, not really paying all that much attention. It's a bummer too because I want to hang out with Harry!
Was your daughter acting or is that show she is? She really had no clue who Harry was. Admittedly ,while I'm a fan of HCJ, my kids haven't seen Dolphin Tale. Oddly enough my favorite Christmas album is his album from when I was in high school. Yeah, the kids broke that in half last Christmas. Thanks, kids! She's truly infatuated with Harry and she had a blast with him. I think she really thought she was going to see more of him when we were in New York.
What did she whisper in his ear? She was asking him when he was going to invite her to his house. Yeah, she's five-years-old and just says whatever she thinks.
How long was the crew at your house? All morning long.
How did they find you? Did you apply? I have been told they did a Google search and found my blog, then they did a little research on me from my social networking platforms and the rest is history!
Is Harry really nice in person? Does he really look good in real life? Yes, what you see on TV and in interviews is who he is. It's not an act. He is that good looking in real life and he smells good too!
Stay tuned for more updates since Wyndham Rewards graciously gifted us a vacation to the Dominican Republic! Special thanks to Touch of Magic Entertainment and Gigi's Salon.
Click here to see where HARRY airs in your local area. Follow HARRY on social media for all of the fun:
Hashtag – #HarryTV