I went to Mickey's Not So Scary Halloween Party and I didn't bring my kids.

I recently visited Walt Disney World's Mickey's Not So Scary Halloween Party as part of a hosted event during my participation at the We Grow Retreat 2019. All opinions are my own.
I went to Mickey's Not So Scary Halloween Party and I didn't bring my kids! I know, I know but Disney is for grown-ups as much as it is for kids and man I had a blast with my mom friends. There were so many clever Halloween costumes and Disney pumpkins that I left wanting to decorate my house in NIGHTMARE BEFORE CHRISTMAS and HOCUS POCUS decor. I think that the next time I attend Mickey's Not So Scary, I'm bringing my girlfriends and we're going to make a mom's night out of it!
As an Amazon Associate I earn from qualifying purchases.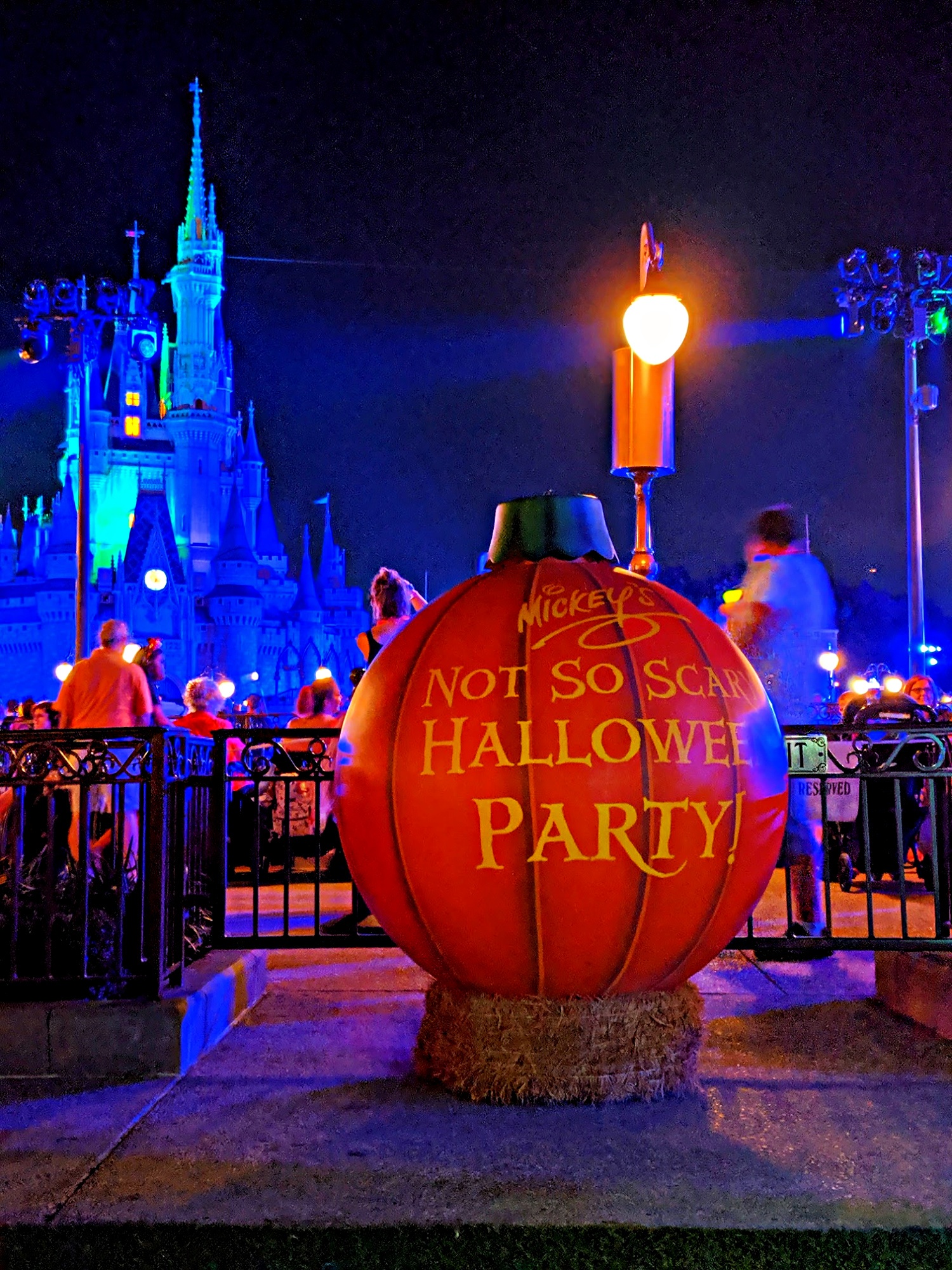 How early can you get into Mickey's Not So Scary Halloween?
The official party starts at 7:00pm but you can enter Magic Kingdom as early as 4:00pm, dressed in costume (something that is not allowed during regular Disney days). The benefit of going to the party early is that you can spend as much time in the Magic Kingdom as you want and trust me, you're going to want to have all the time in the world. You can stay in the park until midnight as long as you have the Mickey's Not So Scary band around your wrist.
Mickey's Not-So-Scary Halloween Party 2019 Dates:
August 16, 20, 23, 27, 30
September 2, 6, 8, 10, 13, 15, 17, 20, 22, 24, 27, 29
October 1, 3, 4, 6, 8, 10, 11, 14, 15, 17, 18, 20, 21, 24, 25, 27, 29, 31
November 1
You can purchase tickets here.
What characters are at Mickey's Not So Scary?
The usual gang is at the party, Mickey, Minnie, Donald, Daisy, Goofy, etc. I could go on and on. The difference between a regular day at Disney World and the seasonal Mickey's Not So Scary Halloween Party is that the characters are dressed up in costumes. Plus, the villains, oh the villains are there and they are a hoot! Everyone loves to hate a Disney villain, they represent all those characters that we despise, it's nice to have a face to kind of direct our disdain to, you know? The Sanderson Sisters from HOCUS POCUS as well as Jack Skellington and Oogie Boogie are out in full force and there's even a special show featuring our favorite villains with the Sanderson Sisters.
You can do meet and greets with characters such as Jack Skellington and Sally during the party. This is the only time you can get a picture with them and yes, you'll have to wait in line for that one. You can find them at the Town Square Theater.
Does Mickey's Not So Scary Halloween sell out?
Yes, it does. Most seasonal Disney events are popular and quickly sell out. The closer you get to Halloween the more crowded the park is and the more likely it is that you won't be able to get tickets. I attended the Halloween event in September and while the park was crowded, especially during the daytime hours, things really cleared out after 7:00pm when the official party was starting. If you want to save money on attending the party purchase your tickets ahead of time, you'll get $10 off, plus, you won't run the risk of getting to the ticketing counter and not being able to get a ticket.
What rides are open during Mickey's Not So Scary Halloween Party?
During the party FastPass+ is not available but this isn't a problem because the park attendees are less. I think the longest we waited in line was 35 minutes for Space Mountain. Bonus too going without kids is you don't have to listen to the whiny, "When's it our turn? I'm bored."
All of the rides are open during the party and a few of them have special ghoulish twists on them! From Walt Disney World's website,
Space Mountain: Rocket through this popular attraction in complete darkness to the riffs and chords of a new Halloween-inspired soundtrack.
Pirates of the Caribbean: Set sail for the high seas and discover a crew of live pirates engaged in a whole new adventure doing what pirates do best: search for treasure!
Mad Tea Party: Spin yourself into a frenzy as special lighting and music effects enhance the fur-raising experience!
NEW! Monsters Inc. Laugh Floor: Follow a treat trail from our Human World into the Monster World and interact with a comic cast of monsters eager to learn about this holiday we call Halloween.
Are there FastPass+ passes for Mickey's Not So Scary Halloween?
No, there are no FastPass+ passes available during the actual Halloween party.
Is Mickey's Halloween Party worth it?
Do you need air to breathe? Just kidding, but not really kidding. Yes, I had a blast during the Halloween Party! From the Boo-to-You Parade to the Not-So-Spooky Spectacular fireworks show, the trick or treating opportunities along with the reasonable lines, this is definitely one event I want my family to experience.
To get the most out of your spooky experience here's what I suggest:
During the Boo-To-You parade, watch it from Pecos Bill Tall Tale Inn and Cafe. Get there early and grab a seat, then get some grub and rest and refuel during the parade.
Watch the Not-So-Spooky Spectacular show from a place called Hub Grass. Look at the map on the Disney World site, find the castle then locate the center court where the Walt Disney and Mickey statue is. See the little squares of grass surrounding the court? Sit in one of those. We had a great view of the show.
Right after the fireworks head on up to the castle stage and watch Hocus Pocus Villain Spelltacular. It's a really fun show with all of your favorite villains and the gals from Hocus Pocus, which is one of my favorite Halloween movies.
Can adults wear costumes to Mickey's Halloween party?
Yes, however, there are some parameters. According to their website, Disney has these specific rules:
Disney reserves the right to deny admission to or remove any person wearing attire that is considered inappropriate or could detract from the experience of other Guests.
All Guests may dress as their favorite character, but may not pose for pictures or sign autographs for other Guests.
Costumes must be family-friendly and may not be obstructive, offensive, objectionable or violent.
Costumes may not contain any weapons that resemble or could easily be mistaken for an actual weapon.
Costumes may not contain sharp objects, pointed objects or materials that may accidentally strike another Guest.
Guests who do not adhere to these guidelines may be refused entry into, and/or removed from, the park unless his or her costume can be modified to meet the above standards.
Layered costumes or costume props that surround the entire body are strongly discouraged and may be subject to additional security screening.
Costumes may not reach or drag on the ground. (e.g., full-length Princess dresses)
Capes may be worn if the length does not go below the waist.
Themed T-shirts, blouses, sweatshirts and hats are acceptable.
Acceptable accessories include: transparent wings, plastic light sabers, toy swords and tutus. Headwear may be worn as long as it does not cover the face.
Masks of any kind may not be worn.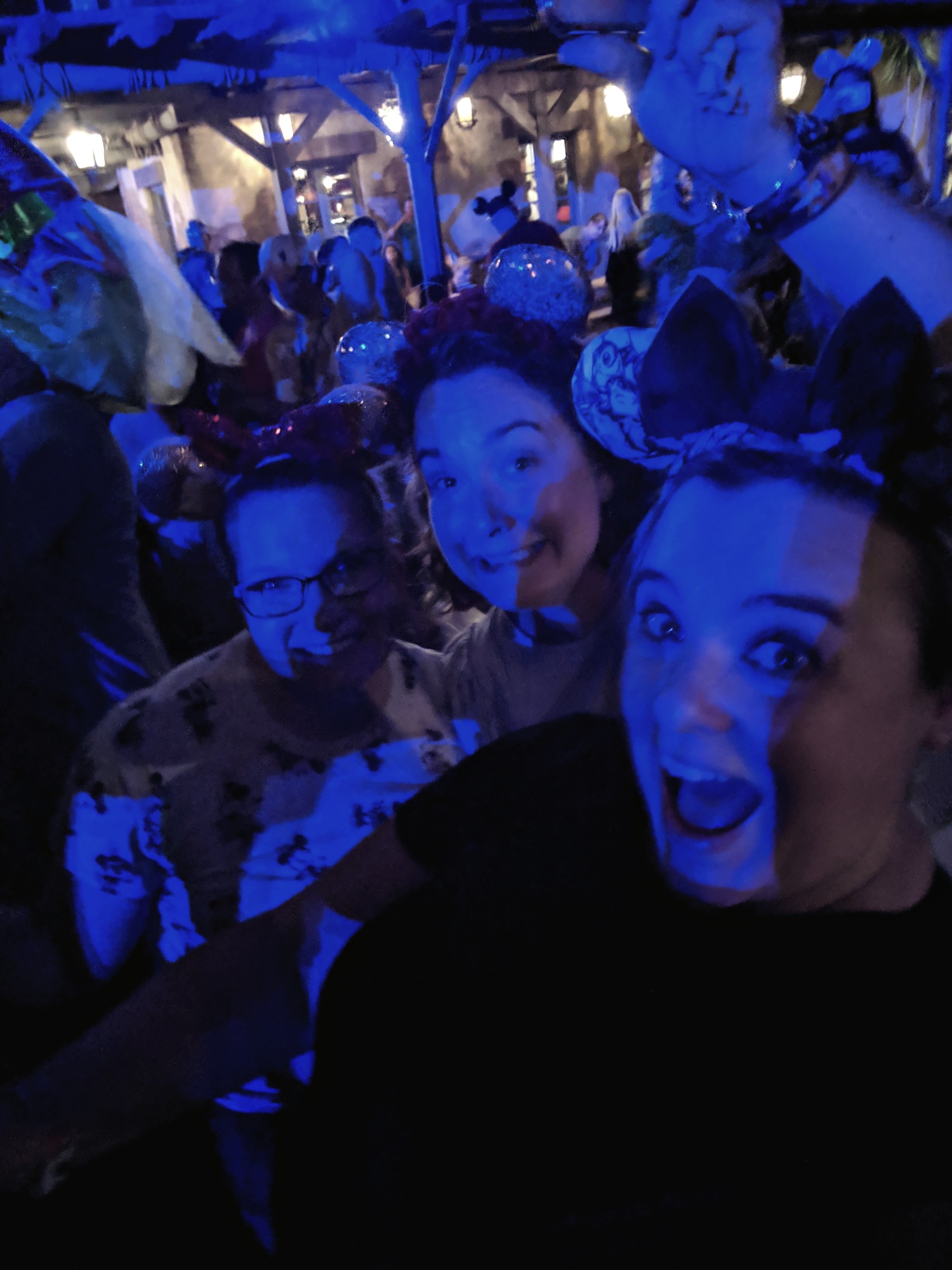 Is food included in Mickey's Not So Scary Halloween Party?
No, you are given a bag to go trick-or-treating in the park but food is not included in your ticket price.
Planning a trip to Disney? Check out these posts.
MICKEY'S NOT-SO-SCARY HALLOWEEN PARTY WITH TEENS: 5 MUST-DOS
Staying at a Disney Springs Hotel
Star Wars Galactic Spectacular Dessert Party