BORED Free Printable: How to cure the summer break "I'm bored" virus

As an Amazon Associate I earn from qualifying purchases.
Perhaps you've seen this idea all over Facebook like I have or maybe you haven't seen it. Either way it's a great idea and definitely one that most us of parents need during the summer. Becky, the blogger from I Lift Heavy Things, did a post before last summer on her ideas to curve the "I'm bored"s that would inevitably come once the long, beautiful and leisurely days of summer came. I love this BORED acronym that she's set up. It's a set of questions that her kids need to answer before they can any kind of screen time.
I don't have the time or patience to put together a poster board the way Becky did, plus I don't like my handwriting, so I created a printable that we've hung on our fridge.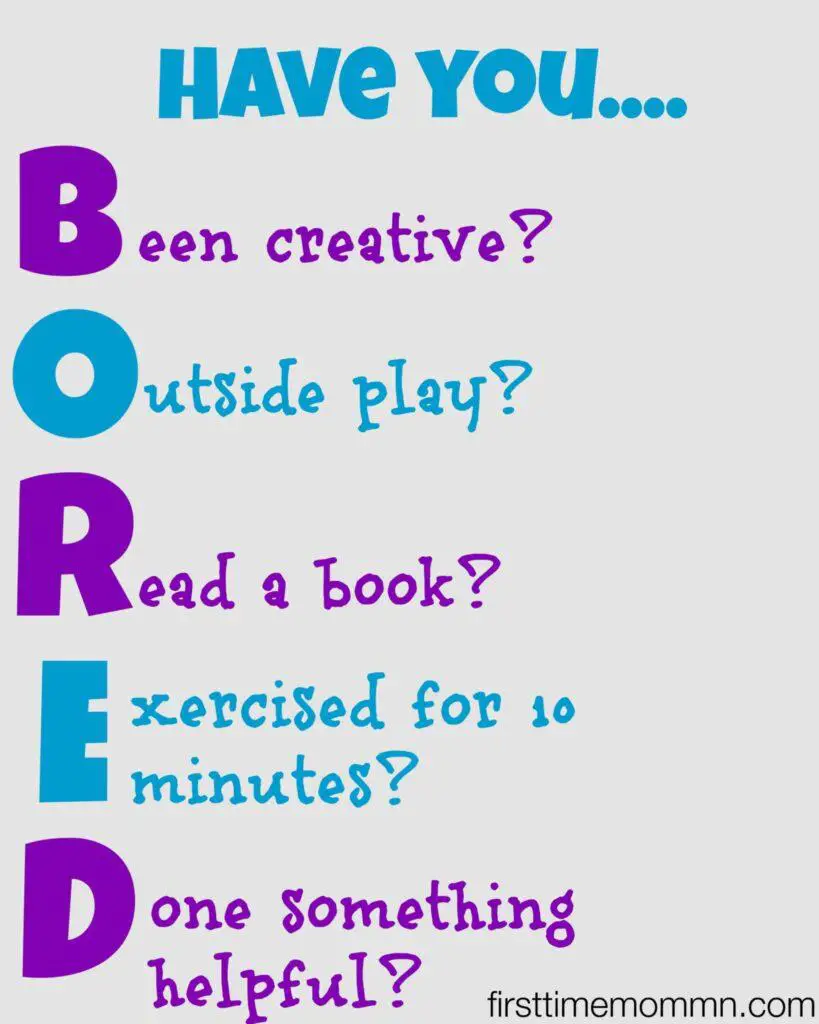 So far it's actually worked. I don't know why I'm surprised though; it makes perfect sense. One afternoon my five-and-a-half year old son came up to me insisting on watching yet another TV show (despite that he had used up his screen time earlier that day). He hasn't figured out what the word "bored" is so he doesn't even know how to use it. Perfect timing as I had just finished creating our printable! I said to him, "Okay, let's go through the list and see if you've done these things. If you have then you can watch a show." Sure enough he had only done one thing out of the five. End of discussion, no questions asked and he didn't try to negotiate with me (the kid should become a negotiator when he grows up, I tell ya).
Do you want one of your own? No problem! Simply click the link below to download, then click the image and print it out. The original size is 8×11 so if you're wanting to put it in a frame you'll need to resize the image so you don't have to trim the edges.
Thanks again to Becky for inspiring me and helping us all find another weapon to beat the boredom's this summer!
Some other ideas for beating the boredom virus are below:
Like it? Need to save it? Pin it!