10 Funny Children's Books You Need to Own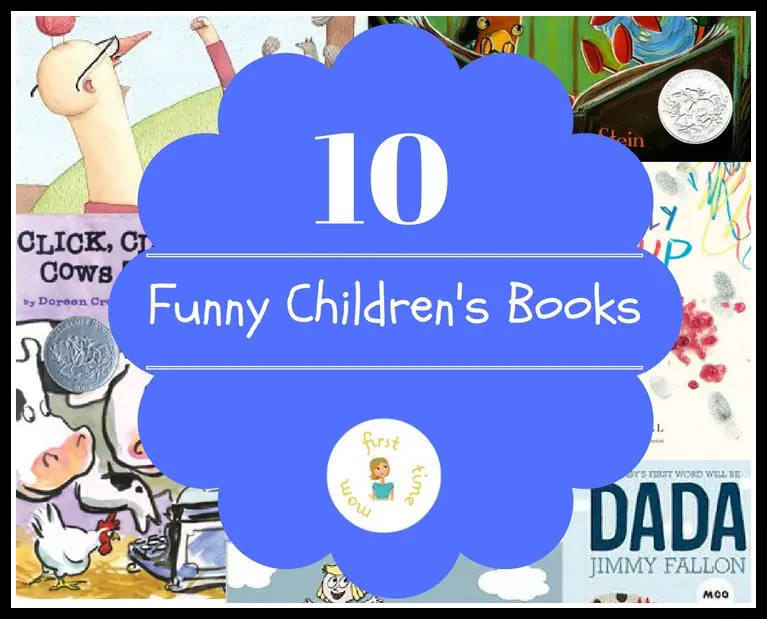 As an Amazon Associate I earn from qualifying purchases.
Just so you know, there are affiliate links in this blog post; it won't cost you anything extra, however, should you make a purchase from one of the links I'll receive a small commission for your purchase. Thank you for supporting my family!
If you're a loyal First Time Mom reader you know that I LOVE children's literature. If you've perused your public library or local bookstore you know that children's books are NOT created equal. The good news is if you're reading this post you'll have a great list of funny children's books that will make both you and your kiddo laugh. I've organized this list of books by age of target audience starting with the littlest of little ones.
Your Baby's First Word Will be Dada by Jimmy Fallon Inspired by his own kids, Jimmy Fallon wrote this book for all the dads out there who desperately want to hear that heart-melting word, "Dada!" This book is a great gift for any first time dad.
Moo, Baa, La la la! By Sandra Boynton This silly rhyming book is one of the first children's books I memorized when my son was little. It was (and still is) definitely a first favorite in our house.
BooBoo by Olivier Dunrea I love Dunrea's gosling series. My now three-year-old son loves this book, especially when I add in some extra sound effects while "BooBoo" is on a burping spell after eating bubbles. Oh BooBoo!
Dinosaur vs. Bedtime by Bob Shea Yes, you'll see there are two dinosaur books on this list. What can I say, my boy is in a dinosaur stage! In fact, my 16 month old daughter has an adorable "roar." That said, I think there's a reason why many preschool boys gravitate towards dinosaurs, which this book captures perfectly.
Click, Clack, Moo Cows That Type By Doreen Cronin Sometimes you find a story that you can't help but smile while reading it, Click, Clack, Moo definitely fits into this category.
Goldilocks and the Three Dinosaurs by Mo Williams I am a HUGE Mo Williams fan. I love his Elephant & Piggie and Pigeon series. Goldilocks and the Three Dinosaurs is a cheeky take on a classic fairy tale. As with all Mo Williams books, you'll want to pay close attention to the illustrations because he often hides little jokes for the observant reader.
Interrupting Chicken by David Era Stein Little chicken just can't help but yell warnings to her favorite story characters. Too bad all the fun leave daddy rooster exhausted.
A Perfectly Messed-Up Book by Patrick McDonnell What would you do if someone kept messing up your story? A Perfectly Messed-Up Book is a funny interactive book that plays with the relationship between the reader, the narrator, and the protagonist.
The Book With No Pictures by B. J Novak How would a book with no pictures be any fun? Well, B. J. Novak found a way. There is one instance of potty-talk (butt.) BUT, The Book with No Pictures makes for a very silly bedtime story.
Those Darn Squirrels by Adam Rubin Coming from a long line of bird nerds, I totally relate to grumpy "Old Man FookWire." In our back our we have a collection of bird feeders.Trouble is, our neighborhood squirrels and chipmunks like a steal the bird seed, "those darn squirrels!"