SAFETY on Disney+ is not your typical football movie.
SAFETY, the newest film to premiere on Disney+, is not your typical football movie. I love a good football film – REMEMBER THE TITANS, RUDY, VARSITY BLUES…you get the point. I anticipated SAFETY being in the same category of football films. No spoiler alert here, it is not.
As an Amazon Associate I earn from qualifying purchases.
"Safety" is a drama inspired by the empowering story of former Clemson University football safety Ray McElrathbey (Jay Reeves), a young man facing a series of challenging circumstances, whose dedication and persistence help him to triumph over repeated adversities. Aided by his teammates and the Clemson community, he succeeds on the field while simultaneously raising and caring for his 11-year-old brother Fahmarr (Thaddeus J. Mixson).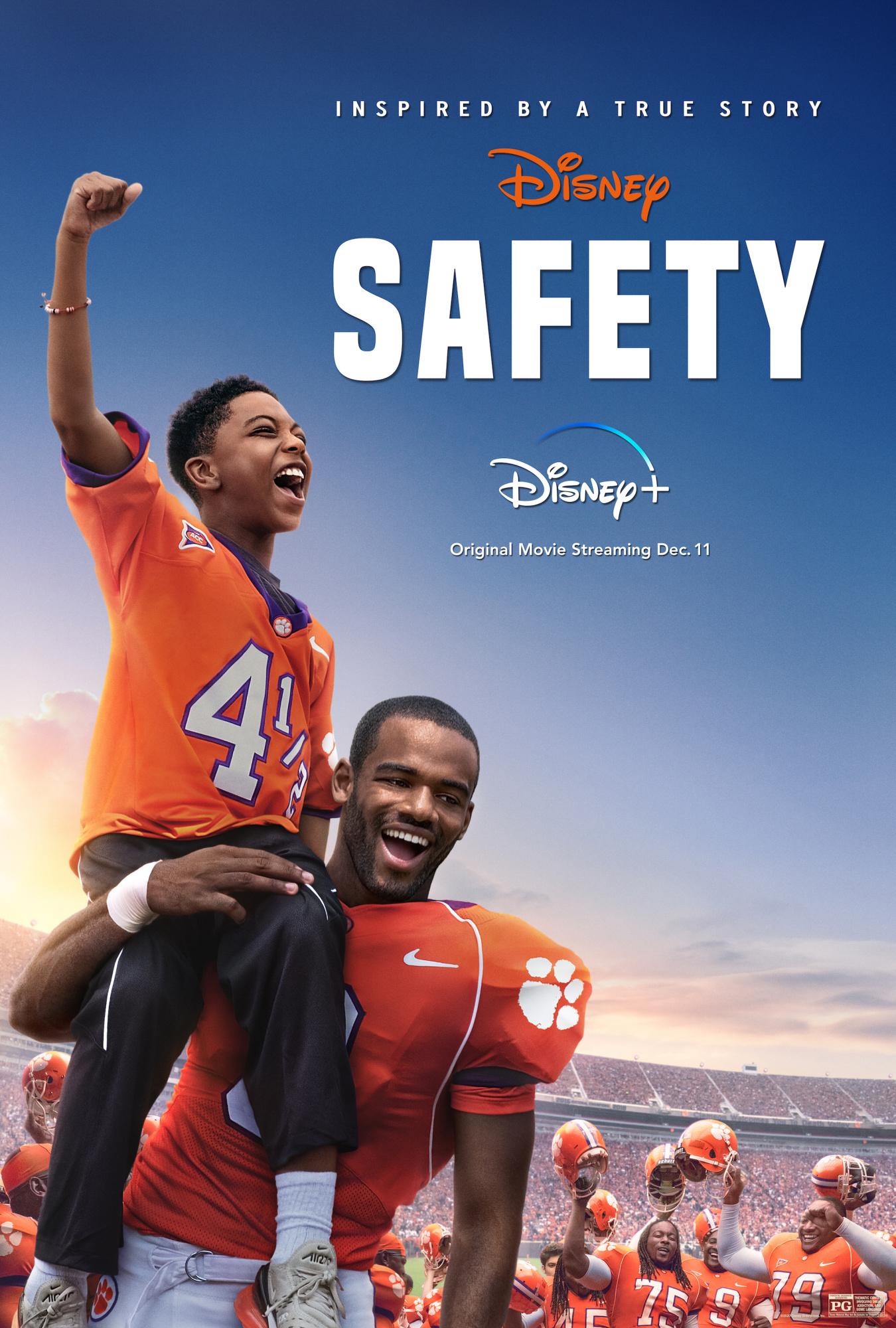 Is SAFETY based on a true story?
It is. Actually, after reading a few articles it appears that the film does follow the story quite closely to what actually happened in 2006. He did not have a steady love interest, as his character does in the film, however, the support he and his little brother received from the Clemson community is very real.
Is there football in Disney+'s SAFETY?
Yes, there is football in the film, however, that's not the heart and soul of the film. Sure there are great shots, great practice scenes reminiscent of REMEMBER THE TITANS, but the movie is about one young man, trying to shoulder the responsibility of his family all on his own. He learns that it's too much to juggle. If you read any articles written during Ray McELrathBey's time at Clemson you'll see how much the Clemson community came together to help Ray and his brother, Fahmarr. For someone who's depended on himself for everything, learning how to let others help is the greatest prize Ray could receive.
From Disney,
Ray McELrathBey was already taking on a lot when he started his freshman year on a football scholarship at Clemson University, one of the most prestigious and demanding college football programs in the country. Not really understanding what he was getting himself into, but eager to learn about more than just football, Ray signs up for a full load of classes, 16 units. Just as he's settling into college life and making friends, including sports journalism major Kaycee, he gets word that his 11-year-old brother Fahmarr (aka Fay), is hanging out with drug dealers back home in Atlanta after their mother has been arrested for possession. Rather than put Fay into the foster care system, Ray decides to smuggle him into his dorm room, which is strictly against the school's rules. It's not long before he finds the added responsibility of caring for Fay, who's high-maintenance, beginning to take a toll on his performance both on the football field and in the classroom.
Ray has to fess up and figure out a way to juggle school, football, and raising a tween boy. I'm a parent and I couldn't even do that.
Will my kids like SAFETY?
My two girls would not have liked the film. The subject matter, while it's inspiring, isn't action packed. Like I said the movie isn't your typical football movie, it's so much more than that. My son who's in sixth grade and 12-years-old liked the movie but felt like it was slow at times. There's a lot of character development that happens to get the audience to understand what's at stake and why it matters. Some older kids will appreciate that but I think we're looking at the young teen and older age group. Even if my two youngest were boys I think they would've been bored and they're in Kindergarten and third grade.
With the ease of Disney+ watching SAFETY is definitely a must-see with your older kiddos. You can try with the younger ones but don't say I didn't warn you if they start to whine about being bored. It's not a boring film by any means, it's just not a "kid" film. Kid friendly? Absolutely, nothing that's questionable that I wouldn't want my children to see or hear. Kick back, get some popcorn and you'll need tissues for this one.
Watch SAFETY this Friday only on Disney+.