How to Throw a Disney Party with Minimal Prep

As an Amazon Associate I earn from qualifying purchases.
I received free products in order to host a #DisneyKids Preschool Playdate. The opinions expressed here are my own. There are affiliate links in this blog post.
I have loved Disney for as long as I can remember. Naturally, I've passed that love down to my children. When I found out that we had been given the chance by Disney Parks to host a play date I was over the moon!! That faded, however, when I realized that I would actually be throwing together a party. Details and organization admittedly are not my thing and I have a sneaking suspicion that I'm not the only one out there like this. Maybe you're like me: a big thinker, a dreamer. You can visualize what you want and how you imagine something but putting all of the pieces together isn't exactly your strong suit. Do not worry, I'm writing this blog post for you, the mom who really means well but may need some help with all of those details. I've got you covered girlfriend, I've got this.
How to Throw a Disney Party with Minimal Prep
Food:
A party isn't a party without fun food and I have found that one of the best ways to jazz up a party without having to borrow one of those Cricut thingys from that gal pal who is a scrapbooking wizard is to create fun name cards for the food. I used both PicMonkey and Canva to create these cards for the food. Come up with some catchy theme appropriate names for the food like "Pluto's Chow" instead of the chocolate-peanut buttery goodness that my family calls Puppy Chow and my favorite for Gold Fish, "Fish are Friends (unless they're Gold Fish and then they are food)". Since the party was for kids I had extremely easy and kid crowd pleasers like hot dogs (Hot Diggity Dogs) and carrots (from Minnie's Garden).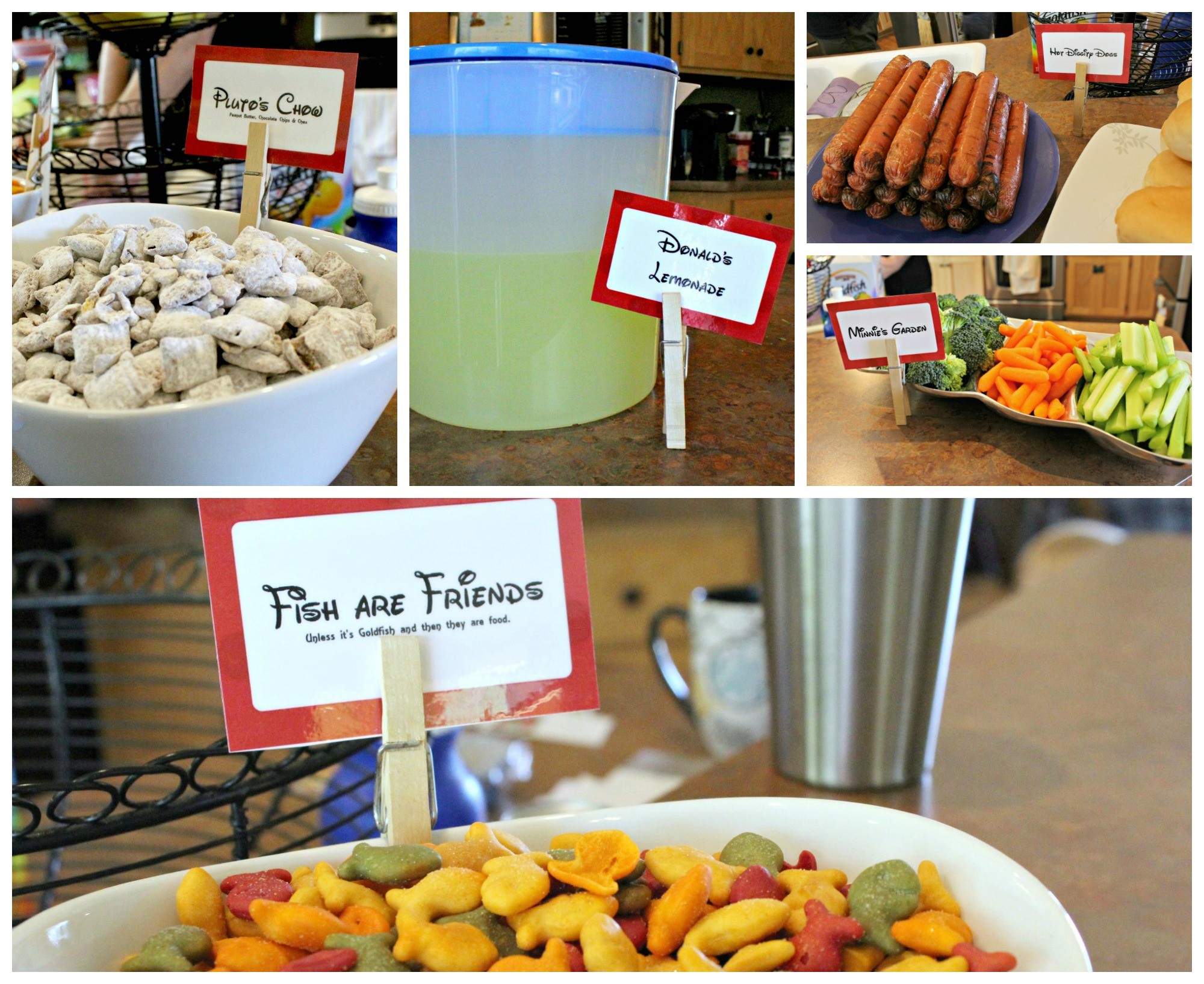 A party wouldn't be complete without cupcakes. I'm no baker, no sirree, but I do know a good baker when I see one which is why I got in touch with Amy from Amy's Cupcake Shoppe. For those of you who live in the Twin Cities and have yet to taste Amy's Cupcakes let me just tell you that you need to make a point to visit downtown Hopkins and grab a bite of dessert at Amy's. Maybe order a birthday cupcake or two while you're there. Chat with Amy and her lovely staff. It reminds me of that scene in RUNAWAY BRIDE when they're at the baker's testing out wedding cakes and it feels like the entire town in in the bakery. Plus, Amy's Cupcakes are delicious and less than boring.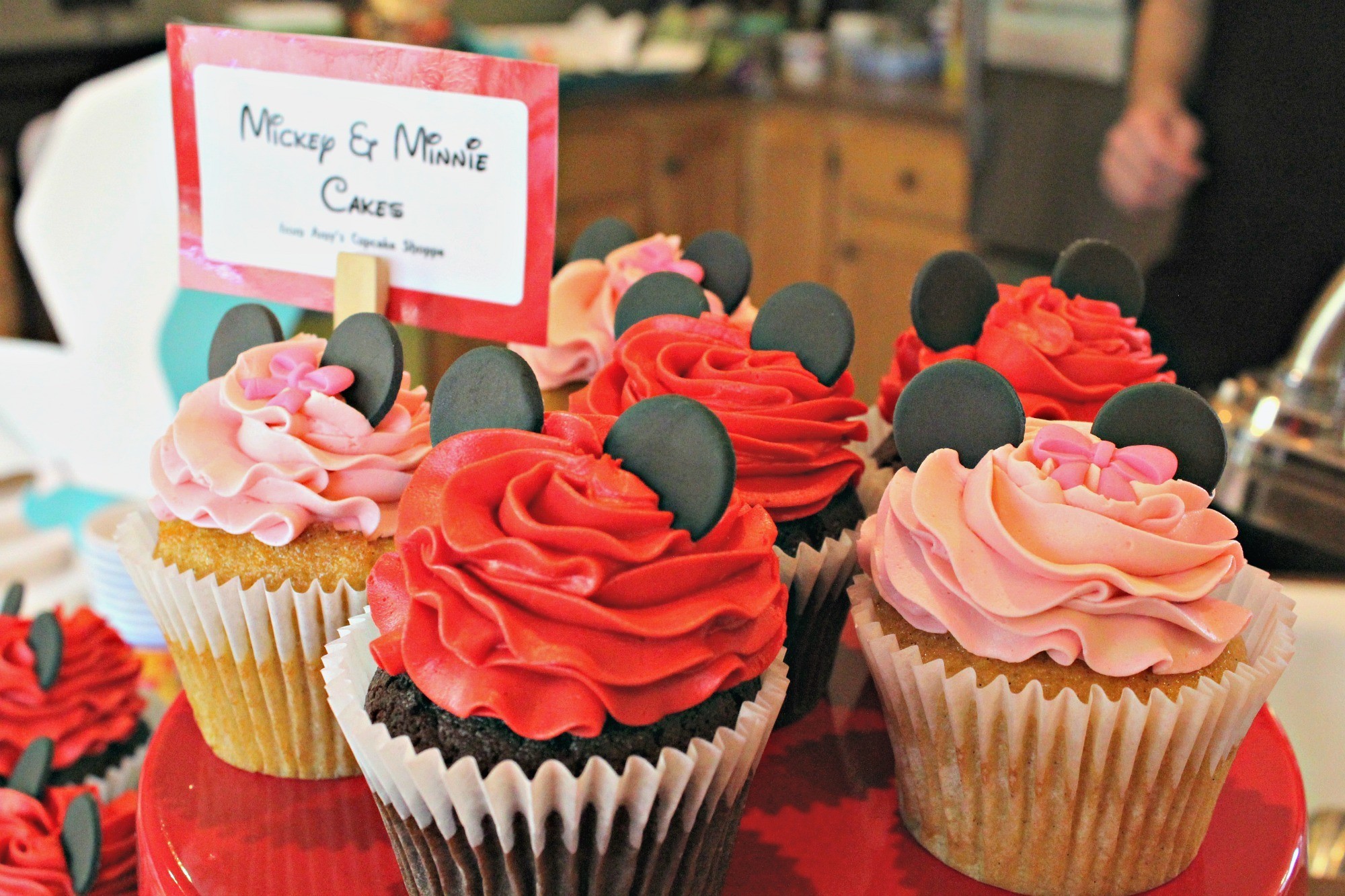 Purchase Amy's Cupcake Shoppe treats by clicking here.
Entertainment:
There is nothing worse than having a party without any entertainment planned. Trust me, I've done it before and let's just say that 8-year-old boys can get into quite the serious trouble when left with idle hands. Disney had a few suggestions up their sleeves to help with this task. We have coloring books and crayons along with stickers out for the kids to get creative. They also provided us with these royal blue party hats and some star stickers so the kids could make their own "Sorcerer's Apprentice" hat just like Mickey's in FANTASIA.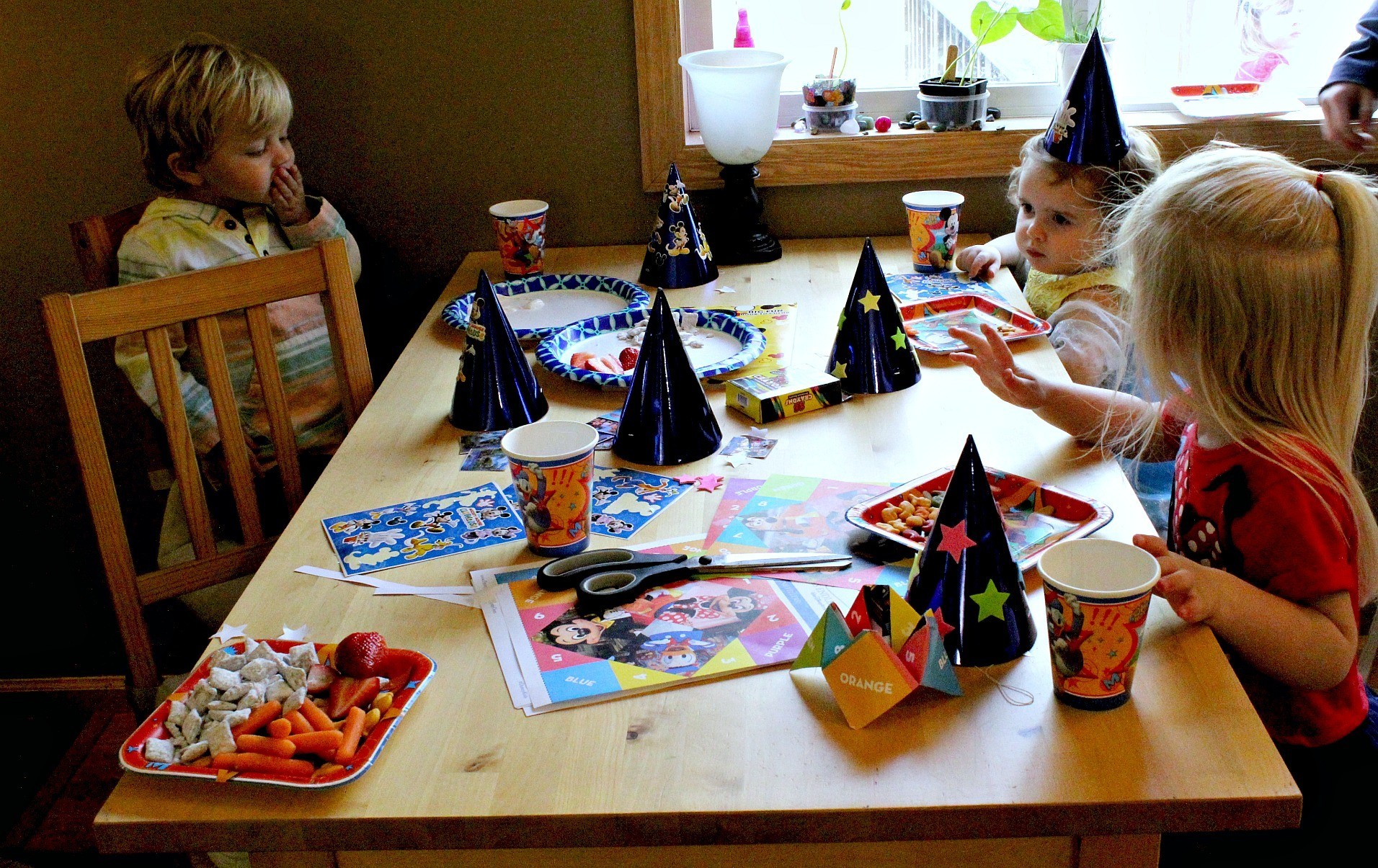 And in a surprising unexpected turn of events the kids could not get enough of these Disney Fab Fortune Tellers. Remember the paper fortune tellers we used to make when we were kids? Yes! That's what these are! Click here to download some of your own.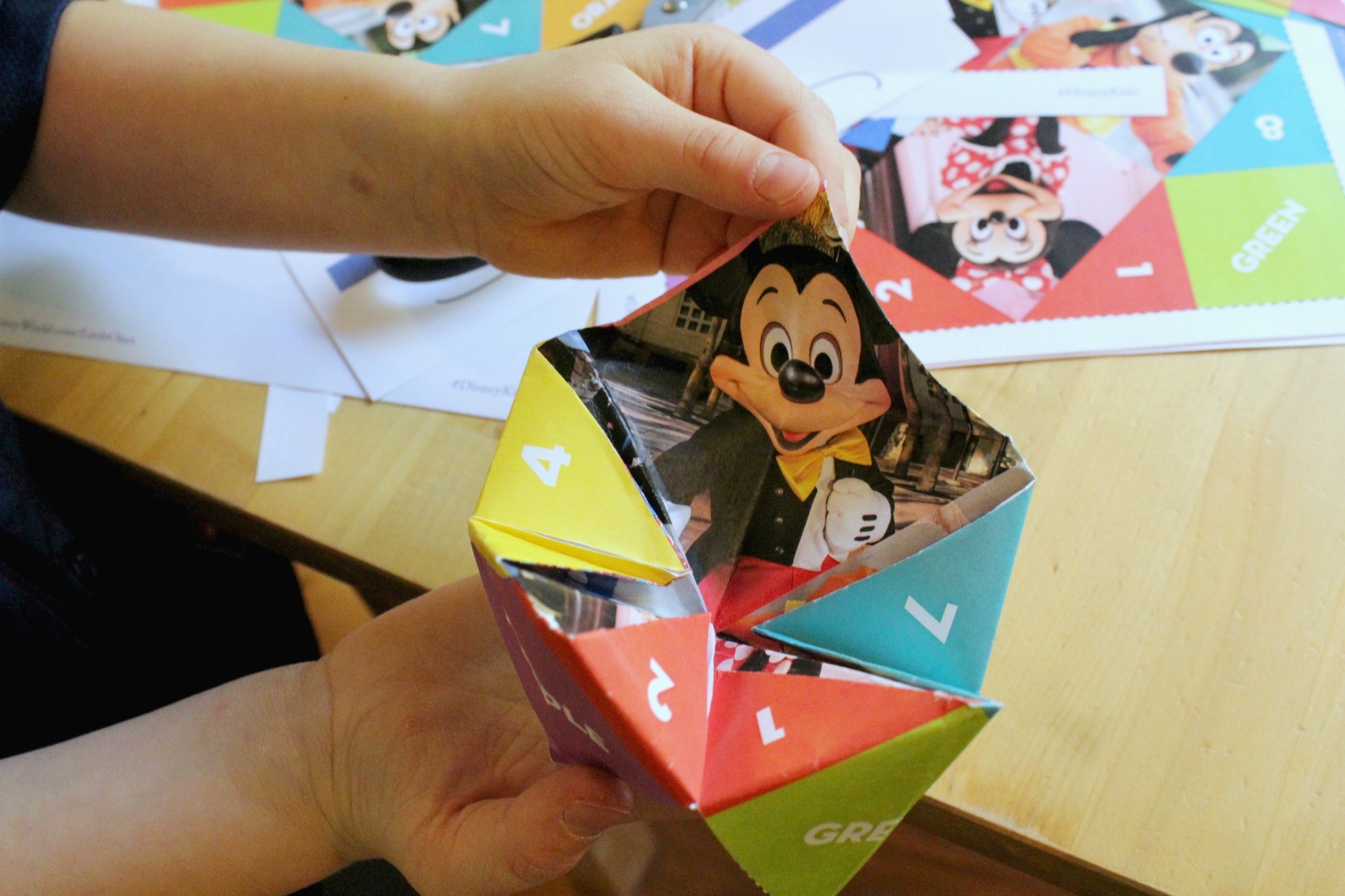 We had fabulous weather so it was easy to have the party both indoors and outdoors which gave the kids lots of room to roam. We borrowed a bounce house from one of our neighbors and set it up in the backyard. I also found some of that kinetic sand in the Dollar Section at Target. I picked up two packages of those and put them in the water table outside.

The big source of entertainment for this shindig though was the photo booth from Studio Veil. It was so much fun and I didn't have to do a thing. They did everything for the party; they set up the booth, brought props and stayed to keep a watch on it.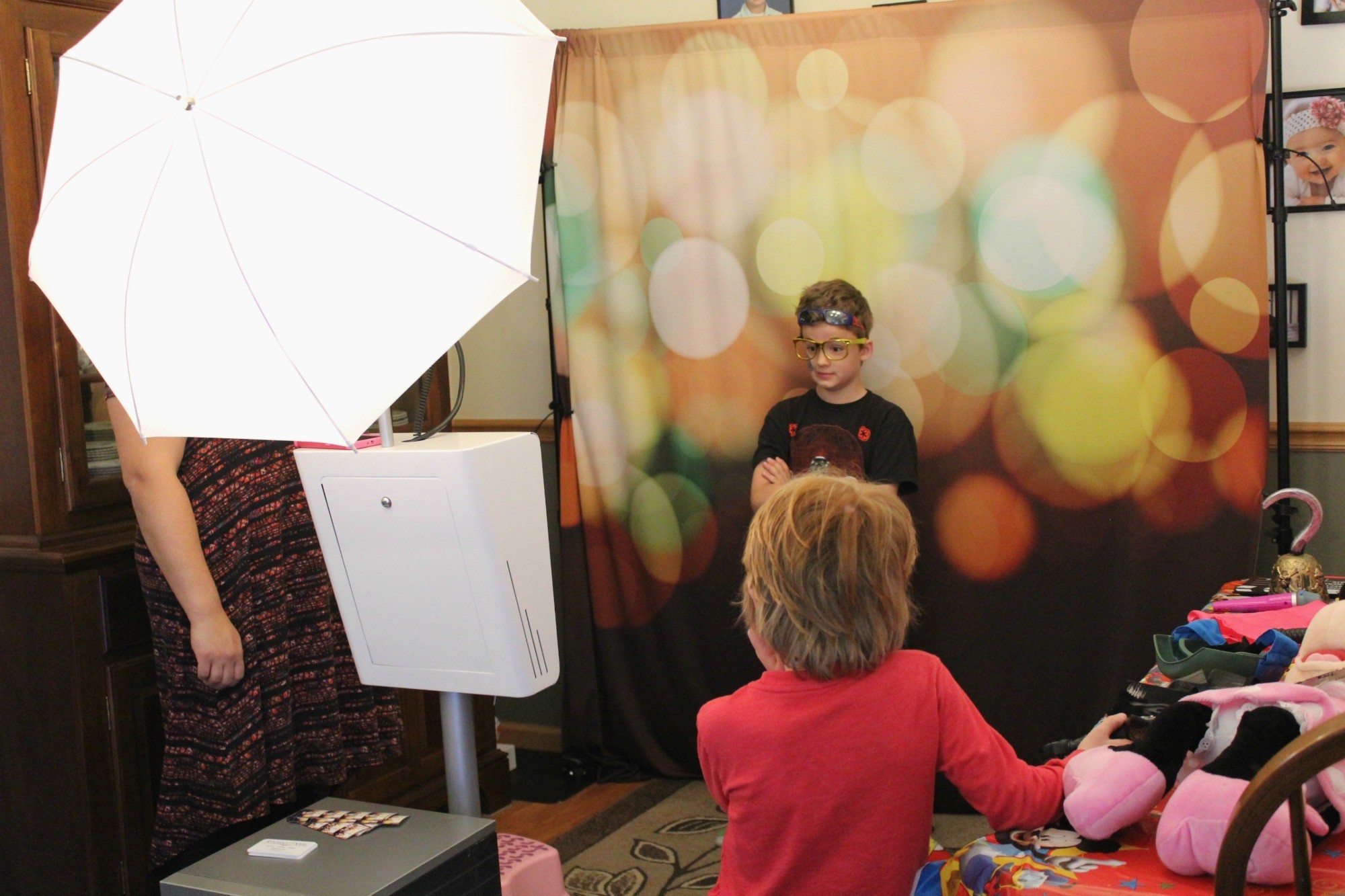 Each kid got to take home their photos! It was tons of fun for the kids. Studio Veil even set up their miniPOD so they could capture our pint size guests. My son pretty much spent the entire party at the photo booth! You can easily have Studio Veil's Photo Booth and crew come to your party and it is definitely worth it! Can you imagine how adorable a makeover party with a photo booth would be?

I was really impressed with Studio Veil and the quality of the photo strips too. If you want to check them out visit them here and be sure to follow them on Facebook.
Party Bags
A party isn't a party without a party bag! I went very simple with out party bags because, let's be honest, most of us don't need more tiny plastic toys. A simple trip to the dollar section at Target and we had our goodies! Here's what was inside:
Bubbles – Can one really have too many bubbles?
FINDING DORY Band Aid – You know kids and their Band Aids.
Watch Me Grow capsules – You remember those pill looking plastic things that you put in warm water and suddenly a little sponge pops out? It's okay if you have no idea what I'm talking about, some of the parents texted me that day and were like, "Um, what is this pill thing you've given my child." Whoops!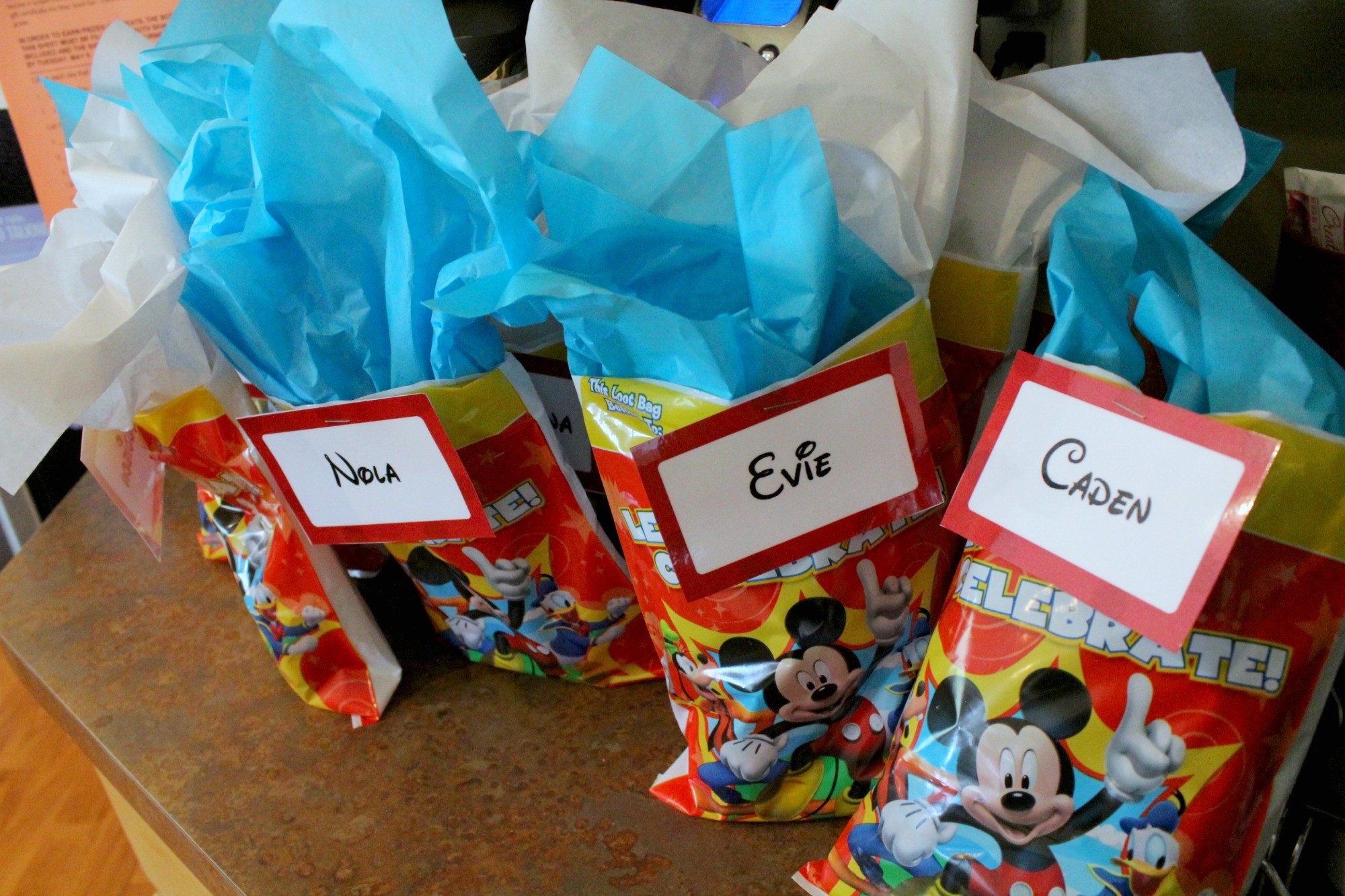 A few resources to help:
HP and MyPrintly for invitations – Create and print 5×7 inch rounded corner invitations with a premium glossy finish with HP Card and Invitation Kit. You can download the free HP Photo Creations software on your desktop and choose from hundreds of easy-to-use designs (including Disney). The kit comes with 25 sheets of advanced photo paper and 25 envelopes. Retails for $9.99.
HP Social Media Snapshots – It's so hard to print pictures these days, right? Well, with HP Social Media Snapshots you can create beautiful, annotated 4×5 inch prints with re-stickable back from your social albums including Instagram, Facebook and more. Download the free HP Snapshots app to print directly from your mobile device. Each pack of photo paper comes with 25 sheets of 4×5 in sticky photo paper and retails for $9.99.
We had an awesome time and the prep work I had to do really was quite minimal. If I can throw a successful, fun party, you can. Special thanks to Amy's Cupcake Shoppe and Studio Veil for helping us celebrate our love of Disney. And of course, thank you Disney Parks!!