10 Children's Books About Love and Valentine's Day

As an Amazon Associate I earn from qualifying purchases.
My mom-side loves cuddling up with my kiddos and reading a good book. The teacher in me loves finding books that mark and celebrate different times of the year. Last year I made a list of books about love and friendship that you'll want to check out. I couldn't keep to just one list on the topic of love so here are ten great children's books about love and Valentine's Day.
10 Children's Books About Love and Valentine's Day
Love Monster by Rachel Bright This is the first in a series of Love Monster books. Poor little Love Monster is too funny looking for anyone to love him but, "not being the moping-around sort, he decided to set out and look for someone who'd love him, just the way he was." This is a heart-warming story about being loved just as you are. Love Monster and the Perfect Present is another fun read for Valentine's Day.
Consider Love Its Moods and Many Ways by Sandra Boynton looks at all the different faces and feelings of love. Mom and dad will get a kick out of Boynton's humor and little ones will enjoy her take on opposites in this book.
I Heart You by Meg Fleming with lovely water color illustrations by Sarah Jane Wright, "I Heart You," is an adorable look at parental love. The book follows are series of animal parents and children spending time together, ending with a mother saying to her daughter playing in a wagon, "I pull you. I tug you. I hold you. I love you."
The Story of Valentine's Day by Nancy J. Skarmeas Tells a story of Saint Valentine helping young couples in the Roman Empire. While I'm not sure about the historical accuracy of this book, I love the message that "all God's children should love one another."
Love is a Handful of Honey by Giles Andreae is another book celebrating the bond between parent and child. This quick read aloud is perfect for toddlers and preschoolers and is sure to warm your heart.
Valentine's Day in Vicarstown by Richard Courtney My son is a big Thomas the Tank Engine fan so this book had to make my list. This story follows Percy and the engines of Sodor getting ready for the Valentine's Day celebration in Vicarstown.
Love from the Very Hungry Caterpiller by Eric Carle If your a fan of Eric Carle's artwork you're going to love this simple but sweet book. A board book of this one would make an adorable baby's first Valentine's Day gift.
You Are My I Love You by Maryann K. Cusimano This sweet book reads like a love poem from parent to child. It's one of those books that mom may need a box of tissues nearby while reading.
I Love My Grandma by Giles Anreae follows a boy on his special day with Grandma. This is one from a series of books from Giles Anreae including: I Love My Mommy, I Love My Daddy, and I Love My Baby special relationship.
Happy Valentine's Day Mouse by Laura Numeroff If you have a favorite children's book character chances are there is a Valentine's themed book for that character. We LOVE If You Give a Mouse a Cookie and the following books in Numeroff and Bond's series and this book brings back all these lovable characters.
An Awesome Book of Love by Dallas Clayton This books is full of touching metaphors that give children a peak into romantic love. Its quirky illustrations and playful sentiment make the concept of love approachable for children. That said, this book would be a sweet Valentine's present even to an adult book-lover.
Well, I hope my list gets you and your kiddos in the Valentine's Day spirit and helps you celebrate love all year long. Happy reading!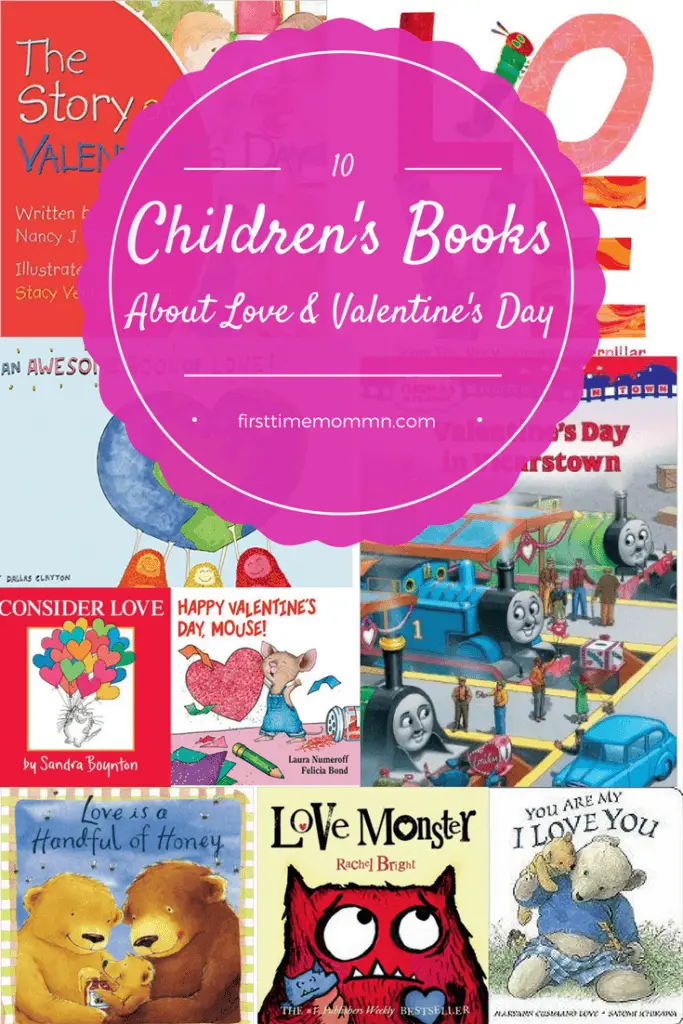 Just so you know, there are affiliate links in this blog post; it won't cost you anything extra, however, should you make a purchase from one of the links First Time Mom will receive a small commission for your purchase. Thank you for supporting my family!