Can my child watch THOR: RAGNAROK?

Special thanks to Marvel, Disney and ABC for sending me on this all expense paid trip to cover THOR RAGNAROK, "The Mayor" on ABC, CARS 3 Blu-Ray release, Disney Junior's "Vampirina" and littleBits' STAR WARS Droid Inventor Kits. All opinions are my own. We are a participant in the Amazon Services LLC Associates Program, an affiliate advertising program designed to provide a means for us to earn fees by linking to Amazon.com and affiliated sites.
As an Amazon Associate I earn from qualifying purchases.
Last week I had the privilege of attending the world premiere of Marvel's newest film THOR: RAGNAROK. You can read all about my red carpet experience over here. I'm assuming that you're here because you want to know the age old question when it comes to a fun movie that seems to be everywhere: Can my child watch THOR: RAGNAROK? The advertisements and merchandise are everywhere. Soon November 3rd (when you can see THOR: RAGNAROK in theaters everywhere) will arrive and little Johnny and Julie will start begging to go to the movies. So can my child see THOR: RAGNAROK when it opens on November 3rd? Let's take a look.
Can my child watch THOR: RAGNAROK?
I always preface these kind of reviews the same way by asking you what kind of movies has your child already seen? If you're a Marvel-loving family and your child has seen all of the AVENGERS movies and the two THOR movies, there is nothing that is concerning in THOR: RAGNAROK. In fact, compared to THOR's sequel THOR: DARK WORLD, THOR: RAGNAROK is considerably less heavy in the look and feel of the film.
Language
One of the first things I like to answer when someone asks me "can my child watch THOR: RAGNAROK" is the language element. Little ears absorb a lot and while older ears have already heard it at school and on the bus I'd like to try to keep my kids on the more innocent side of vocabulary. The usual suspects (I'm talking about swear words here, not actual people) are the only swear words you'll hear in the film and believe me they are extremely minimal. I wasn't able to bring a notepad or have my phone with me in the theater during the premiere so I wasn't able to keep count. I can tell you that there were no f-bombs dropped or a-hole lines. There was some suggestive language but nothing that my nine-year-old son would pick up on.
Violence
This is an action movie. There are battle scenes, hand-to-hand combat and unless you've never seen the movie's trailer (spoiler alert) Hulk (Mark Ruffalo) and Thor (Chris Hemsworth) battle in a gladiator-type competition. The film is also in the sci-fi fantasy genre so the scenes aren't based in reality. Are they intense? Yes, but it's more of a fun intensity than anything else with a lot of comic relief sprinkled in. The characters do find themselves in moments of peril, however, it isn't scary and there are no blood or guts splattered across the screen. If you are wondering can my child watch THOR: RAGNAROK and you feel the child isn't ready for any kind of action sequence, this probably isn't the film for them then. If you're okay with action and sci-fantasy action sequences you and your child will love the film.
Monsters & Aliens
Truthfully, the big players in this area of the film have already been revealed in the trailers. Surtur is the firey demon with horns and Fenris is the giant wolf who is Hela's (Cate Blanchett) pet. When I showed my three-year-old the trailer they did scare her. My nine-year-old and six-year-old didn't startle or flinch when they saw their clips in the trailer we viewed. You need to use your judgement with this one as you do with everything; what is okay for my son to see is not okay for another child to see. The scenes that involve Surtur are pretty comical in the dialogue to be honest.
Hela does have an army and you might consider them to be a little on the creepy side. I'm trying really hard to not spoil anything for you here so that's all I'm going to say. Thor also meets a few characters from other places in the universe while he's in the Sakaar prison waiting to go into the gladiator ring. Again, much of these scenes are sprinkled with humor and you grow quite fond of the other inmates.
Morals & Ethics
There is a lot you can take from the film to discuss with your child after you see it. Themes of redemption for Loki (Tom Hiddleston)  and another character are the big ones that standout to me as well as the age old lesson that home isn't necessarily a place but where you put your heart. When you first meet Valkyrie's (Tessa Thompson) character she is rather intoxicated, a means of self-medicating her PTSD from what was her previous life, and Thor addresses this with her later on in the film. Even though Hela, the villain, does really terrible things all in the name of glory and conquering all of the realms of the universe, in the end what you takeaway from it was her deep desire to be loved and approved of. There are no sex scenes or even suggestive ones. There is a rather comical scene where Skurge (Karl Urban) is trying to impress two women in Asgard with an assortment of weapons and objects from Earth. It's clear to an adult audience why he's trying to impress these ladies but most likely would not be obvious to an elementary age child.
Overall Impression of THOR: RAGNAROK
I loved the film and thought it was definitely something that I would want to see again with my family, well, not my younger girls but my husband and son. When we interviewed Taika Waititi during the press junket for the trip he told us that his goal was to make this film fun. He wanted audiences to leave the theaters after seeing THOR: RAGNAROK with a smile on their face. That is definitely what I did and those around me felt the same way. The film is funny and has this great, witty humor that kind of pokes fun of the Marvel Cinematic Universe and the other characters that are part of the overall story and at the same time it has heart.
I loved both female leads' story lines and how powerful and independent they were. Valkyrie has survived and even thrived on her own on the planet Sakaar without the help of anyone. Hela, while she's definitely messed up in the head from a psychological standpoint, is the first female villain we've seen in a Marvel film and man is she powerful. I look at female roles in films because I have two daughters and I thoroughly appreciated that neither one of these gals needed rescuing from the men around them. They were able to hold their own just fine, thank you very much.
I don't think that I'm fooling anyone when I say that Thor's family is about as messed up as it gets. He comes from dysfunction – a father who exiles him to teach him a lesson and an adopted brother who wants the throne and in turn wants him dead. Thor's family dysfunction is overshadowed, however, by love. Is it really? Well, you'll just have to see the movie when it comes out on November 3rd to make your own conclusion!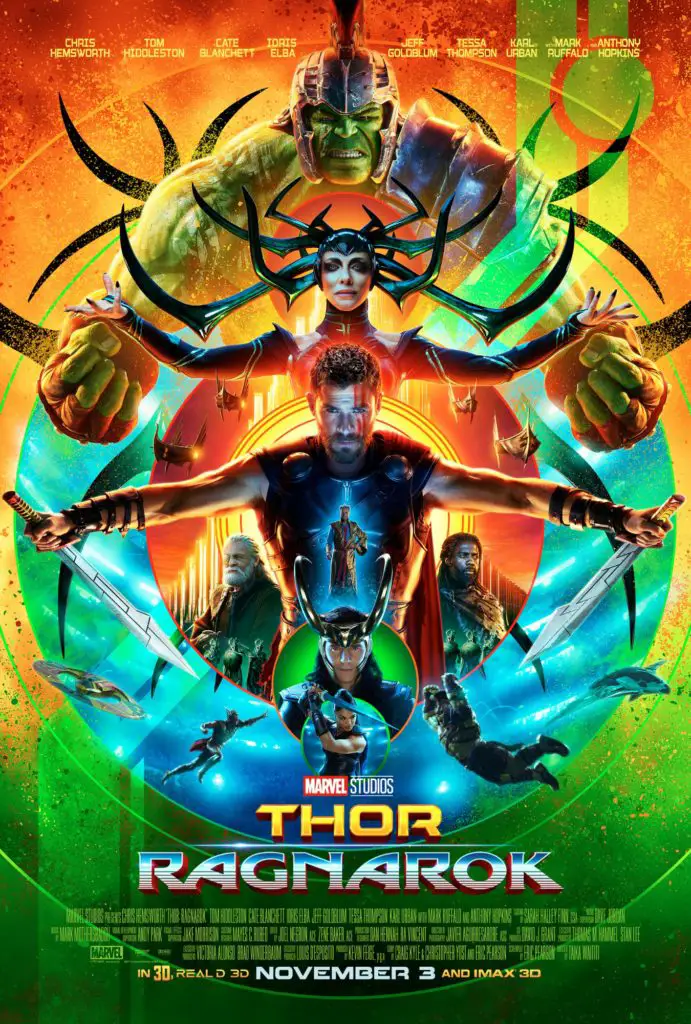 When can you see THOR RAGNAROK? November 3rd, 2017, EVERYWHERE.
Follow along with the event by using the hashtag #ThorRagnarokEvent and #ThorRagnarok