10 Baby Products You Can Purchase Used to Help Save Money

As an Amazon Associate I earn from qualifying purchases.
When you have your first baby it's amazing how many products you actually need for that little bundle of joy. There were things that I needed that I didn't even think about before I got pregnant with my first. I didn't anticipate that I'd probably want a microwaveable sterilizer but I had to supplement after my son nursed and then I had to pump. That sterilizer that I didn't think I would need suddenly became one of the most important baby gadgets during my son's few months of life. This post isn't about what you need or don't need, this post is about what can you buy secondhand and what should be purchased new. I asked the moms that are members of our The Mom Hub on Facebook (you should totally join if you haven't already, it's a great group of gals) what they felt were products that could be bought secondhand.
Look for stores that accept gently used products like Once Upon a Child, reCrib, Kid to Kid, and large consignment events like Just Between Friends. Garage sales and Facebook groups that are essentially online garage sales are also great places to find secondhand items. The only issue with a virtual garage sale is needing to see the product in person but that's a call you can make.
10 Baby Products You Can Purchase Used to Help Save Money
Clothes & Accessories
This kind of is a no-brainer but definitely think about buying baby clothes and accessories used. The wear and tear on baby clothes is really minimal, especially during the younger months of infancy when your baby isn't mobile. Most secondhand stores are picky, unless you're shopping at Good Will or the Salvation Army where they'll accept pretty much anything.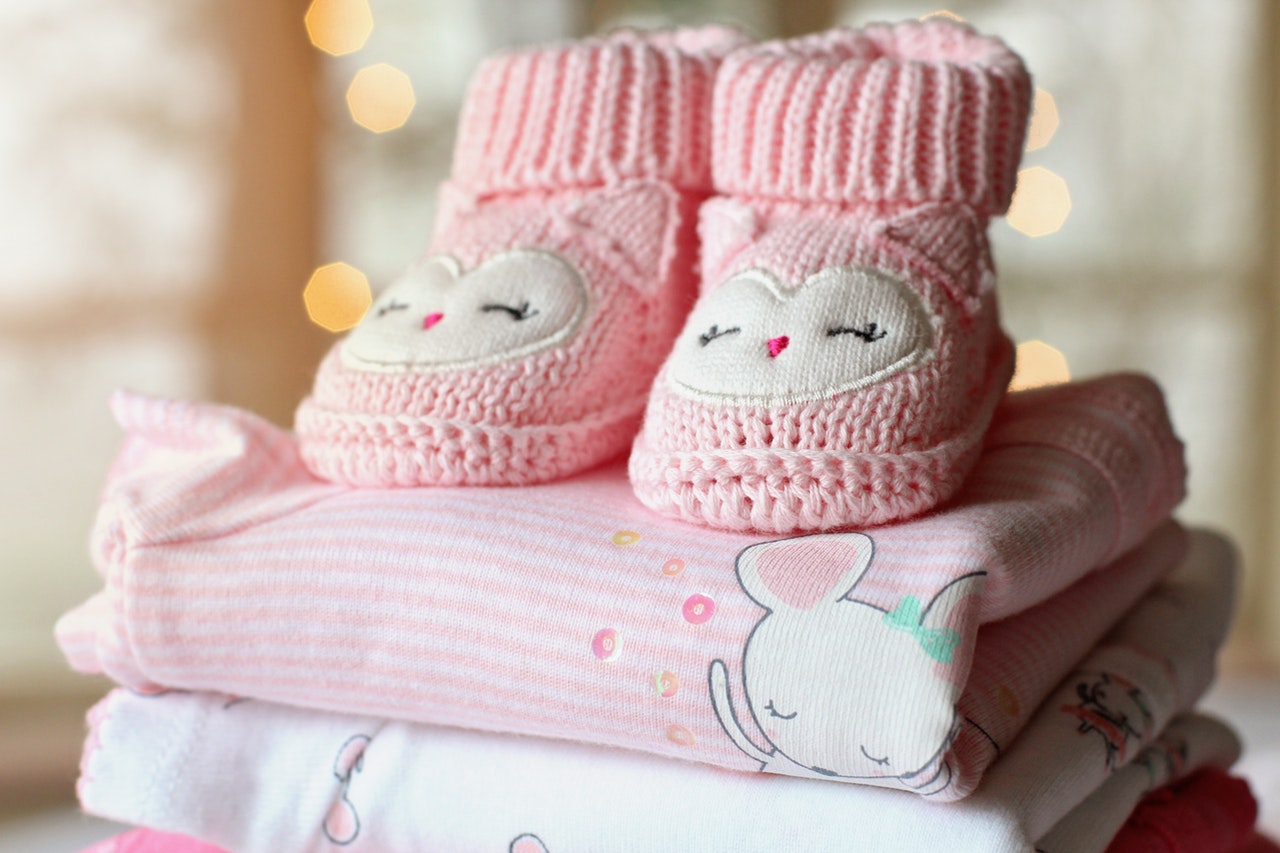 Strollers
Unless you live in a big city with warm weather chances are you aren't going to use your stroller on an everyday basis which means the likelihood that another family will be using it and wearing it out is slim to none. Many first time parents receive strollers and 3-in-1 travel systems (stroller with infant car seat -which I would not recommend buying used) as gifts but if you're in a pinch for money and haven't received that nice jogging stroller yet try finding it secondhand.
Baby Swings, Bouncer Seats, and Activity Centers
Some babies love swings, others hate them. Some babies love being in a bouncer seat while others just want to be held. There's really no telling what your baby is going to prefer which is why I think it's the smartest idea to purchase these kinds of products gently used. We bought a small portable baby swing and bouncer seat at a neighbor's garage sale when I was pregnant with my first child. My son loved the bouncer seat and swing but my middle daughter hated the swing when it was time for her to use it. We paid $10 or $12 for each item and they lasted through three babies. Definitely money well spent!
Nursery Decor and Furniture
Wall hangings, mobiles, crib bedding (no comforters or bumpers in the crib though!), rocking chairs, changing tables, changing pads, really, the list could go on and on. Pretty much anything you would use to decorate your nursery is safe to buy gently used. The only piece of furniture I would be careful about is the crib, especially if it's an older style drop down crib. Now, truth be told, all three of my children slept in one of those drop down cribs and they're alive and well today, however, drop down cribs are no longer allowed to be manufactured or sold in retail stores in the US.
Cloth Diapers
If you're ready to dabble in the cloth diapering world a great way to get started is to purchase a few gently used cloth diapers so you can figure out the style and brand you prefer to use. Many cloth diaper brands have Buy/Sell/Trade (B/S/T) groups on Facebook whether they're an official brand group or fan-generated group. Always ask to see photos and be on the lookout for tears, holes and stretched out elastic when you're buying used cloth diapers. Stains aren't going to affect the functionality of the diaper but can be an eye sore. A little lemon water and time spent in the sun will work wonders on a stain. Be sure to wash the diapers yourself when you get them before putting on baby.
Toys – With Some Exceptions
As a general rule, if you can sanitize it, I think it's okay to purchase it. If you can't sanitize it, buy it new. I never buy used stuffed animals and I don't know why. I think that's something my mom taught me when we would go garage saling when I was a kid. Most toys that have electronic parts are going to be difficult to sanitize but that doesn't mean it's impossible.
High Chairs and Booster Seats
Both of these products are ones you can skate by for a while without owning but when you're in the market check out consignment sales and virtual garage sale groups on Facebook first before you head to the store. Many of these products can easily be sanitized and that can save you a lot of dollars.
What NOT to buy used
It's interesting but I shouldn't be surprised that when I asked the moms in my Facebook group which products they'd purchase used, they said it was easier to share which products they wouldn't purchase used. Here are a few definite no-nos when it comes to buying secondhand:
Car Seats – Unless the seller is a close, personal friend or family member and you know the history of the car seat, it isn't expired, hasn't been in any car accidents, just steer clear of this one and buy new. This is a safety issue and shouldn't be taken lightly.
Breast Pumps – I have to admit, I didn't adhere to this but due to the nature of what a breast pump does and the fact that you cannot sterilize every single part, it's better to purchase a breast pump new. Insurance has to cover breast pumps now so there's really no reason to skimp on the cost of purchasing a new one. That wasn't the case when I was needing to use a pump.
Pacifiers – You have to ask yourself, is this really, truly sterilized? Plus, pacifiers are cheap so it's not worth saving a few bucks to find some that come from a trustworthy seller and can be sterilized properly without making you lose your mind.
Questions to ask:
There are a few questions you should ask or at least know about when you buy secondhand products, now in some instances it's not going to be easy to ask the seller as many consignment shops don't have the seller's information available for you to question them (that would be alarming wouldn't it, if you could just call up a seller when you're shopping at Once Upon a Child? No thanks!), if you have direct contact with the seller ask about these living conditions if it isn't already listed:
Was there smoking in the home?
Any pets?
Problems with the product that would impair it's functionality?
Have you purchased used baby products before? What would you add to the list or what would you take off?