Registering can be completely overwhelming for any parent, new or an old pro, and if you had your first child eight years ago like I did you'll notice that things have drastically changed! For one, Target has a whole slew of brands that didn't even exist back in 2008. I'm constantly amazed by the brands that I find there and I think my bank account shows it. As a Target lover and a three time mom there are two gems you'll only find available at Target that you must, and I mean must, add to your Target Baby Registry.
Two Target Baby Product Gems – Only Available at Target
Cloud Island – Gone are the days of Circo- only bedding (nothing wrong with Circo, I totally used all of their products when my oldest was a baby); allow me to introduce you to Cloud Island. Cloud Island is Target's exclusive nursery brand. With soft pastels and a lot of different themes you're going to find that you aren't pinned to two ideas for your nursery décor. The other thing I love about Cloud Island is their gender-neutral themes. We didn't find out the gender with my third child and I was so sick of baby frogs, baby ducks, yellow and green. I love how Cloud Island uses grays and other geometric shapes like their Neutral Nursery for parents who are waiting until D-day (that's Delivery Day) to find out whether they're having a boy or a girl.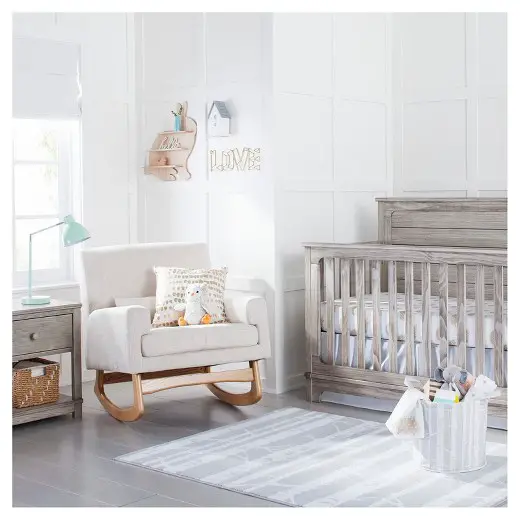 Cloud Island also has adorable bath and baby clothes items!
Eddie Bauer First Adventure Collection at Target  – My firstborn was born in November and I live in Minnesota so finding an infant car seat cover that didn't interfere with his car seat was nearly impossible, except for the Eddie Bauer one we found at Target. That was back in 2008 and let me tell you, Eddie Bauer still has travel accessories for your littlest one exclusively at Target. From diaper bags to cozy head supports, your baby will travel comfortably, safely and in style whether it's across the country or to your local Target store.
The Target Baby Registry also has a fabulous way to make sure you have the right diapers for your newborn right off the bat. They kick-start your registry by adding a few very essential baby products, like size 1 Pampers diapers, to your registry without you lifting a finger. Trust me; while you need all the Size 1 diapers you can get definitely throw on some bigger sizes for later on. If you have a Target REDCard, (which hello, why don't you if you don't?!) you'll receive a 20% off registry completion coupon to finish up your shopping after your baby shower (15% off if you don't have a REDCard). The Target Baby Registry is a winning situation as a parent and if there's one thing I've learned in parenting it's that you really have very little outcomes that are guaranteed success. Take this one.
Have you seen the new Cloud Island or Eddie Bauer lines at Target?
As the creator of the lifestyle blog and book, Me Before Mom, Bert supports millennial moms facing the challenges and changes of motherhood. Me Before Mom is an online community that offers support through real life stories, encouraging advice, and answers to questions about how a woman maintains herself during this self-sacrificial time of parenthood. Stories from Bert Anderson have helped women across the globe through the Huffington Post, Today's Parent, and on the Harry show. Whether weathering the first year of motherhood or walking through the later stages of motherhood, Bert has helped many continue to find herself while still in the throes of motherhood. Purchase your copy of Me Before Mom: Putting Your Oxygen Mask on First today!