5 Toddler Feeding Tools You Need in Your Kitchen

As an Amazon Associate I earn from qualifying purchases.
Toddlers are messy; there's no doubts about that. If you're a clean freak like I am it's challenging to sit back and let your toddler learn how to feed themselves because all you see is the mess. It's a necessary thing though, your toddler has to learn how to feed themselves. I mean no able bodied child ever went to college not knowing how to properly eat their meals. After teaching three toddlers how to eat, and over a span of seven years, I have you covered when it comes to what I think are the best toddler feeding tools on the market. Save this one for the registry, Mama, you're going to make sure these are on your wish list.
5 Toddler Feeding Tools You Need in Your Kitchen
Your toddler has to learn how to drink from a cup but the learning curve for this necessary skill can be quite messy. That's why I love Munchkin's Miracle 360 Sippy Cup. The way it works is the lid is lip activated so your child drinks from the cup and the liquid easily comes out. When the child stops drinking the lid seals itself so there are no spills! It's a miracle, literally, the name of the cup is the Miracle 360. Plus, the design supports good dental health since your toddler's mouth is very pliable; it's better to be drinking from a cup than sucking from a standard sippy cup. They retail for around $13 for a pack of two.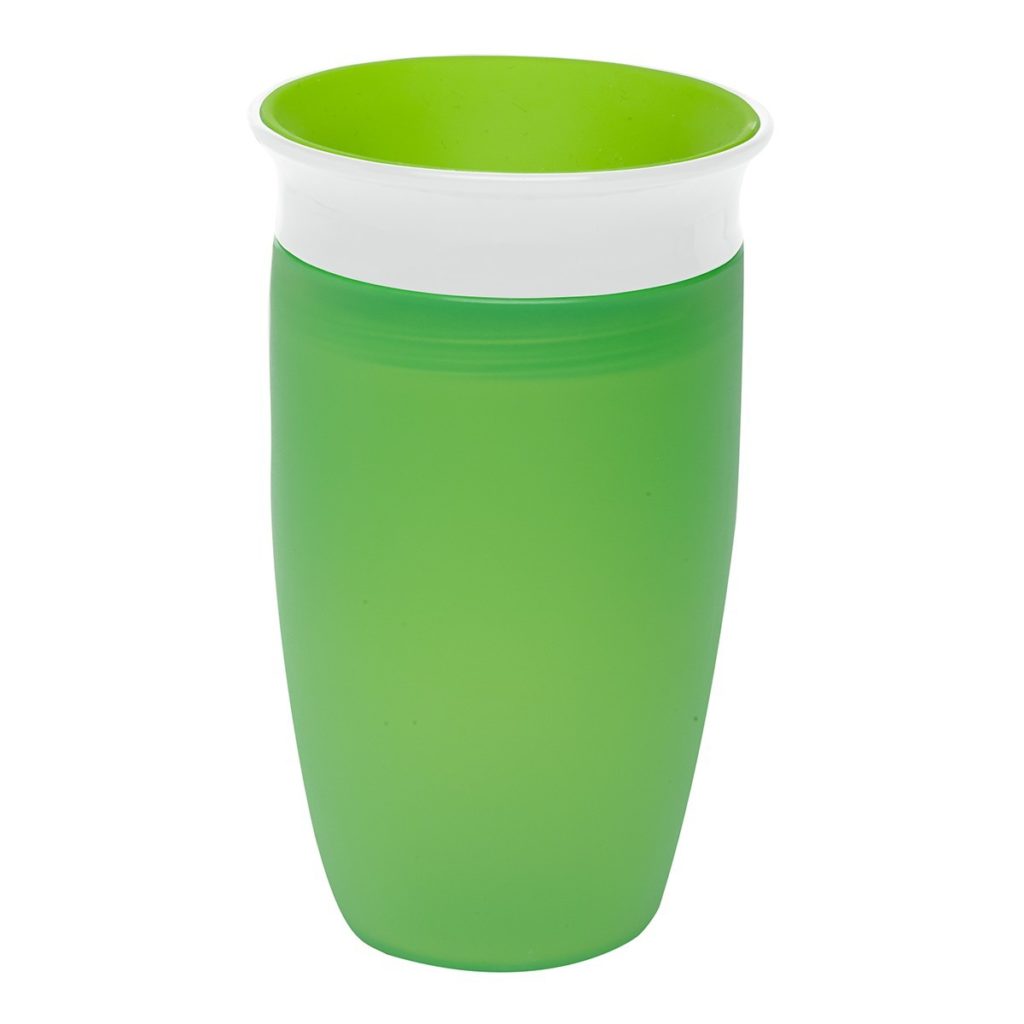 Mom-invented the ezpz Happy Mat is a silicone mat that stays in one place on a flat surface. You know what that means? No tossed plates or bowls thrown onto the floor during breakfast, lunch or dinner. This baby wasn't around for my first two children but it was definitely one of my favorite products when our youngest was learning how to eat at the table with us. It's easily washed and can be placed on the top-rack of your dishwasher. Yes, there are other brands out there but I suggest sticking with the original, well, at least it's original to me. I've tried a few other products that boast the same features as ezpz and they fell short so just take my word for it. ezpz also has a Happy Bowl. The Happy Mat retails for $25 on Amazon.
The neat freak in me adores this giant splat mat so much! I cannot tell you how many times Keira would just pitch her dinner or snack onto the floor simply so that our beagle would gobble it up. While my dog does a pretty good job of cleaning up a food mess she's not particularly diligent about licking up the leftover goo that seems to just collect on the floor. We have laminate floors and even though they're easy to clean it's still a lot easier to wipe up a splat mat than have to get out the cleaning supplies to wash the floor. I imagine that if you had carpet in your dining area this mat would also be super helpful in preserving the carpet from those inevitable spills. The Sugarbooger Jumbo Floor Splat Mat (which you can actually see a hint of in my photo above) retails for about $20 up to $40 depending on the print you choose on Amazon. It's durable and can also double as a resting area when the stomach flu hits your house.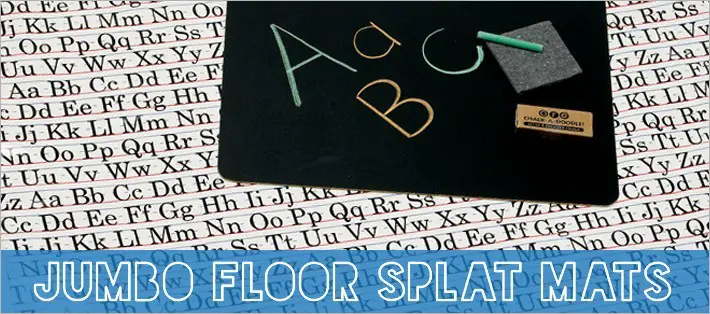 What I love about the OXO Tot Training Fork and Spoon is that the set mimics a real fork and spoon with the eating part of it being metal. The ends of the forks are rounded and not sharp. Plus, if you have a kid who loves to just chew on anything these forks and spoons are made out of durable stainless steel. The handles are larger so it's easier for your toddler to grip them. A set (fork and spoon) is available for $6.99 on Amazon.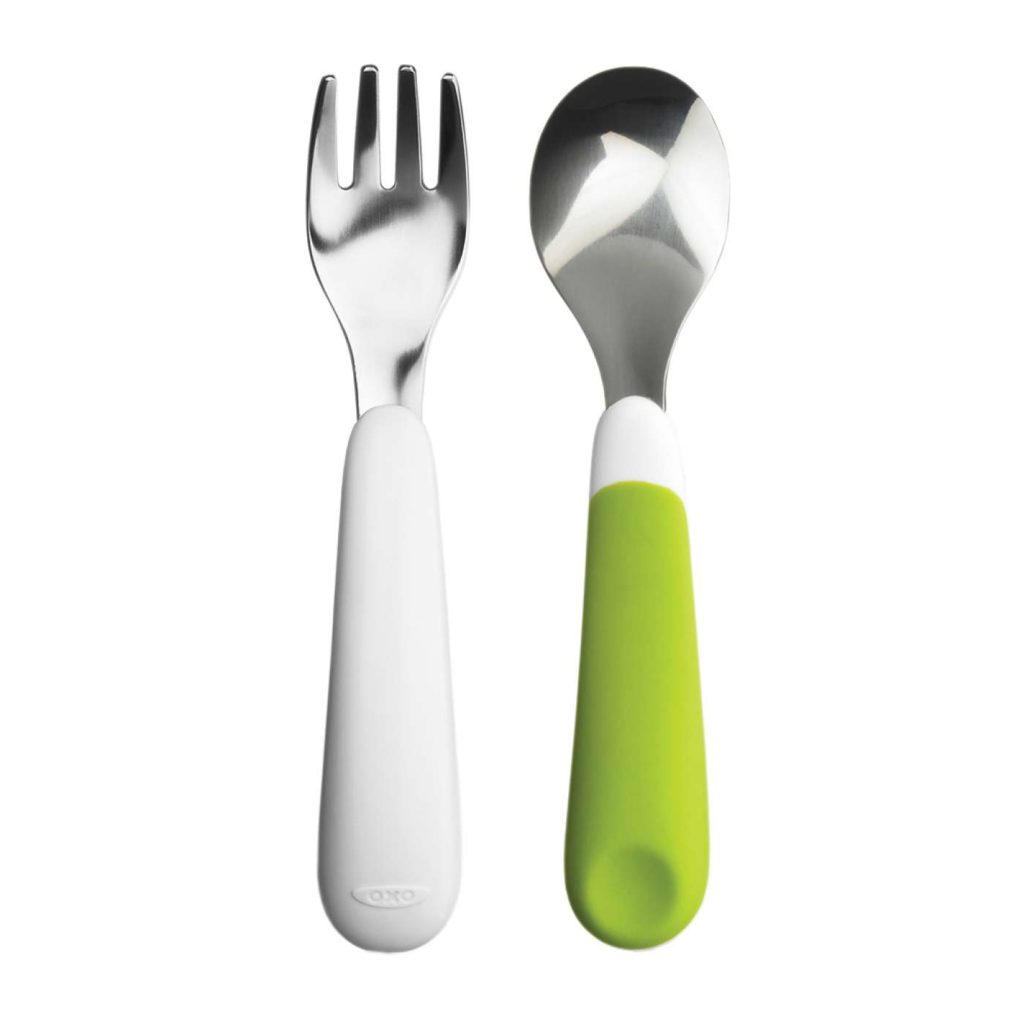 I'm saving the best for last with this one. If you do not happen to have the OXO Tot Grape Cutter in your kitchen you need to get one now, as in yesterday. This is hands down one of my favorite toddler feeding tools because it saves me time. Did you know that technically you should be cutting up your child's grapes into quarters until they are over the age of five? It is the top three choking hazards for children who are five-years-old and younger because a grape is just a little bit larger than a child's airway but smooth enough to slip down and create a tight seal if not chewed properly. Most children who are under the age of five are not coordinated enough to chew a grape fully before swallowing. My predicament, since my husband is the King of Safety, was that I didn't have the time to cut grapes in quarters, and yet my child adore grapes. For a long time I simply didn't buy grapes but now we always have them on hand because using the OXO Tot Grape Cutter is a breeze and you can do it one-handed!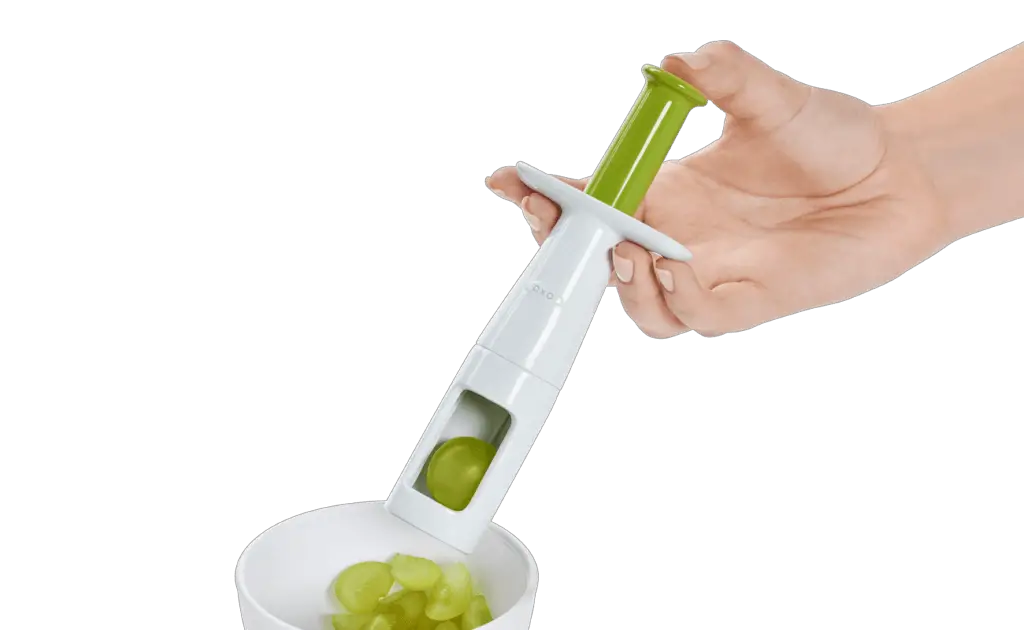 That's it for me! Of course I do have some honorable mentions like the OXO Tot Silicone Roll-Up Bib, anything from Re Play especially their sippy cups if you want a standard sippy cup (these guys are hands down the best as far as spill proof goes), Squeasy reusable pouch, and a good snack cup (especially for car rides). What do you think? Anything you would add?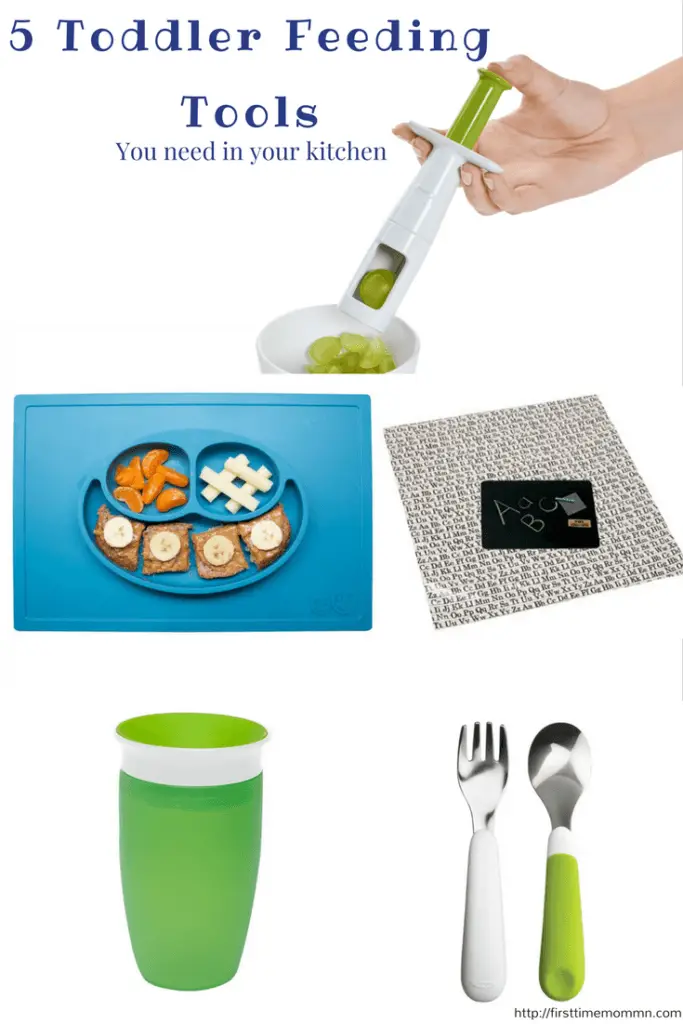 Just so you know, there are affiliate links in this blog post; it won't cost you anything extra, however, should you make a purchase from one of the links I'll receive a small commission for your purchase. Thank you for supporting my family!