Why I'm Walking in the Susan G. Komen Twin Cities 3-Day

As an Amazon Associate I earn from qualifying purchases.
This post has been sponsored by Susan G. Komen 3-Day®. All opinions are my own.
I am doing something I have never, ever done before…I think not only will be physically challenging but I know it'll be mentally challenging. Emotionally challenging? Well, yes, I think my emotions, which are usually kept very close to my chest, will most likely be like a puddle on the floor. Why? I'm participating in the Susan G. Komen 3-Day® here in the Twin Cities (August 18th – 20th) and joining in their goal to reduce the number of breast cancer deaths by 50% by 2026.
Why I'm Walking in the Susan G. Komen Twin Cities 3-Day
I know, it sounds kind of crazy but I haven't been personally affected by breast cancer. I don't have a close family member or friend who has had breast cancer and still feeling incredibly close to this terrible disease hits close to home. I think it probably feels that way to most women.
According to Susan G. Komen, 1 in 8 women will be diagnosed with breast cancer in her lifetime. In 2017, more than 250,000 new cases of invasive breast cancer are expected to be diagnosed among women and more than 2,400 cases in men in the U.S. Those are scary statistics, real statistics. This could be any of us and in 2010, after my husband found a lump in my breast; I feared that I would be another number in that count. After being examined by my doctor and having an ultrasound performed at the Jane Brattain Breast Center in St. Louis Park, MN, I learned that I didn't have breast cancer. I escaped what some women never come out of.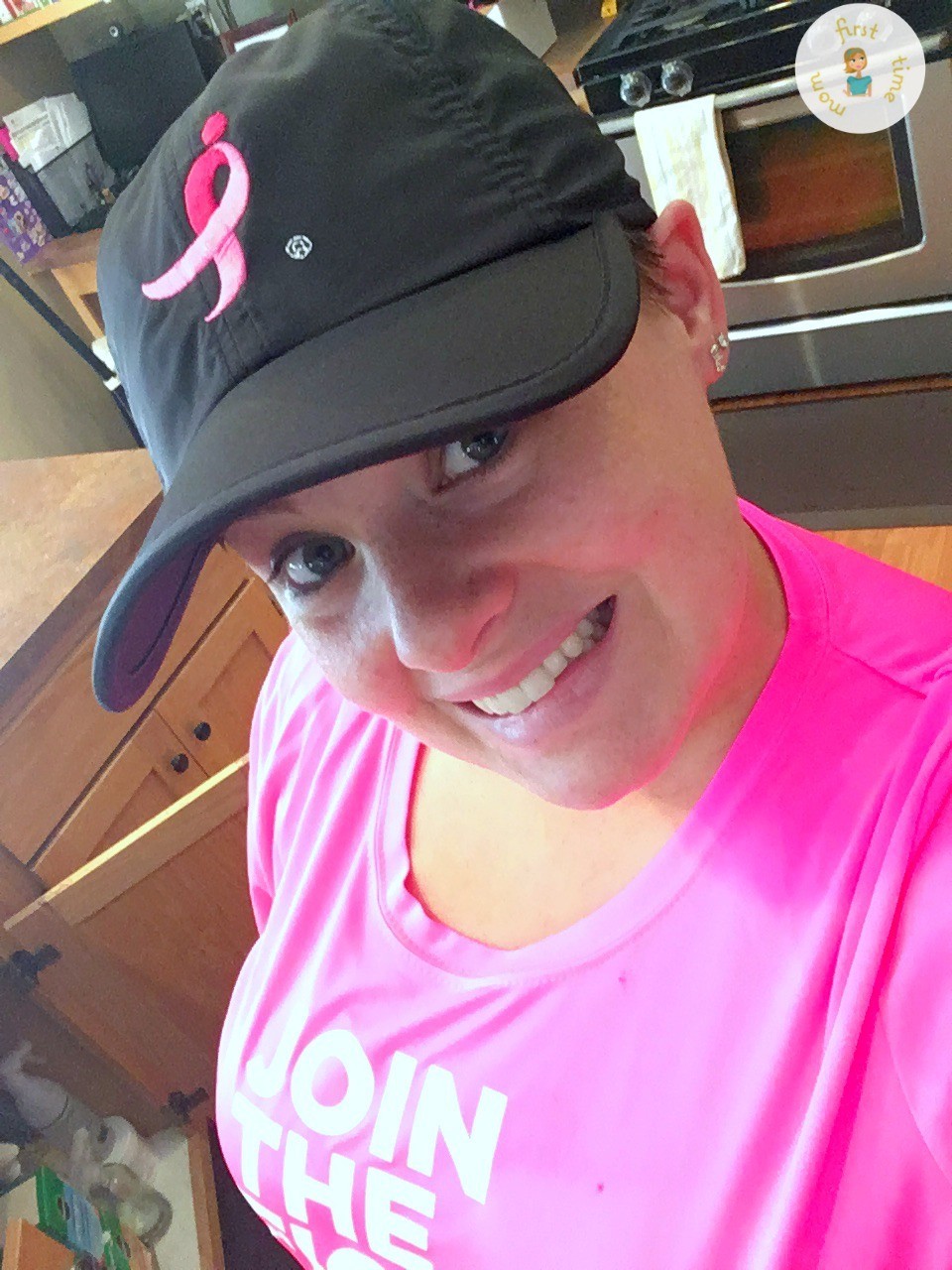 That experience, feeling that cloud over your head, heavy chested and stomach in knots constantly is enough for me to walk in the 3-Day. It's the least I can do to support these brave warriors and survivors.
What is the 3-Day Walk?
Here are the facts from the 3-Day site –
It's a 60-mile walk over the course of three days.
The route is fully supported by an experienced crew who will keep you safe and comfortable (and cheer you on like a rock star!).
For two nights, you'll camp together in the Komen 3-Day community.
You'll raise $2,300 to help end breast cancer. It's a big commitment, but to end breast cancer, we have to act boldly. It's time to step up and do the most you can do—for this mission, for those you love and for yourself.
There are team captains and an incredibly encouraging community all waiting to help you succeed.  Plus there's a shop, yes, as in a way for me to buy even more pink apparel! Shop3Day.com® has a ton of apparel as well as other products to help you during your 3-Day experience.
Let's talk fundraising
I'm not going to lie, the fundraising efforts for the 3-Day are big to fill; specifically $2,300. Now, if you are coming in late to the game this seems undoable, however, I've found that you'd be amazed by how many people are willing to donate to a good cause. Never underestimate people's generosity, rather, let them be the one to decide whether or not they're in a spot where they can donate.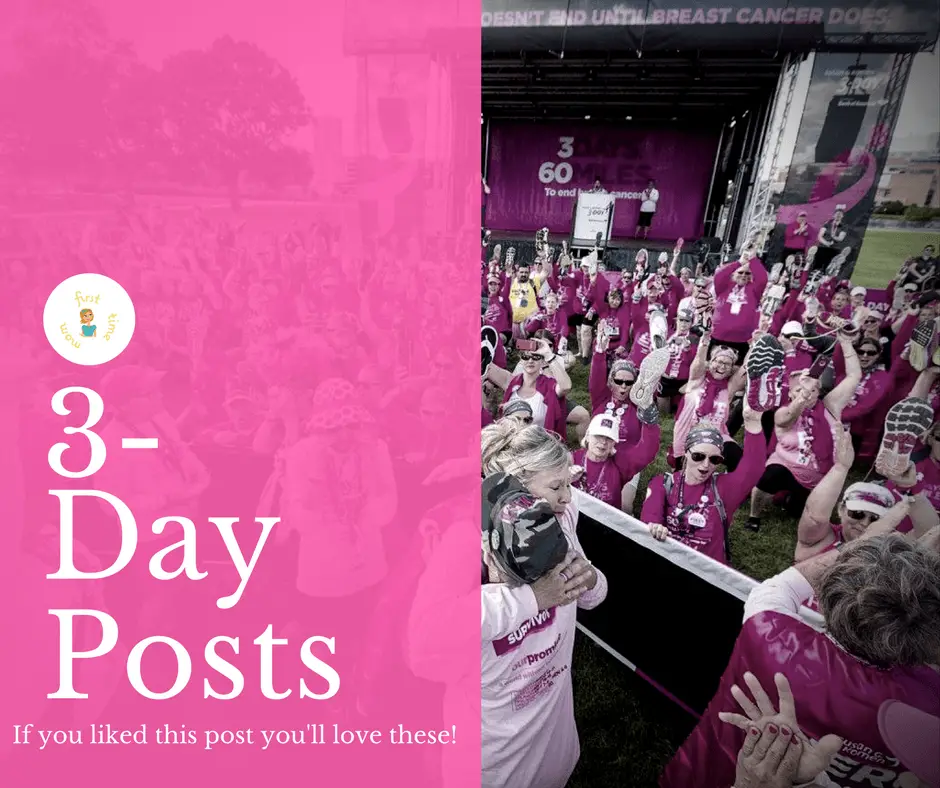 To help you get started on your fundraising though, here are a few ideas:
Design a t-shirt – I love a good t-shirt that supports a good cause. I mean let's be honest, I'm a mom and I live in yoga pants and t-shirts. You'd be surprised by how inexpensive it is to design and order a t-shirt. Most places like VistaPrint have introductory deals going on as well.
Talk with a local restaurant about donating a certain percentage of the day's sales to sponsor you.
Organize a workout where the proceeds go towards your fundraising. If you're a member of a gym or you take group fitness classes see if the instructor would be willing lead a class that was open to the public. Then, whatever percentage the gym or instructor is okay with donating goes to your fundraising.
Garage sale! Who doesn't love a garage sale in the summertime? Advertise what your goal is and make sure people understand that you'll be donating the money made from sales to your 3-Day goal.
Send support letters. Making a point to specifically ask for help can go a long way. Thankfully the 3-Day has a great personal fundraising page that you can customize to tell your friends and family your story and why you're participating in the walk.
Do a Freezer Meal Prep Workshop – Host a night where everyone comes over and preps meals that can be frozen and used later. Not only will you have some girl bonding time but you're also multitasking by taking care of meals as well as fundraising! There are a few home businesses that will do this kind of a workshop such as Wildtree or Tastefully Simple.
Offer your services for a donation – We all have something we're good at; cooking, cleaning, social media, etc. Give people an opportunity to donate in exchange for your service. For example, I could host a social media workshop. If I want, I could charge something like $5 for the class or I could leave it open for attendees to pay however they see fit. Remember in your advertising to tell people that all proceeds will go toward your 3-Day Goal.
I plan on sending out support letters as well as organizing a great workout that will happen at my gym.
Consider Participating in the Susan G. Komen 3-Day 20-Mile
The Twin Cities 3-Day is coming up quickly but you can still participate in the walk if you want to! Consider participating in the 20-Mile. From Susan G. Komen, "Because every action, big or small, makes a difference in our fight, and even if we can't all walk 60 miles, we can make an impact. Walk with us for one day, 20 miles* and meet the people who are ending breast cancer."
With a $750 fundraising commitment, you can join the heroes of the 3-Day® as you:
Walk our

scenic, fully-supported route

on Sunday of the 3-Day event

Camp overnight

on Saturday with your new 3-Day

®

family

(optional)

Laugh, cheer and share tears of joy at our

Closing Ceremony

, our largest, most moving survivor tribute of the weekend

And, through it all make a

real impact in the fight

to end breast cancer
If you do want to join me register here and use this code – ELIZABETH10 –  for $10 off your registration – www.The3Day.org. And I am so excited to be packing all the pink!! Let me know if you have any questions or if you want to join me!