40 Romantic Comedies You Have to Watch
[et_pb_section fb_built="1″ _builder_version="3.22″][et_pb_row _builder_version="3.25″ background_size="initial" background_position="top_left" background_repeat="repeat"][et_pb_column type="4_4″ _builder_version="3.25″ custom_padding="|||" custom_padding__hover="|||"][et_pb_text _builder_version="3.27.4″ background_size="initial" background_position="top_left" background_repeat="repeat"]
As an Amazon Associate I earn from qualifying purchases.
There's nothing like kicking up your feet on a Saturday with your favorite chocolate, popcorn and a romantic comedy (aka rom-com), otherwise known as a chick flick. I don't know where the phrase came from but I can assure you that this is probably the one time you can use the word "chick" in reference to a woman and not offend someone. We love them for their comedic timing and for the gushiness they make us feel. I love romantic comedies and I had my own opinions on the best chick flicks of all time but I thought I'd ask the masses their opinion. Here they are your "Best Rom-Coms of All Time" from the people.
…but first, what is a romantic comedy?
I polled friends and family on my Facebook profile to ask them what their favorite romantic comedy or chick flick was and that was when I realized the mistake I had made. I asked what chick flick do you like best and what I should've done was specified, romantic comedy, not chick flick. You see The Notebook while it's a beautiful story, is definitely not a romantic comedy. Titantic, even with its epic love story, is not a romantic comedy.
Merriam-Webster defines romantic comedy as "a light, comic movie or other work whose plot focuses on the development of a romantic relationship." For this list, I'm using this definition rather than some of the more heavy romantic movies out there.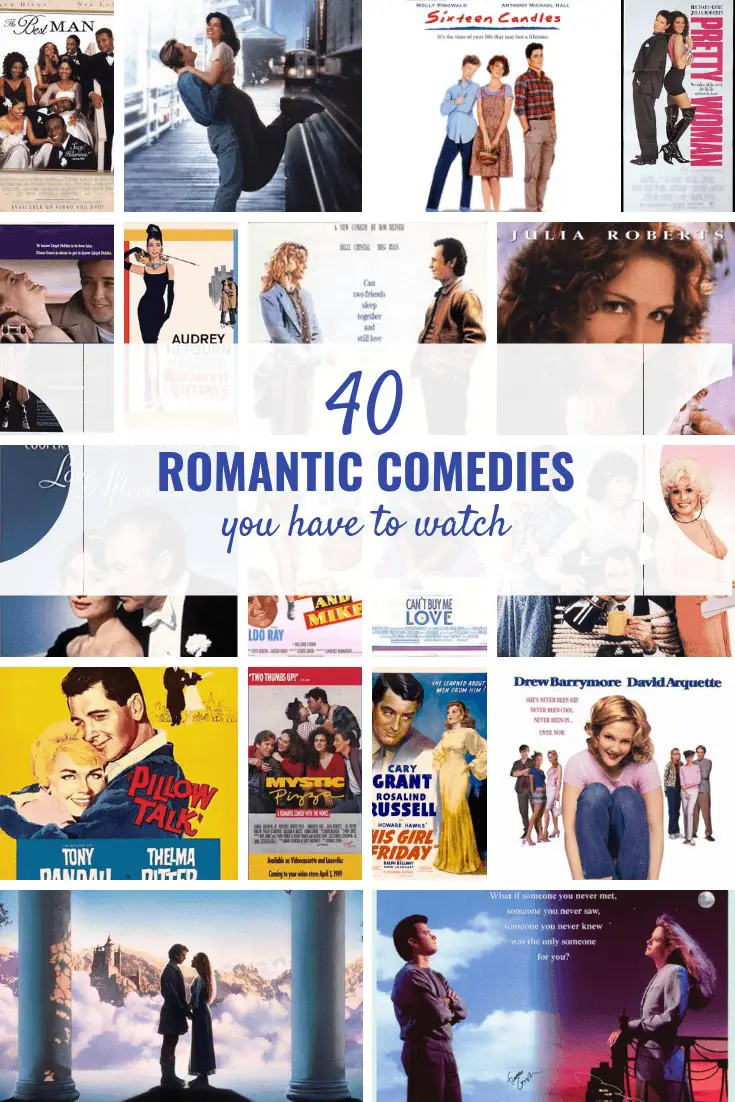 40 Romantic Comedies You Have to Watch
I've collected a few opinions from friends, acquaintances and family members for this rom-com list and because everyone has differing onions I'm categorizing the films by the years they were made. We'll have the classics (think 1979 and prior) and the decades of blockbusters (80s and 90s). All synopsis will come from IMDb.com.
We are a participant in the Amazon Services LLC Associates Program, an affiliate advertising program designed to provide a means for us to earn fees by linking to

Amazon

.

com

and affiliated sites.
Rom-Com Classics 50s, 60s, & 70s
Glass Bottom Boat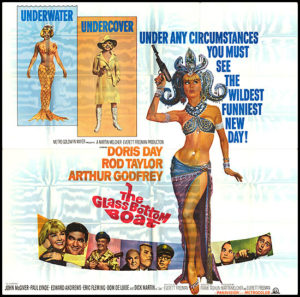 Jennifer Nelson and Bruce Templeton meet when Bruce reels in her mermaid suit leaving Jennifer bottomless in the waters off Catalina Island. She later discovers that Bruce is the big boss at her work (a research lab). Bruce hires Jennifer to be his biographer – only to try and win her affections. However, there's a problem. Bruce's friend General Wallace Bleeker believes that Jennifer is a Russian spy, and he has her placed under surveillance. Then, when Jennifer catches on…Watch Out!
Starring Doris Day, Rod Taylor and Arthur Godfrey.
Buy or rent here.
Pat and Mike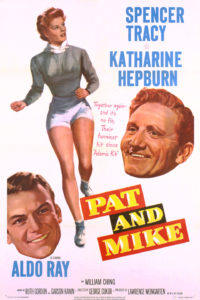 Pat is a women's sports sensation unless her fiancé is around. Her new shady manager Mike keeps them apart and develops feelings for her. 
Starring:Spencer Tracy, Katharine Hepburn, Aldo Ray, William Ching
Get the movie here.
Breakfast at Tiffany's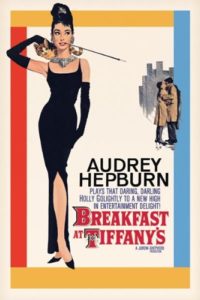 A young New York socialite becomes interested in a young man who has moved into her apartment building, but her past threatens to get in the way.
Starring: Audrey Hepburn, George Peppard, Patricia Neal, Buddy Ebsen
Click here to watch.
Love in the Afternoon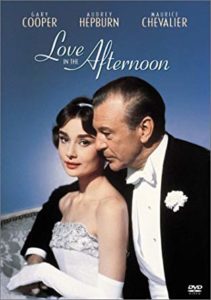 A middle-aged playboy becomes fascinated by the daughter of a private detective who has been hired to entrap him with the wife of a client. 
Starring: Audrey Hepburn, Gary Cooper, Maurice Chevalier, John McGiver
The Seven Year Itch
When his family goes away for the summer, a so far faithful husband is tempted by a beautiful neighbor. That iconic scene of Marilyn Monroe in the white dress happened behind the scenes during the making of the film.
Starring: Tom Ewell, Marilyn Monroe, Evelyn Keyes, Sonny Tufts
Grease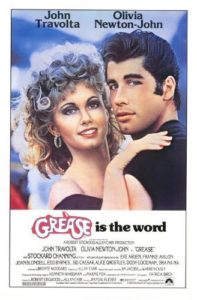 Good girl Sandy and greaser Danny fell in love over the summer. When they unexpectedly discover they're now in the same high school, will they be able to rekindle their romance?
Starring: John Travolta, Olivia Newton-John, Stockard Channing
It Happened One Night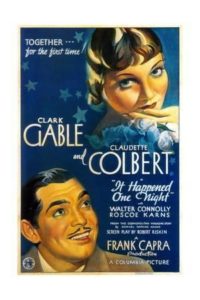 A spoiled heiress running away from her family is helped by a man who is actually a reporter in need of a story. Rotten Tomatoes rated It Happened One Night as the number one comedy ever.
Starring: Clark Gable, Claudette Colbert, Walter Connolly
Roman Holiday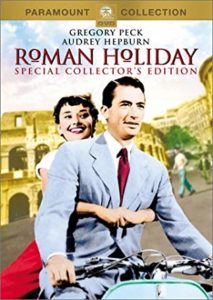 A bored and sheltered princess escapes her guardians and falls in love with an American newsman in Rome. This is one of my favorite romantic comedies!
Stars: Gregory Peck, Audrey Hepburn, Eddie Albert
His Girl Friday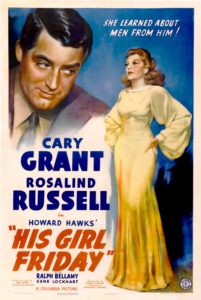 A newspaper editor uses every trick in the book to keep his ace reporter ex-wife from remarrying. This movie always makes me think of Rory Gilmore on The Gilmore Girls.
Starring: Cary Grant, Rosalind Russell, Ralph Bellamy
Pillow Talk 
A man and a woman who share a party line cannot stand each other, but he has fun romancing her with his voice disguised. One of my roommates in college loved this movie and the first time I saw it was with her. It's dated and definitely not politically correct but it's a great romantic comedy.
Starring: Rock Hudson, Doris Day, Tony Randall
How to Marry a Millionaire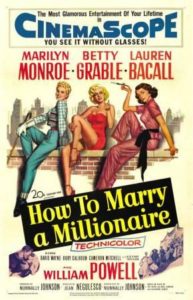 Three women set out to find eligible millionaires to marry, but find true love in the process.
Starrying: Marilyn Monroe, Betty Grable, Lauren Bacall
There are so many classic romantic comedies that are great but I can't go on forever so onto the next 20 years – the 80s and 90s.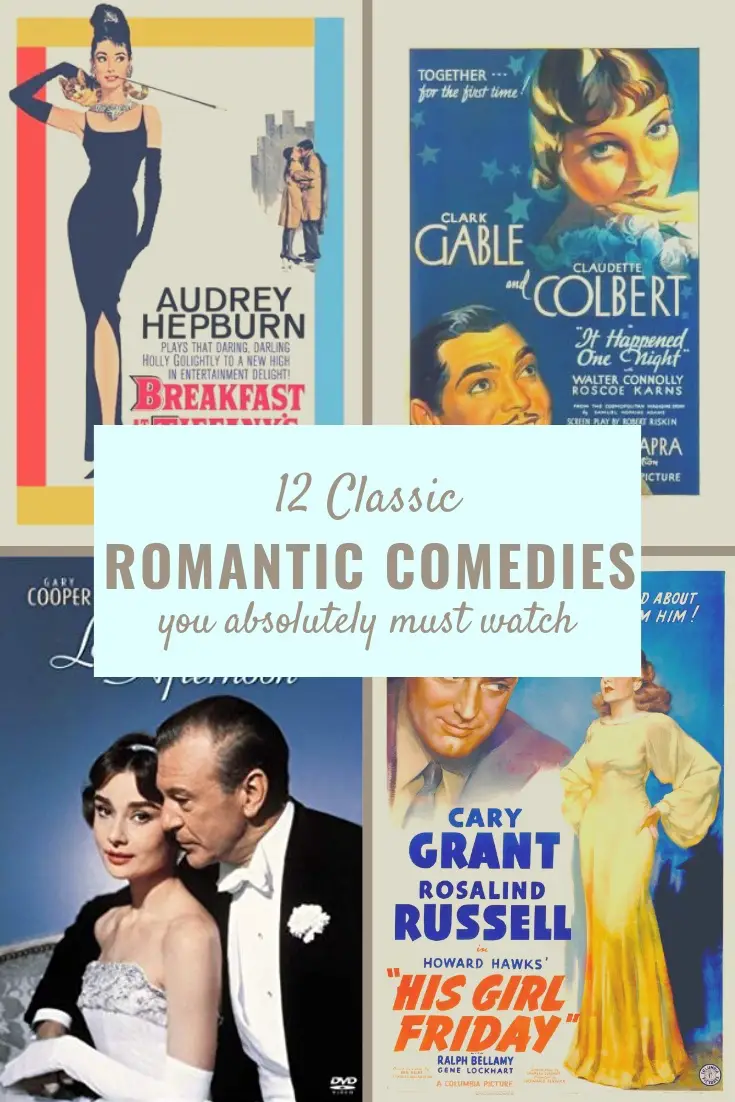 Romantic Comedies from the 1980s
Steel Magnolias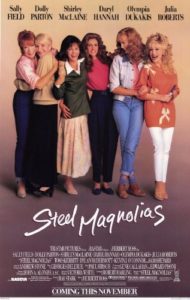 A young beautician, newly arrived in a small Louisiana town, finds work at the local salon, where a small group of women share a close bond of friendship, and welcome her into the fold. Grab the tissues and you favorite gal pals because this is the quintessential chick flick.
Starring: Sally Fields, Dolly Parton, Julia Roberts, Shirley McLaine, Olympia Dukakis, Shirley MacLaine, Daryl Hannah 
The Princess Bride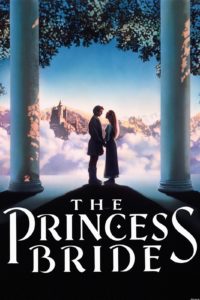 While home sick in bed, a young boy's grandfather reads him the story of a farmboy-turned-pirate who encounters numerous obstacles, enemies and allies in his quest to be reunited with his true love.
Starring: Cary Elwes, Mandy Patinkin, Robin Wright, Wallace Shawn, André the Giant
When Harry Met Sally
Harry and Sally have known each other for years, and are very good friends, but they fear sex would ruin the friendship.
Starring: Billy Crystal, Meg Ryan, Carrie Fisher
Dirty Dancing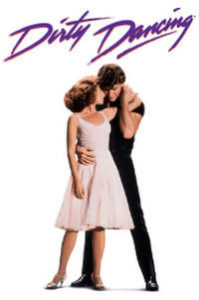 Spending the summer at a Catskills resort with her family, Frances "Baby" Houseman falls in love with the camp's dance instructor, Johnny Castle. "Nobody puts Baby in a corner."
Starring: Patrick Swayze, Jennifer Grey, Jerry Orbach
Broadcast News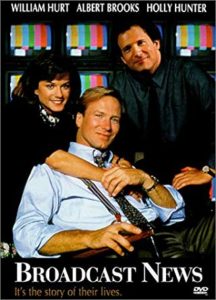 Take two rival television reporters: one handsome, one talented, both male. Add one Producer, female. Mix well, and watch the sparks fly.
Starring: William Hurt, Albert Brooks, Holly Hunter
9 to 5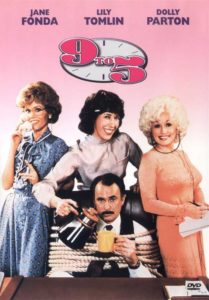 Three female employees of a sexist, egotistical, lying, hypocritical bigot find a way to turn the tables on him.
Starring:
Starring: Jane Fonda, Lily Tomlin, Dolly Parton
Mystic Pizza
Sisters Kat and Daisy work along with Jojo at the pizza parlour in Mystic, Connecticut. Kat, shortly off to Yale, finds herself drawn to a local architect she is babysitting for, while her more tearaway sister starts dating a guy from the money side of the tracks. Jojo leaves her man at the altar; she loves him but shies away from commitment. Meanwhile the fame of the pizza continues to spread; it seems to contain something almost ….. mystic.
Starring: Annabeth Gish, Julia Roberts, Lili Taylor
Say Anything
High school senior Lloyd Dobler wants nothing more than to go out with beautiful and intelligent Diane Court. Lloyd attempts to win her heart over the objections of her over-protective father before Diane leaves for a scholarship in England. You know the iconic scene: John Cusack stands outside a girl's window with a boombox held over his head playing Peter Gabriel's "In Your Eyes". If you have absolutely no idea what I'm talking about, save this page, and immediately go and get the movie.
Starring: John Cusack, Ione Skye, John Mahoney
She's Having a Baby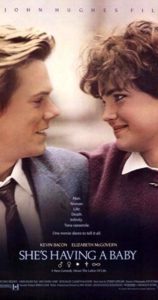 Jake and Kristy Briggs are newlyweds. Being young, they are perhaps a bit unprepared for the full reality of marriage and all that it (and their parents) expect from them. Do they want babies? Their parents certainly want them to. Is married life all that there is? Things certainly aren't helped by Jake's friend Davis, who always seems to turn up just in time to put a spanner in the works.
Starring: Kevin Bacon, Elizabeth McGovern, Alec Baldwin
Can't Buy Me Love
A nerdy outcast secretly pays the most popular girl in school one thousand dollars to be his girlfriend.
Starring: Patrick Dempsey, Amanda Peterson, Courtney Gains
Coming to America
An African prince travels to America to find a suitable woman to marry.
Starring: Eddie Murphy, Paul Bates, Garcelle Beauvais
Sixteen Candles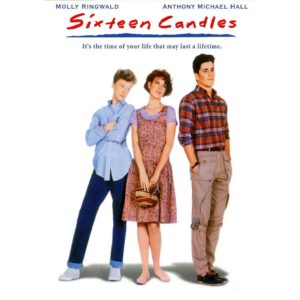 A girl's "sweet" sixteenth birthday becomes anything but special, as she suffers from every embarrassment possible.
Starring: Molly Ringwald, Anthony Michael Hall, Justin Henry
There were tons of rom coms from the '80s but we'll get to those later.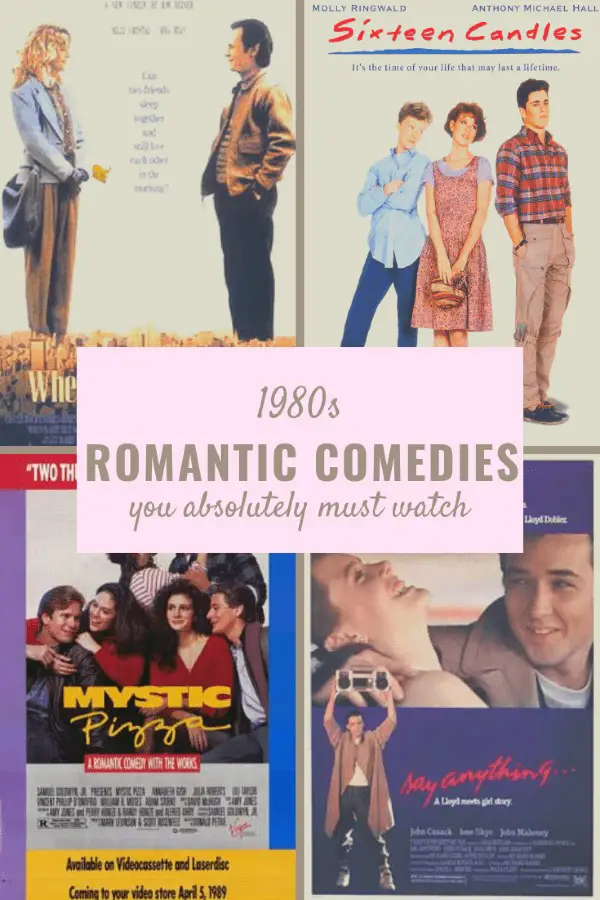 Romantic Comedies from the 1990s
Pretty Woman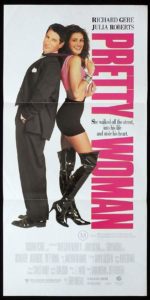 A man in a legal but hurtful business needs an escort for some social events, and hires a beautiful prostitute he meets… only to fall in love. Arguably one of the best rom-coms ever!
Starring:  Richard Gere, Julia Roberts, Jason Alexander
Sleepless in Seattle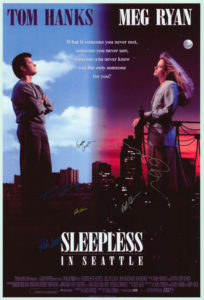 A recently widowed man's son calls a radio talk-show in an attempt to find his father a partner. 
Starring:  Tom Hanks, Meg Ryan, Ross Malinger
Clueless
A rich high school student tries to boost a new pupil's popularity, but reckons without affairs of the heart getting in the way.
Starring:  Alicia Silverstone, Stacey Dash, Brittany Murphy, Paul Rudd
10 Things I Hate About You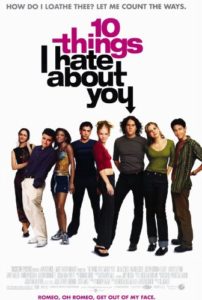 A pretty, popular teenager can't go out on a date until her ill-tempered older sister does. This movie and the soundtrack defined my high school life!
Starring: Heath Ledger, Julia Stiles, Joseph Gordon-Levitt
While You Were Sleeping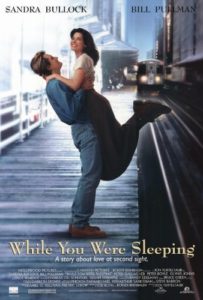 A hopeless romantic Chicago Transit Authority token collector is mistaken for the fiancée of a coma patient. 
Starring:  Sandra Bullock, Bill Pullman, Peter Gallagher
Notting Hill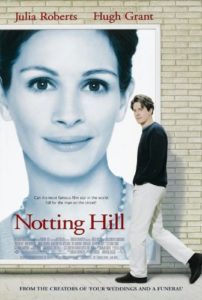 The life of a simple bookshop owner changes when he meets the most famous film star in the world. One of the best romantic lines ever, "Don't forget I'm just a girl, standing in front of a boy, asking him to love her."
Starring: Hugh Grant, Julia Roberts, Richard McCabe
She's All That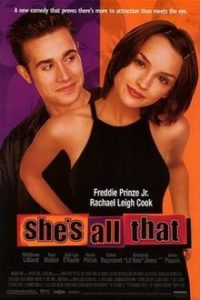 A high school jock makes a bet that he can turn an unattractive girl into the school's prom queen. Quite possibly the first amazing flash mob dance off happens in this film.
Starring:  Freddie Prinze Jr., Rachael Leigh Cook, Matthew Lillard, Paul Walker,
My Best Friend's Wedding
When a woman's long-time friend reveals he's engaged, she realizes she loves him herself and sets out to get him, with only days before the wedding. I love this movie so much, so so so so much.
Starring:  Julia Roberts, Dermot Mulroney, Cameron Diaz
You've Got Mail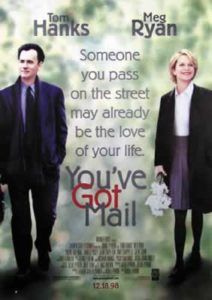 The owner of a large bookstore chain starts putting the owner of a small local bookstore out of business. Meanwhile they have been corresponding over the internet without knowing who either of them are. They can't stand each other in person but over the internet they are very attracted. He finds out who she is but she doesn't know. He starts to like her more but she still hates him. He has to fix it. Every fall I watch this movie, every year for the last 15 years.
Starring: Tom Hanks, Meg Ryan, Greg Kinnear
The Truth About Cats and Dogs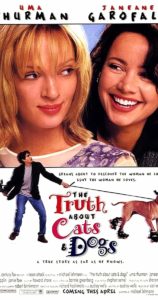 A successful veterinarian & radio show host with low self-esteem asks her model friend to impersonate her when a handsome man wants to see her.
Starring: Uma Thurman, Janeane Garofalo, Ben Chaplin
Never Been Kissed
A newspaper reporter enrolls in high school as part of research for a story.
Starring: Drew Barrymore, David Arquette, Michael Vartan
There's Something About Mary
A man gets a chance to meet up with his dream girl from high school, even though his date with her back then was a complete disaster.
Starring: Cameron Diaz, Matt Dillon, Ben Stiller
The Best Man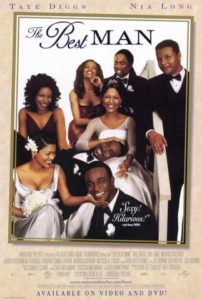 Harper's autobiographical novel is almost out, his girlfriend Robin desires commitment, and he's best man at the wedding of Lance, a pro athlete. He goes to New York early (Robin will come for the wedding) to hang out with Lance and other friends, including Jordan, his former almost-lover, now in media and privy to an advance copy of the book. The men discuss women, never facing their own double standard; Jordan wants to try again with Harper, at least for one night; and Harper fears that Lance will read his book and learn that the bride-to-be slept with him once to avenge Lance's many affairs. Can Harper mature before Lance kills him, Jordan seduces him, and he loses Robin?
Starring: Taye Diggs, Nia Long, Morris Chestnut
Runaway Bride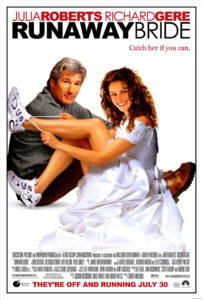 A reporter is assigned to write a story about a woman who has left a string of fiances at the altar. This movie helped me understand the importance of knowing what kind of eggs you like.
Starring: Julia Roberts, Richard Gere, Joan Cusack
It Could Happen to You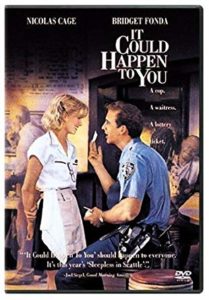 A police officer promises to share his lottery ticket with a waitress in lieu of a tip.
Starring: Nicolas Cage, Bridget Fonda, Rosie Perez
One Fine Day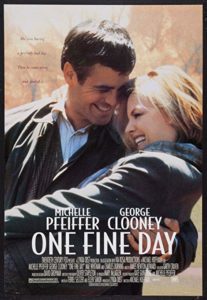 The lives of two strangers and their young children unexpectedly intersect on one hectic, stressful day in New York City.
Starring: Michelle Pfeiffer, George Clooney
Only You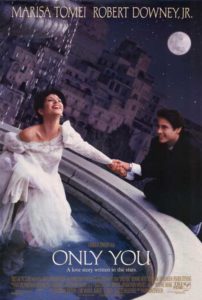 As a teen, Faith was told that her destiny is a man named Damon Bradley. Years later – Faith is about to marry another man – a Damon Bradley calls to wish them all the best. Faith blows off the wedding and follows Damon to Italy.
Starring: Marisa Tomei, Robert Downey Jr., Bonnie Hunt
What do you think? I'm sure I missed quite a few, the 1990s was the golden age of romantic comedies.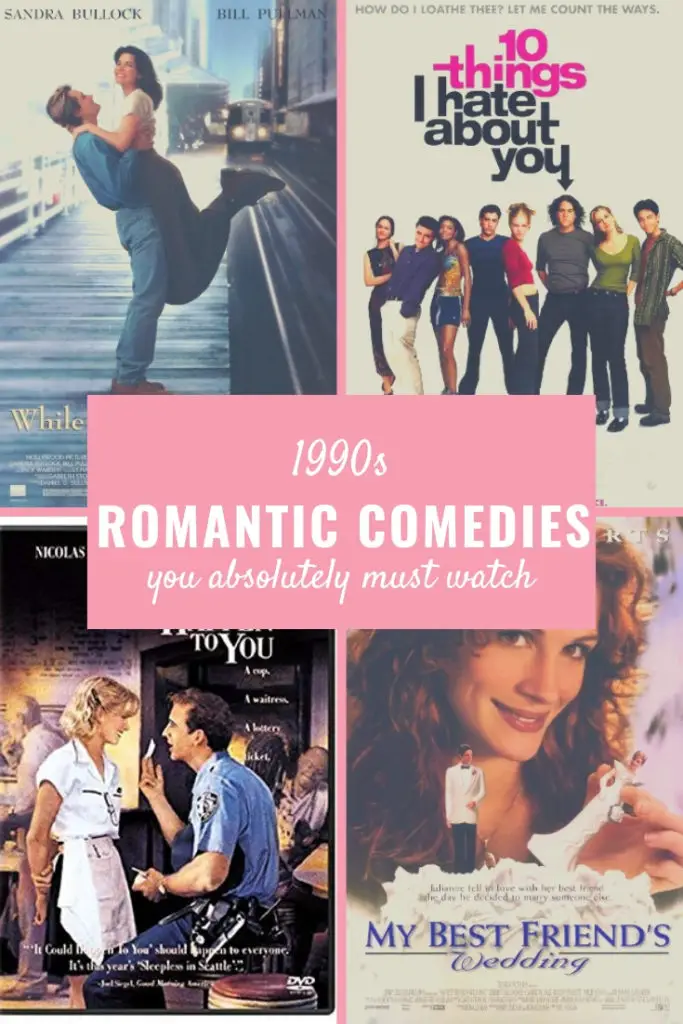 Where can I buy or rent romantic comedies?
You can buy pretty anything on Amazon. If you have Amazon Prime you can rent movies as well as part of their Prime Video program, it comes with your Prime subscription. You can also rent or buy movies on YouTube. The price to purchase or rent should be listed and sometimes there are different pricing because of the resolution. You can also use Google Play and check out other streaming services like Hulu, Netflix or even some of the free channels on the Roku player.
What about romantic comedies from the 2000s?
That post is coming soon! I'll have more posts about romantic comedies from the 2000s for you to watch very soon!
[/et_pb_text][/et_pb_column][/et_pb_row][/et_pb_section]