How to find Zulily-like Deal Sites for Less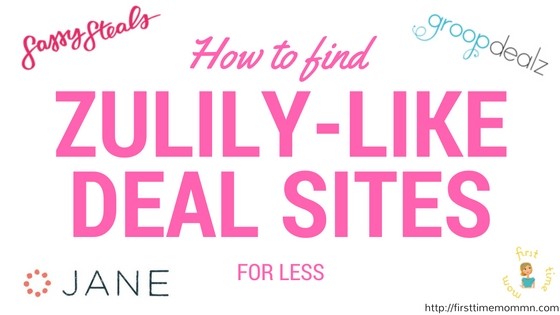 As an Amazon Associate I earn from qualifying purchases.
Just so you know, there are affiliate links in this blog post; it won't cost you anything extra, however, should you make a purchase from one of the links I'll receive a small commission for your purchase. Thank you for supporting my family!
I love and I mean LOVE Zulily. I love the boutique styles they have and the discounts that they offer. Well, discount that is until it comes to shipping. Yes, every single first purchase with Zulily costs you an extra $5.95 (the minimum amount although I've always been charged $11.95 and that's even when I've ordered one piece of clothing) in shipping. As an added bonus you can receive free shipping for the rest of the day until midnight and extra bonus points if you place an order on Friday, Saturday or Sunday. Then it's free shipping until Sunday at midnight PST. But it's only free if you choose the standard shipping and handling; if you need to expedite your shipping for faster delivery you'll also be foregoing the subsequent free shipping deal for that day. Needless to say, with the shipping prices at Zulily I just stopped looking at what they had to offer. Then I wised up.
How to find Zulily-like Deal Sites for Less
I just knew there had to be other deal sites out there that weren't charging an arm and a leg for shipping. I had heard of Pick Your Plum and Jane.com but I just had this gut feeling that there had to be more. I'm happy to report that I was correct.
I've been perusing GroopDealz for the past few weeks and I have to say that I'm really impressed with their selection as well as their prices. They have occasional giveaways so if you're the kind of person who likes to enter all the giveaways you'll definitely enjoy GroopDealz. They also have a section called "Dollar Dealz" where they list all of their special deals that are $10 and under. They also have group buys where you basically join a group buy for a particular product (it's always selected by the GroopDealz team); the more people who opt-in to the group the lower the price becomes. From the GroopDealz site,
As most good ideas begin, the idea of groopdealz was born sitting around Mom's kitchen table over 5 years ago. As we sat and admired the amazing find she had come across at a local boutique, the thought hit us that there were endless numbers of local fashion and specialty boutiques out there as well as countless handmade and home-based businesses and talented artisans, just waiting for a platform to bring their unique products to the public.
Unlike Zulily you can return purchases to GroopDealz as long as they aren't swimsuits, undergarments or personalized items and you must return them within 14 days of receiving your purchase.
About Jane.com,
Providing the most high-end products, from the most trusted companies, to the most loyal customers, is not just a mission, it's a promise. With a highly structured selling platform and multiple integrations, jane.com provides both online sellers and brick and mortar shops the perfect marketplace to showcase their boutique and creates an attentive audience for new innovative products.
You'll find boutique style clothes, home decor, children's items and accessories on Jane.com. Jane.com always has a weekly giveaway that features one of the boutiques or brands that are on their site. This is great to explore other brands as well as to enter a fun little giveaway. You'll never win if you don't enter, right?
If you aren't happy with your purchase or it doesn't fit you can also return it within 14 days of receiving the purchase, however, you have to contact the seller to see if there's any inventory left. Jane.com kind of acts as a middleman so you can go through Jane.com to have them connect you to the seller, or you can go directly to the seller on your own. Jane.com also doesn't charge and arm and a leg like Zulily does so they have my vote just with that!
Last but certainly not least we have Sassy Steals. Sassy Steals is similar to both GroopDealz and Jane.com,
Sassy Steals is a boutique daily deal marketplace where dealers and artisans can offer unique clothing, housewares, crafts and accessories in exciting flash sales. You'll find an outstanding assortment of products that were assembled and packaged with care and a personal touch.
You'll also find a weekly giveaway on Sassy Steals. As someone who does social media marketing for a brand, as well as being a consumer, I can tell you that I so appreciate when a store or brand is willing to give away a little something to its customers. It shows that it's not all about the money and that they're willing to give back a little something.
Sassy Steals' selection is not as vast as the other two deal sites highlighted here, however, they do seem to have products from smaller shops and boutiques so if you like having things that are unique I think that Sassy Steals is the way to go.
There it is. As of right now, these three sites are my go-to's when I'm wanting that boutique look and flair but I don't want to pay the Zulily prices (ahem…shipping price). You can subscribe to all of these sites so that you never miss out on something you absolutely must have or you can follow them on their social media accounts. What are your favorite boutique-style deal sites?