Galena & Dubuque: The Perfect Fall Vacation for Your Family
 Allow me to show you everything that Galena, IL and Dubuque, IA have to offer for your family. I know, when you think vacation, you are probably not thinking Midwest. You're also not envisioning vacationing to Iowa of all places nor would you go anywhere in Illinois except for Chicago. Hear me out, there's a little gem nestled in the Midwest and if you're open to it, I think you'll fall hard just like I have. Galena and Dubuque are next to each other and separated by the Mississippi River which is why there's a ton of attractions that are suitable for families to enjoy on vacation.

As an Amazon Associate I earn from qualifying purchases.
Galena & Dubuque: The Perfect Fall Vacation for Your Family
Nestled on the Mississippi River lies Dubuque, Iowa; a town rich with friendly faces and lots to do on a budget you really can't go wrong. You definitely aren't going to break the bank when you do a Galena Dubuque vacation and you'll find you won't be bored either. It's the perfect Midwest fall vacation for the entire family.
What to do in Dubuque, Iowa?
National Mississippi River Museum
Affiliated with the Smithsonian Institute, the River Museum has a ton of exhibits and events happening year round to make this one of your must-sees while your in Dubuque. Check out their Mississippi River aquarium exhibit and learn about what life was like on the river when it was a main source of transportation of goods in the early pioneer days. You can also bring the kids to check out the RiverWorks children's exhibit where they can play with water and learn how rivers work. There's also a 4-D theater that plays educational films the entire family will enjoy.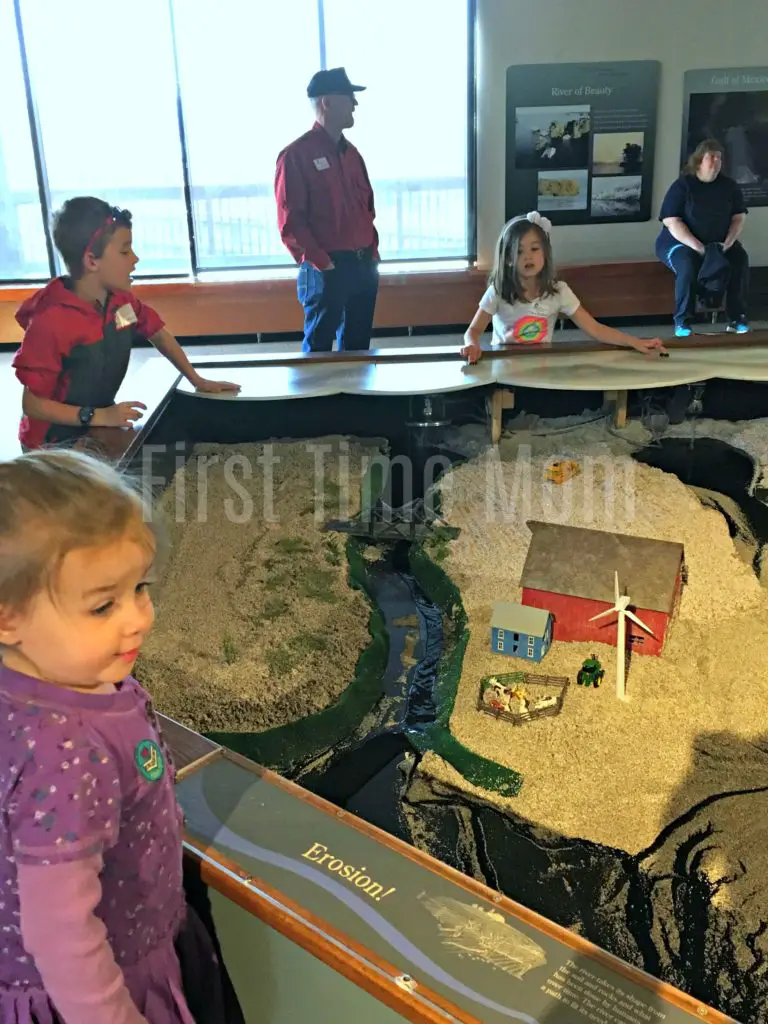 My kids' favorite exhibit is the aquarium and the RiverWorks area. We can easily spend half a day there and still not have seen the entire museum so it is something you cannot miss.

Fenelon Place Elevator Co.
The Fenelon Place Elevator is also known as the Fourth Street Elevator because it's located on Fourth Street in Dubuque. It's described as the shortest and steepest scenic railway, moving passengers up 296 feet and elevating them 196 feet from Fourth Street to Fenelon Place. The elevator was built in the late 1800 when J. K. Graves, a former mayor and State Senator, commissioned to have it built by local engineer John Bell. Graves didn't like how long it took for him to get home for supper and so the Fenelon Place Elevator was born.
You pay at the top of the ride and also take in the beautiful view of downtown Dubuque. When the fall colors are at their peak I have heard it is breathtaking.
Grand Harbor Resort and Waterpark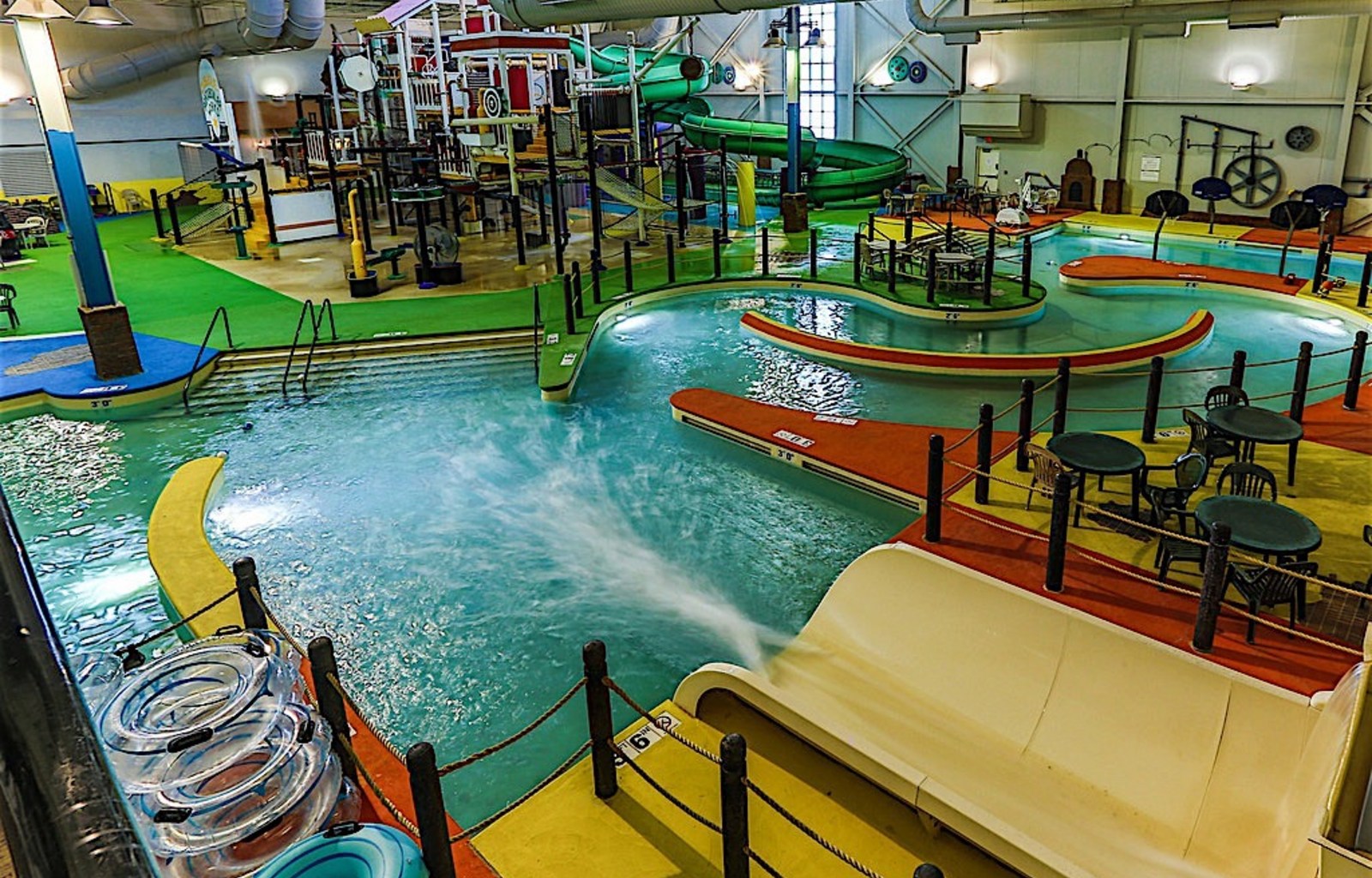 Located in the Port of Dubuque, Iowa, Grand Harbor Resort and Waterpark is the perfect spot for enjoying this beautiful and exciting destination area. Gather with friends for a relaxed conversation in our Tony Roma's Restaurant & Lounge, or slide into a whole new world of water fun in our 25,000 square feet indoor Waterpark. Free Parking and just steps away from the Diamond Jo Casino and Mississippi River Museum.
The views from inside Grand Harbor Resort are absolutely stunning and if you can score a riverside room be ready to do some bald eagle watching. The Grand Harbor is a very short walk away from the Mississippi River Museum so if you're wanting to maximize on time traveling you can't get any closer the the museum. They also offer on-site dining at Tony Roma's as well as free wi-fi, ftiness center, free airport shuttle service and admittance to the waterpark (surcharge). There are also a lot of vacation packages for your hotel stay to make the most out of your buck.
Schuster's Pumpkin Patch & Corn Maze – Dubuque, IA
Pumpkin's as far as the eye can see! Nothing says "fall" like a good old pumpkin patch, corn maze and apple orchard and lucky us, Schuster's Pumpkin Patch and Corn Maze can satiate your pumpkin hunter's craving first. We tend to do our Schuster's visit first, with a pumpkin hunt, time in the corn maze and then a little lunch of homemade chili in every variety you can think of! Then we cross the road to Czipar's Apple Orchard for some of their fresh apple cider.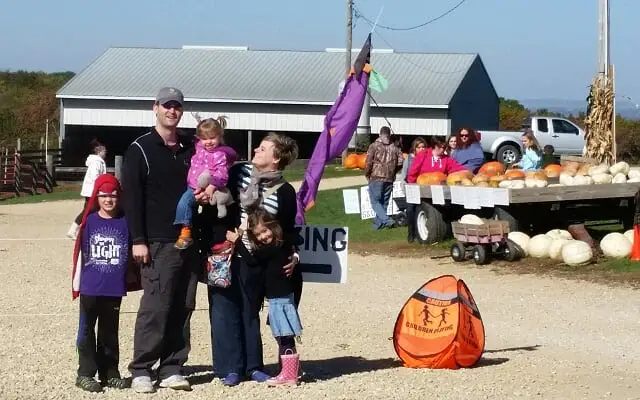 Schuster's Information:
Open Saturday and Sunday – September 23rd thru October 29th, 10 am to 5 pm
Corn Maze (2017): Adults – $4.00, Kids age 6 to 12 – $2.00,  Age 5 and under – free
Wagon Ride to the Pumpkin Patch (2017): Adults – $2.00, Kids age 6 to 12 – $1.00,  Age 5 and under – free
Pumpkins priced by size, Free parking, Free admittance to the ground
ATTRACTIONS: Kids Bounce House, Kids Corn Box, Free Kids Maze, Food Stand provided by various organizations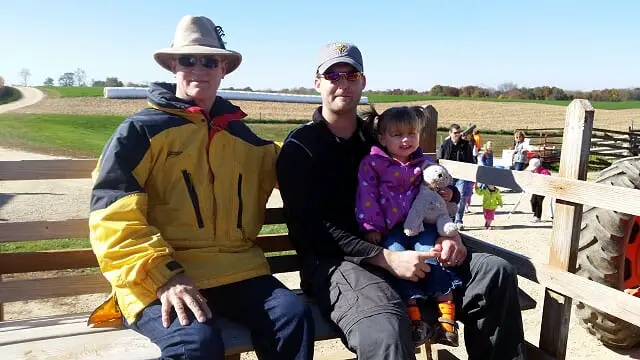 Czipar's Apple Orchard
Labor Day through Thanksgiving, open daily 8:00am to 5:30pm. Click here to learn more.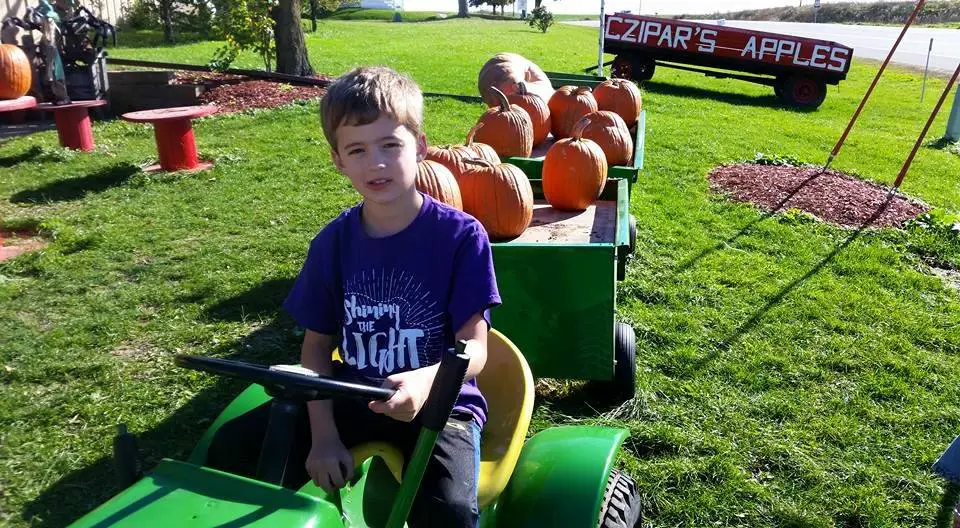 What to do in Galena, IL?
Galena is just across the river and east a little ways on Highway 20. There is a ton to do in Galena during all of the seasons but one of my favorite times to experience this charming riverside town is during the autumn because of its rich fall foliage and the fun festivals the town offers. I kind of think of Galena as a real life Stars Hollow, only it's nestled in the Midwest and not the East Coast.
Galena Country Fair
If you love handmade goods, artisans, and crafts you have to visit Galena during their Country Fair. The event is huge but spread out enough to not feel too overwhelming. The first time I visited Galena it was during Country Fair and that's when I fell in love with Galena. Now my parents live there, which I'd like to think has to do with me, but in all reality Galena worked her magic on them too. The festival is an annual event that happens on Columbus Day weekend.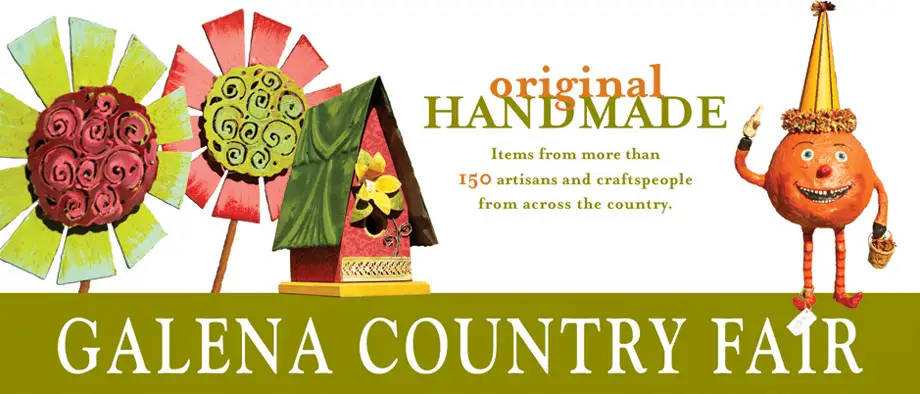 Saturday, October 6, 2018: 10 a.m.-5 p.m.
Sunday, October 7, 2018: 10 a.m.-4 p.m.
Suggested Donation at the Gate: $2
Parking and Shuttle: visit parking & shuttle page of the website for detailed information. Galena Country Fair boasts more than 150 vendors selling high-quality, original, handmade arts, crafts and fine arts. Held in picturesque Grant Park overlooking historic Galena, Illinois, the fair is a Columbus Day weekend tradition.
Galena Halloween Parade & Festival
Known for its Halloween Parade many travel to Galena to finish out the fall's activities with their annual Halloween Parade & Festival. The parade is about two hours long and has a host of incredible floats, marching bands and spooky sites for all ages!
Main Street, 10/28/17. Visit here for more information.
Dittmar Farms – 256 S. Grebner Rd., Elizabeth, IL
Step back in time at the Dittmar Farms idyllic pumpkin patch and apple orchard. U-pick pumpkins, scenic hayride, corn maze. Great family fun! Mid-September through October. Saturday & Sunday, 10 a.m.- 5 p.m. From their Facebook page,
Several years ago Rick and Mike Dittmar decided to start selling sweet corn and other produce at the local farmers market. We sell delicious sweetcorn in the summer and pumpkins in the fall. We have planted an orchard that has 4 different kinds of apples. We also farm about 50 acres of "regular farming" with field corn, and alfalfa. In the fall of 2014 we opened for U-pick pumpkins and had over 1300 visitors. Mill Creek Valley comes from the stream that meanders through the farm valley. The farm is located in scenic Jo Daviess County in Northwest Illinois around 10 miles from Galena. The farm has been in our family since 1854 and as you can tell by our photo albums, it is a big family affair. We hope to see you someday!
Seasonal
Pet-Friendly
Wheelchair Accessible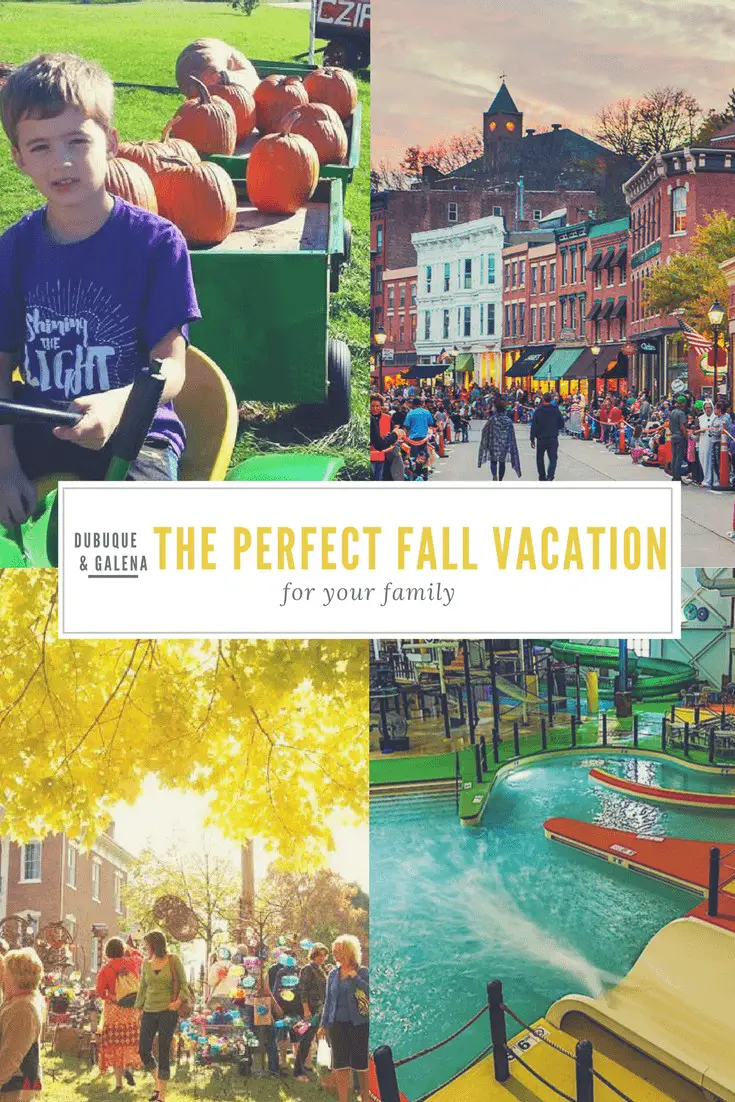 If you're on the fence about where to travel I sincerely hope our little jaunt to the heart of the Midwest gives you some ideas. Where's your favorite autumn vacation spot?