Apartment Green Living: Hand Washing Cloth Diapers
This post contains affiliate links. Thanks for supporting First Time Mom.
My Story: I'm an apartment-dwelling city girl with a heart to go green. Actually, city living can be very eco-friendly. We're a single car family and my husband commutes to work on his bike. We often go days without using the car. Being close to many restaurants, stores, and parks encourages us to think, play, and buy local. Additionally, having a smaller place forces us to be intentional about not accumulating unnecessary stuff. Indeed living in the city can be very green!
As an Amazon Associate I earn from qualifying purchases.
Yet apartment living also has its drawbacks, namely, we do not have in-unit laundry. Now this wasn't an issue when it was just my husband and I, but not having a washer and dryer is a major hindrance to going green with a baby. How could I cloth diaper without a washer and dryer in our apartment? While there are many reasons my husband and I chose to cloth diaper, saving money long term was one of our biggest motivators. The idea of paying over $5 to complete one load of diaper laundry and juggling a baby during multiple trips to the laundry room was not going to work! Plus, I wasn't thrilled with the idea of daily plunging my diapers. So we started looking for washing alternatives.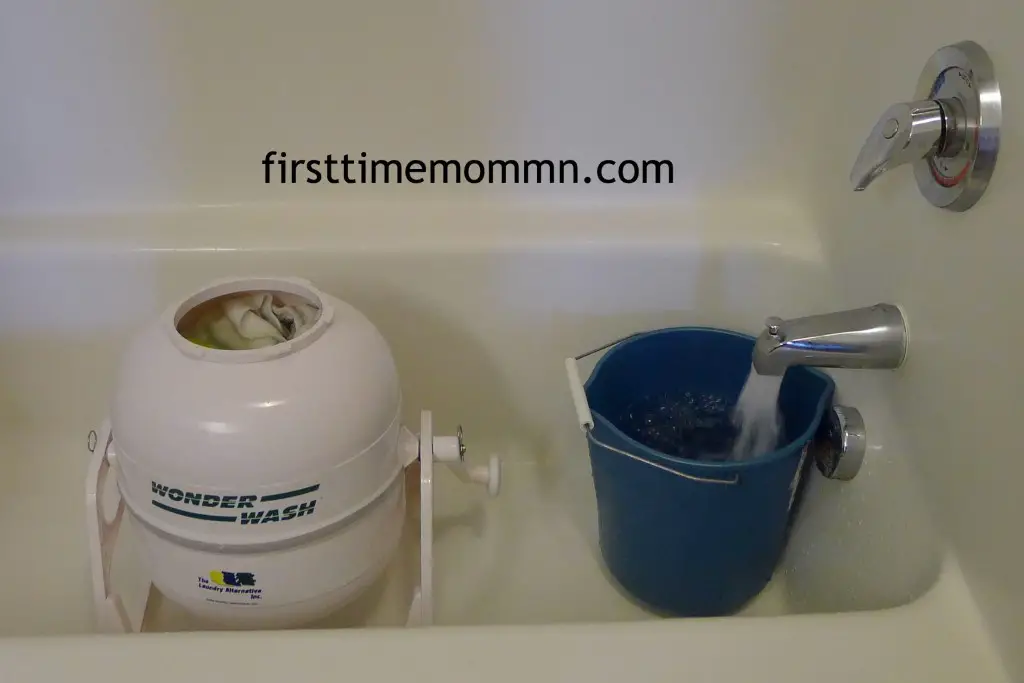 "Hand" Washing Cloth Diapers: At The Laundry Alternative we found our diaper laundry solution, the WonderWash and Nina Soft Spin Dryer. The WonderWash is a hand-powered washer that can do about five pounds of laundry in one load. It retails for $42.95 and doubles as our washer and dry pail. My typical load size is one day's worth of diaper laundry: 6-9 diapers, liners, and cloth wipes. While we use the WonderWash in our bathtub, the unit is small enough to use on a counter top. The Nina Soft Spin Dryer is a small centrifugal dryer… think of it as a turbo powered spin cycle in a regular washer. It is compact and weighs only seven pounds so storage is a breeze. We use the spin dryer to not only help dry our diapers, but it also plays a key role in our wash/rinse method. Truth be told, retailing at $145.00, the spin dryer was a splurge for us and if cost is a concern for  you, one can effectively wash cloth diapers with just the WonderWash. Prior to washing, I use a diaper sprayer on all our poopy diapers/wipes and on all our overnight diapers.
Laundry Method
Presoak diapers in warm water 15-30 minutes, insert drain pipe and drain soiled water completely.
Tumble wash in hot water with 2 tablespoons of detergent (we use Eco Sprout) for at least one minute, 60-75 rotations, drain. (Allow the detergent to dissolve in the hot water before rotating.)
Tumble rinse in hot water for at one minute minimum and drain. (For faster draining and better results, wring out diapers by hand or press diapers against the washer side.)
Tumble rinse in warm water for one minute, drain, and wring out diapers prior to spinning.
Spin diapers: Place diapers into the Nina Soft Spin Dryer, being sure that the load is balanced. Spin until water stops draining.
Tumble rinse in cold water for one minute, drain, and wring out diapers prior to final spinning.
Spin diapers and hang dry.

Disinfect tub and the outside of the WonderWash..
To see the WonderWash and Nina Soft Spin Dryer in action checkout my "how-to" video by clicking on the link or watching it below.
Hands-On but Fast: This wash/rinse/spin routine takes twenty to thirty minutes of hands-on time. Add that to a thirty minute pre-soak and that's just one hour to wash a day's worth of diapers. I can finish diaper laundry during my son's nap time or my sweet hubby does diaper laundry in the evening. Our diapers come out clean and are dry in one to two days. Don't let apartment living keep you from cloth diapering. Using the WonderWash makes hand washing our diapers fast and more convenient than traditional hand washing.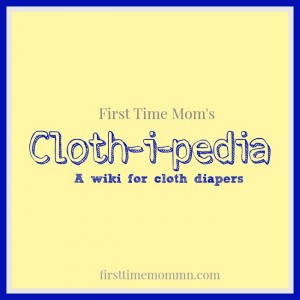 Would not having an in-unit washer and dryer keep you from cloth diapering? Do you have any hand washing tips?  Remember, sharing is caring!