Cloth Diapering in an Apartment? Yes, you can.
There are affiliate links in this blog post and if you purchase anything from those links we'll be given a commission for your purchase. This costs nothing extra for you but enables us to keep First Time Mom running as well as supports our families. Thank you for your continued support!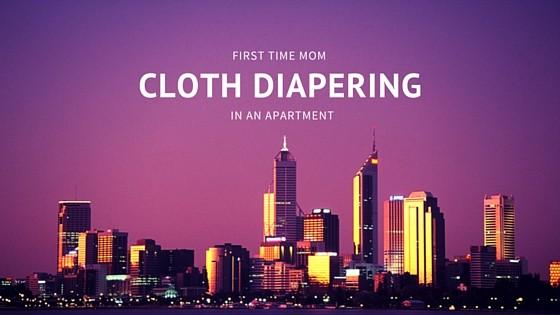 As an Amazon Associate I earn from qualifying purchases.
Before entering the ranks of motherhood, when I imagined a cloth diapering family I thought of middle class folk living in the suburbs. How could you cloth diaper in an apartment? How would you do diaper laundry? What about the lack of space? Where would you store the dirty diapers, or the clean ones for that matter!?!
My Story 
The intersection of apartment living and cloth diapering became my every day reality. When our first baby arrived my husband and I lived in a city apartment on a grad student salary. Oh and we did not have a washer / dryer in our apartment; just access to a communal laundry room. Some how we were going to make cloth diapering in an apartment work. For the first six weeks of Triple A's life we lived in a one bedroom apartment in Boston. Some one gifted me a newborn cloth diaper stash so baby Triple A was in cloth when we came home from the hospital. Triple A slept in the bedroom with us, but there wasn't enough room for an additional bedroom dresser.
The living room's "media chest" served dual purposes: TV stand and baby dresser so we stored our clean diapers in there. We had limited space in our bathroom so I skipped the diaper pail and stored dirty diapers in a Kanga Care Wet Bag that sat on the floor next to the toilet.
[Tweet "Can you use #clothdiapers in an apartment? Yes, yes you can!"]
Washing Cloth in a Communal Laundry Room 
Luckily the coin-operated washing machines in our Boston building weren't too expensive. Still, to save money on a prewash load, I sprayed all our diapers before placing them in the wet bag.  On laundry day I presoaked the diapers for 15 minutes in warm water with one scoop of Eco Sprout in our tub.
After ringing out the presoaked diapers I placed the diapers in a bucket and headed down the hall to the laundry room. In the communal washing machines I did a hot wash cycle with my Eco Sprout, followed by an additional cold cycle without detergent. I did not trust the temperature controls on the laundry room dryers so I loaded up my drying rack and was off to the rooftop. Yup, I was the crazy lady in the elevator with a drying rack full of diapers!
Tips for Washing Diapers in a Communal Laundry Room:
Spray all your diapers.
Presoak diapers in your apartment to save money on a prewash cycle.
Ask your landlord to designate one washer as "hypoallergenic" i.e. no softeners, no fragrances, etc.
Consider using prefolds/flats with covers as they are the easiest kind of cloth diaper to launder.
Our Story Continued… When Triple A was six weeks old we moved from a one bedroom in Boston to a two bedroom in downtown Minneapolis. Having a second bedroom in our Minneapolis apartment was great, but again our apartment did not have an in-unit washer. Now that Triple A was out of his newborn diapers we needed a larger wet bag and upgraded to a Planet Wise Hanging Wet Bag. The coin operated machines in our new building were very expensive. Financially doing diaper laundry in the communal laundry room wasn't an option. My husband is a consummate researcher so he scoured the internet of a possible solution to our cloth diaper laundry dilemma and found a hand powered washer, the Wonder Wash, and small centrifugal (spin) dryer, the Nina Soft Spin Dryer. We "hand washed" our cloth diapers for almost a year using the Wonder Wash.
After washing and spinning the diaper laundry we dried them on a drying rack placed in front of a sunny window. It usually took two days for things to dry completely, luckily we had help buying diapers so my stash was big enough to allow for that much drying time. For a detailed description of our hand wash routine using the Wonder Wash check out this post, "Apartment Green Living: Hand Washing Cloth Diapers." If purchasing a Wonder Wash is not an option for you consider hand washing your diapers using the plunger method. I'm proof that you can successfully cloth diaper in an apartment without a washer / dryer. Here are some more tips I picked up along the way.
Tips for Cloth Diapering in an Apartment 
For storage, think beyond the changing table -create wall space, use over-the-door hanging organization systems, modify furniture to make it multipurpose. Here are some great storage ideas.
Simplify your stash to address storage and washing complications. Prefolds/flats with covers are great, AI2 systems are a close second in this category.
Hand wash your diapers.
Consider using a laundry service.
Cloth diapering has so many benefits for your family and the environment. I know from personal experience that cloth diapers can be a real life-saver financially. In fact, there is a wonderful nonprofit, Giving Diapers Giving Hope, that provides, "free cloth diapers to low income families to help alleviate the cost of diapering their children which will help them use their money for other essentials." Sadly some families have to choose between buying diapers or food, but cloth diapers are a real solution to diaper need.
Don't let living in an apartment keep you or someone you know from considering cloth diapers.
Whether you hand wash your diapers or use a communal laundry room, it is possible to cloth diaper without an in-unit washing machine. Where there is a will there is a way and I believe cloth diapering is the best way to diaper your baby.
My sister, Bert, and I love supporting all moms through First Time Mom. Remember to connect with us on Facebook, Instagram, Pinterest, and Twitter so you don't miss out on any FTM goodness. Thank for taking time to read First Time Mom and remember sharing is caring!