What You SHOULD Put on Your Baby Registry – Advice from Experienced Moms

As an Amazon Associate I earn from qualifying purchases.
Registering for a baby can be very overwhelming. First off there are five billion options for the same product – just look at your standard pacifier – I can't think of at least six different pacifier brands off the top of my head and that doesn't even include generic brands and every possible option of pacifier. I set out to get you the absolute best products you have to put on your baby registry from experienced moms who have been there and done that. So skip the baby socks, tiny receiving blankets and Pee Pee TeePees and put these items on your registry!
Just so you know, there are affiliate links in this blog post; it won't cost you anything extra, however, should you make a purchase from one of the links I'll receive a small commission for your purchase which in turn helps keep First Time Mom running. Thank you!
What You SHOULD Put on Your Baby Registry – Advice from Experienced Moms
Marpac Dohm For Baby, Portable White Noise Sound Machine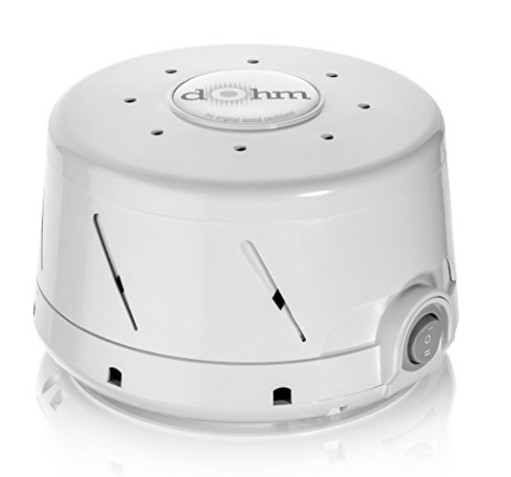 Megan, one of our First Time Mom contributors, just raves about the Marpac Dohm. She says, "I didn't register for it but ended up replacing every sound machine we had gotten with that one. Its a teeny little fan inside the machine so it doesn't play artificial sound on a loop but rather has a continuous fan. It helped Otto fall asleep so much easier and i think its because the song/sounds didn't end or start over. If that makes sense. There is a lot of research about how its better for babies sleep routines [to have white noise] and i would have to agree that it worked GREAT for my son." You can purchase the Marpac Dohm or add it to your registry here.
Fisher-Price Auto Rock 'n Play Sleeper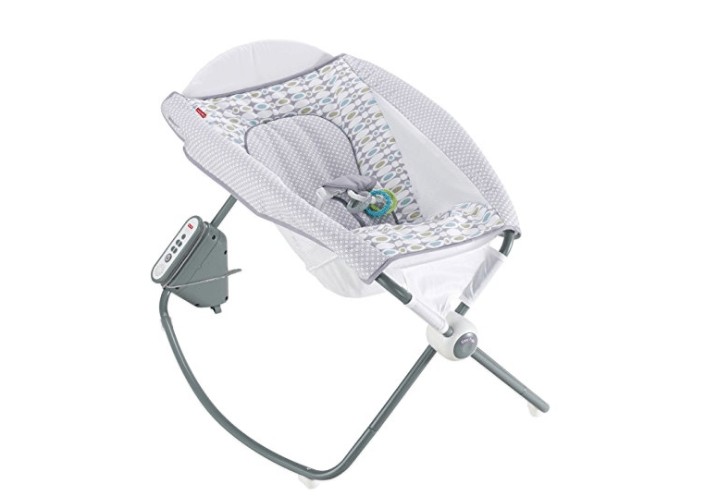 The Rock n Play was one of the most popular products from our little survey of moms. Angie L. said, "Rock n Plays are THE BEST THING EVER. Between colic, surgeries (mine and the baby's), and reflux I would have absolutely lost my mind without our…Rock n Play. I've got it stored in a closet now for when baby 2 comes along."
MamaRoo 4 Classic Infant Seat in Grey Natural Body Movements with Bluetooth by 4moms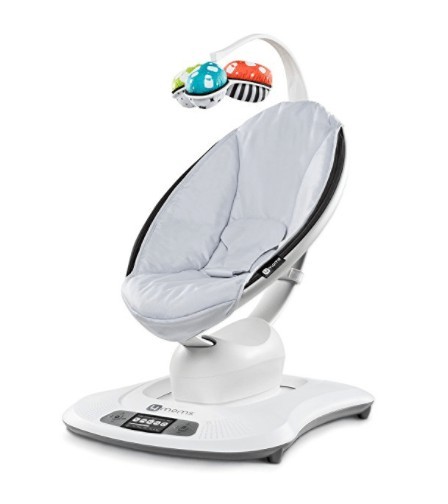 Similar to the Rock n Play but a step above in both price and technology, the MamaRoo by 4moms, boasts Bluetooth technology, five unique motions that move like parents do when comforting their baby (car ride, kangaroo, tree swing, rock a bye, wave) and the ability to recline the seat if you have a little one who has a tendency to spit up a lot after feedings or who struggles with acid reflux. Mandi, one of our First Time Mom contributors, said, "This time my 'most wanted' is the 4moms Mamaroo. I need a safe cozy place for new baby while I chase the toddler around."
Swaddles
Babies love to be swaddled, for the most part that is; you'll find that every child is different but two out of my three children needed to be swaddled to sleep as newborns. There are a ton of swaddles on the market though so the question becomes, which one is the best? Here's what our experienced moms had to say:
Mandi loves the Ollie Swaddle and said she's got hers washed and ready to go for baby #2!
Heather W. prefers Oliver + Kit Swaddle Blankets to any other swaddle while most of our moms, including experienced mom of three, Rhiana, swear by Aden + Anais Muslin Swaddle Blankets. Heather W. said of Oliver + Kit, "Oliver+Kit are bigger & better quality than Aden & Anais [in my opinion]. And the prints are just adorable, bright & flashy. Different from many of the swaddle blankets on the market."
Co-Sleepers
Many parents choose to have their baby co-sleep with them or sleep in their room for the first four to six months. There are many popular products out there that aid in safer co-sleeping, however, our moms suggested these products.
Cassidy said, "Arms reach co sleeper. Amazing!! So handy to not have babe in the bed but still co sleep."
The DockATot was not around when I was having babies but I have been inundated with suggestions for this product. Here's the product description, "Due to the raised tube design and breathable and hypoallergenic materials, the Deluxe+ Dock also offers parents a safe way to co-sleep with their babies (be sure to review and follow all the Sleep Safety guidelines on our website). Deluxe+ docks are lightweight and portable, allowing for easy travel. Additional covers are available for purchase to match your mood, room and style."
Sleep Sacks
If you live  in a cold climate like I do a sleep sack or wearable blanket is a must. The other reason why I personally love sleep sacks is because they take away the worry you experience by having loose blankets in the crib with baby. Here are a few favorite brands.
Halo Sleep Sack is probably one of the most popular sleep sack brands and most hospitals give their swaddle sleep sack to new parents as a gift to bring baby home in.
Baby Deedee Sleep Nest is my personal favorite sleep sack. It's soft and plush, I wanted one for myself! SAFE AND COZY SLEEP: breathable fabric & comforting cocoon shape mean a restful night's sleep for all. UNIQUE FEATURE: exclusive shoulder straps make placing a sleeping or standing baby in the sleep nest a cinch, high-quality reverse zipper.
Baby Carriers
The key to hands free mothering is babywearing. The preferred brands were Tula, Ergo, and LILLEbaby. Check out your local babywearing chapter because they have classes and opportunities for you to go and try out carriers to find the one that's best for you and your family's needs.

Those products you'd never, in a million years, think would be worth it but totally are.
There are some products that you just have to categorize in the "other" category and these are those products! All still highly referred by the moms in our Facebook group, The Mom Hub.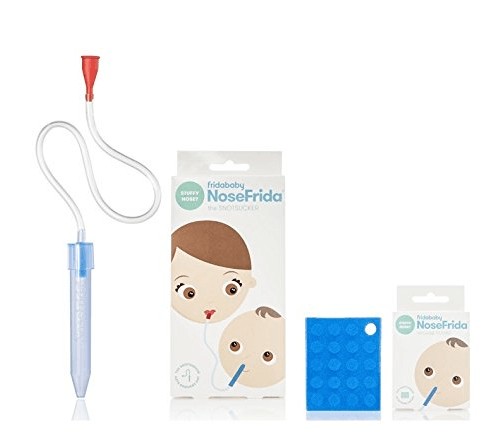 It sounds incredibly disgusting and bizarre but trust us, you must get a NoseFrida. It's similar to the bulb aspirator but highly recommended by doctors because it's more gentle on your baby's nose than a bulb. "Parents use their own suction to draw mucus out of their child's nose. Disposable filters prevent any bacterial transfer. Nosefrida is easy to clean, dishwasher safe, and BPA and Phthalate free. It is superior to the bulb aspirator, presents no risk or harm to internal nasal structures and is dramatically more effective," from Amazon.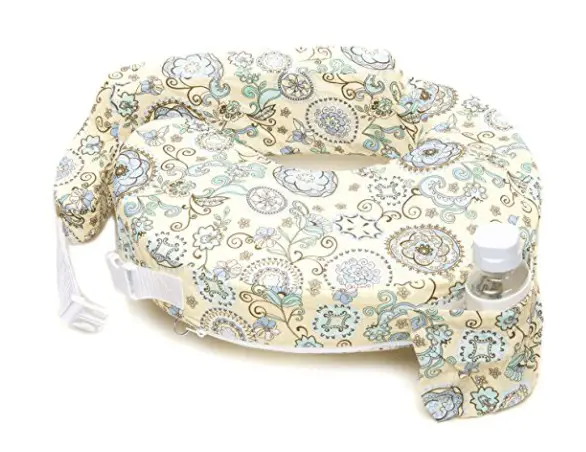 Both Laura, my little sister, and my friend, Rhiana, love the My Breastfriend Nursing Pillow. Wrap around design secures to the body helping mom and baby maintain positioning and latch-on. Back rest helps you maintain good posture during feeding and prevents sore back and neck; Arm and elbow rests eliminate shoulder stress. Firm, flat cushion keeps baby from rolling. Adjustable, silent-release strap fits moms or dads comfortably and unlatches without waking baby.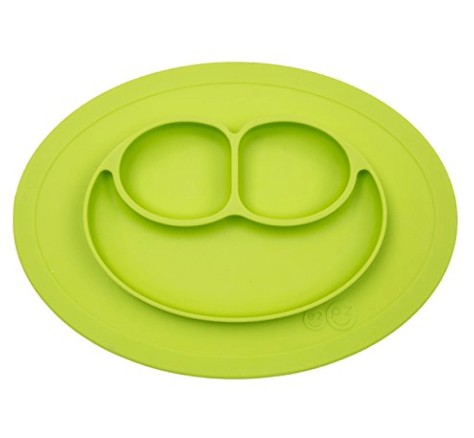 I love love love the ezpz Mat. Pictured here is the Mini Mat but they have a ton of different sizes and options. Mat fits most highchair trays, including 'space saver' models. Promotes self-feeding and develops fine motor skills by suctioning to the surface making it difficult for baby to throw onto the floor.
NumNum Pre-Spoon Gootensil is designed to introduce the concept of utensils to kids eager to learn to feed themselves. The design reduces frustration and builds independence
We could go on and on and on but that's our list from some pretty amazing mothers who have already been there and done that! What would you add to your registry or do you have a must-have product that you think needs to be added to this list? Let us know in the comments!