60 Plus Anxiety Quotes To Help You Get Through
Sometimes anxiety is so difficult to explain that the only thing that helps us express how we feel are quotes about anxiety. Whether you're looking for an uplifting quote to help calm your anxious thoughts or one that articulates how your anxiety makes you feel. I've scoured the internet to find the best quotes about anxiety to help you with your anxiety.
As an Amazon Associate I earn from qualifying purchases.
Anxiety Quotes
Trust yourself. You've survived a lot, and you'll survive whatever is coming. – Robert Tew
Nothing diminishes anxiety faster than action. — Walter Anderson
Life is ten percent what you experience and ninety percent how you respond to it. — Dorothy M. Neddermeyer
You don't have to control your thoughts. You just have to stop letting them control you. — Dan Millman
Good humor is a tonic for mind and body. It is the best antidote for anxiety and depression. It is a business asset. It attracts and keeps friends. It lightens human burdens. It is the direct route to serenity and contentment. — Grenville Kleiser
Do not anticipate trouble, or worry about what may never happen. Keep in the sunlight. — Benjamin Franklin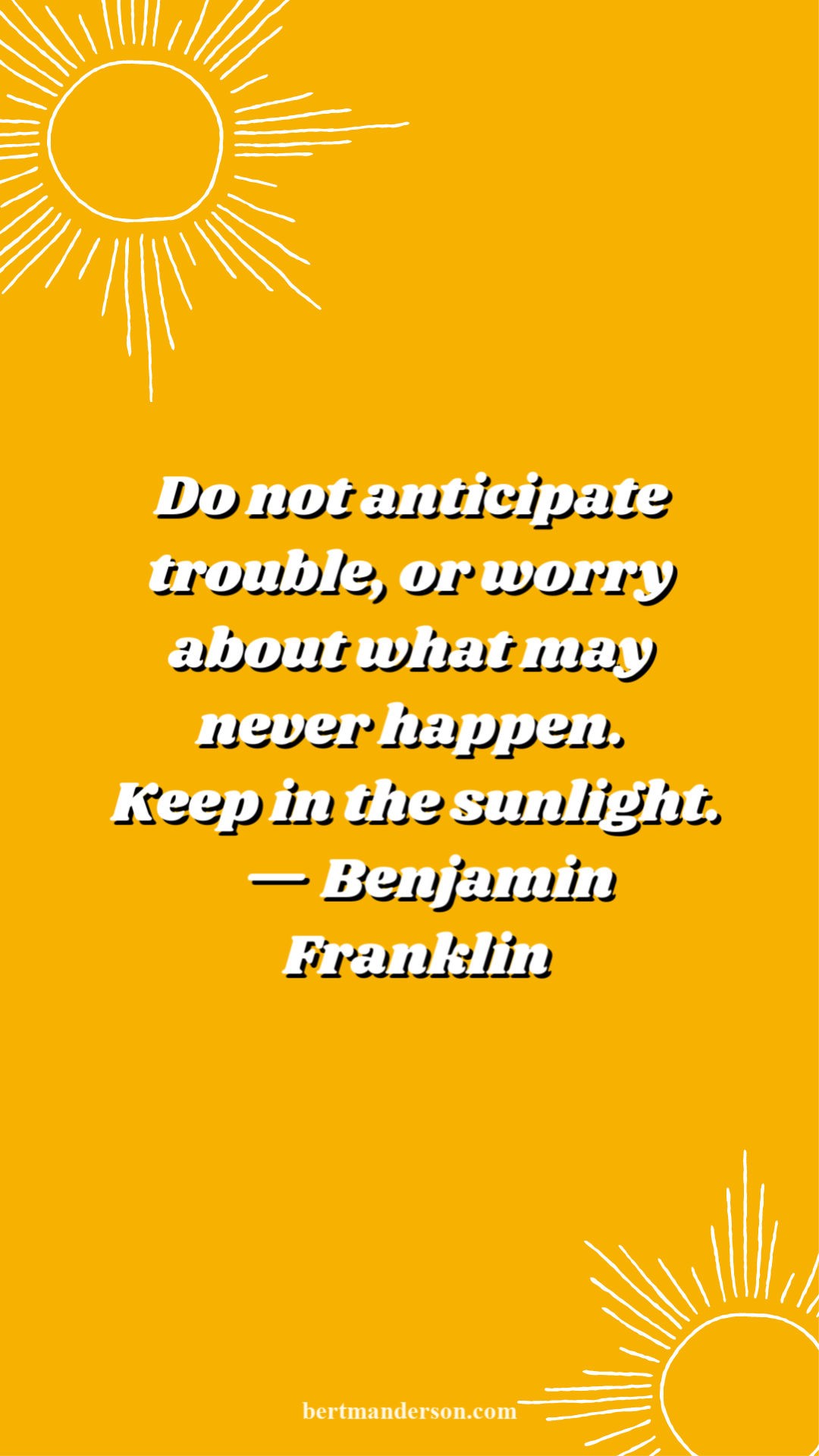 No amount of anxiety can change the future. No amount of regret can change the past. – Karen Salmansohn
Anxiety is a thin stream of fear trickling through the mind. If encouraged, it cuts a channel into which all other thoughts are drained.  — Arthur Somers Roche
I promise you nothing is as chaotic as it seems. Nothing is worth your health. Nothing is worth poisoning yourself into stress, anxiety, and fear. — Steve Maraboli
Stress is an ignorant state. It believes that everything is an emergency. Nothing is that important. —Natalie Goldberg
Anxiety does not empty tomorrow of its sorrows, but only empties today of its strength. —Charles Spurgeon
You cannot always control what goes on outside, but you can always control what goes on inside. —Wayne Dyer
Your mind will answer most questions if you learn to relax and wait for the answer. —William S. Burroughs
Bible Quotes about Anxiety
Cast all your anxiety on him because he cares for you.- 1 Peter 5:7
Therefore I tell you, do not be anxious about your life, what you will eat or what you will drink, nor about your body, what you will put on. Is not life more than food, and the body more than clothing? Look at the birds of the air: they neither sow nor reap nor gather into barns, and yet your heavenly Father feeds them. Are you not of more value than they? And which of you by being anxious can add a single hour to his span of life? – Matthew 6:25-27
Peace I leave with you;my peace I give to you. Not as the world gives do I give to you. Let not your hearts be troubled, neither let them be afraid.  – John 14:27
And let the peace of Christ rule in your hearts, to which indeed you were called in one body. And be thankful.- Colossians 3:15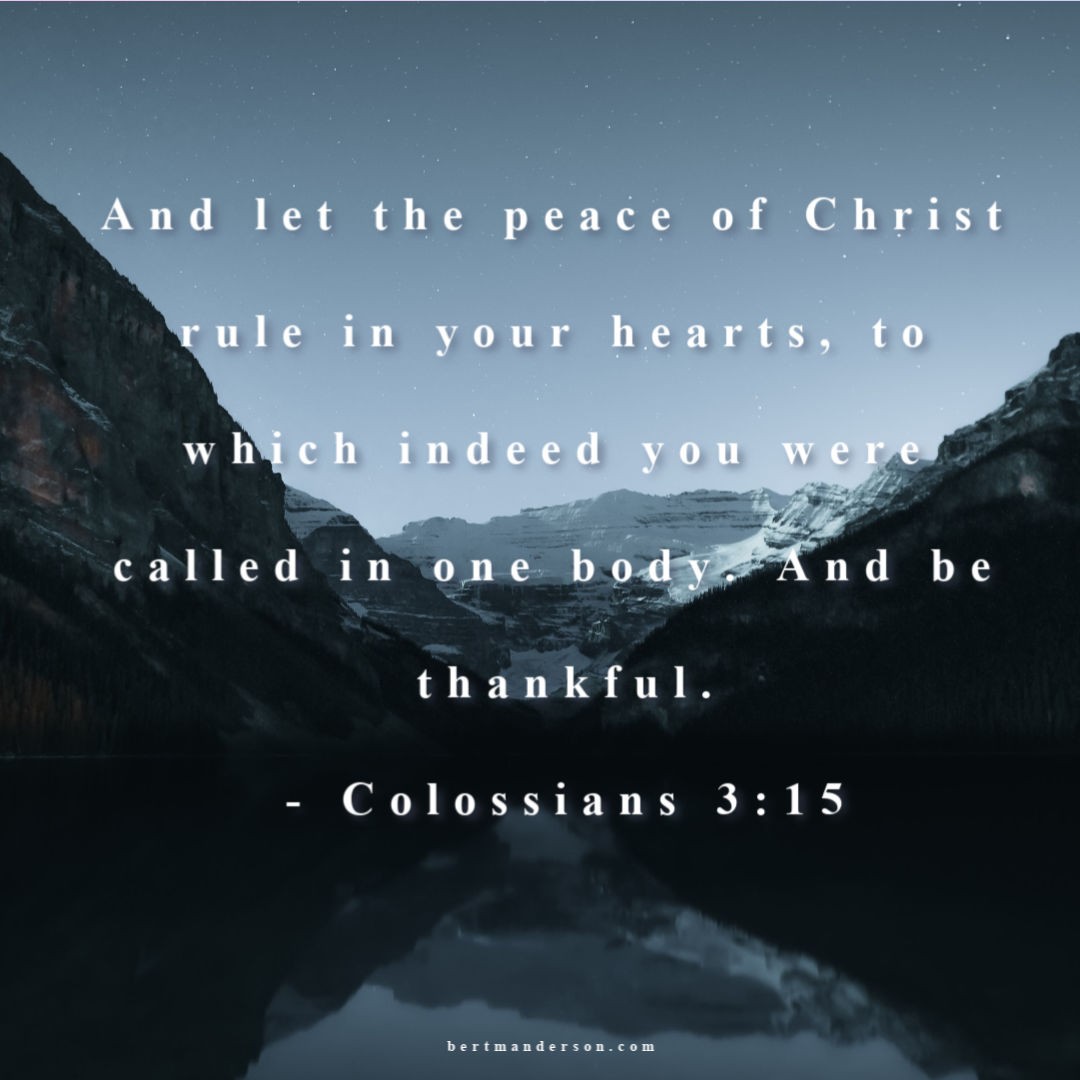 Anxiety in a man's heart weighs him down, but a good word makes him glad. – Proverbs 12:25
…do not be anxious about anything, but in everything by prayer and supplication with thanksgiving let your requests be made known to God. And the peace of God, which surpasses all understanding, will guard your hearts and your minds in Christ Jesus. – Philippians 4:6-7
Therefore, since we are surrounded by such a great cloud of witnesses, let us throw off everything that hinders and the sin that so easily entangles. And let us run with perseverance the race marked out for us, fixing our eyes on Jesus, the pioneer and perfecter of faith. For the joy set before him he endured the cross, scorning its shame, and sat down at the right hand of the throne of God. – Hebrews 12:1-2
So we can confidently say,  "The Lord is my helper; I will not fear; what can man do to me?" Hebrews 13:6
For I know the plans I have for you," declares the LORD, "plans to prosper you and not to harm you, plans to give you hope and a future." Jeremiah 29:11
"Be still, and know that I am God. I will be exalted among the nations, I will be exalted in the earth!" Psalm 46:10
I lift up my eyes to the hills. From where does my help come? My help comes from the LORD, who made heaven and earth. Psalm 121:1-2
No temptation has overtaken you that is not common to man. God is faithful, and he will not let you be tempted beyond your ability, but with the temptation he will also provide the way of escape, that you may be able to endure it. 1 Corinthians 10:13
What then shall we say to these things? If God is for us, who can be against us? Romans 8:31
Quotes about Worry
Worry, like a rocking chair, will give you something to do, but it won't get you anywhere. – Vance Havner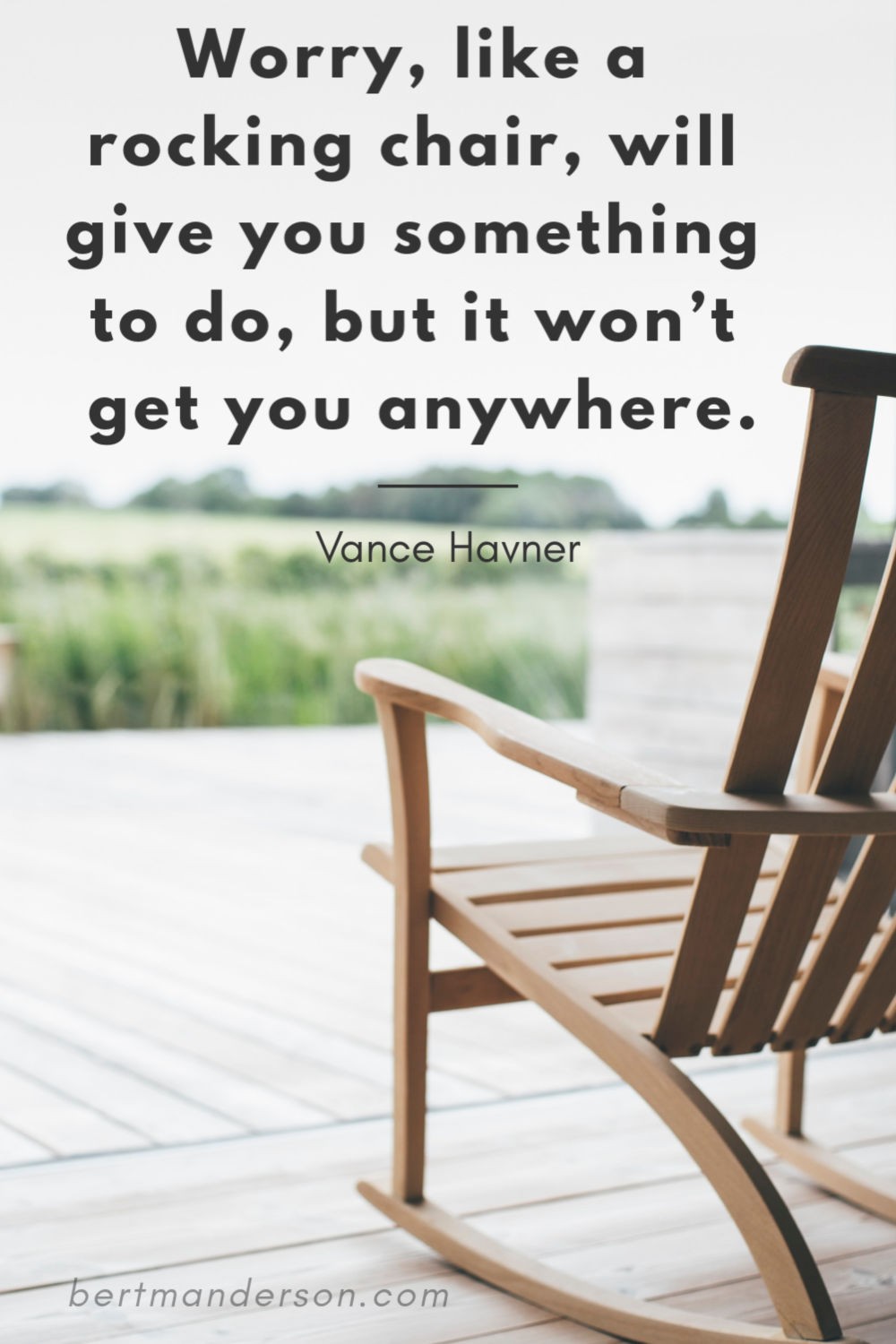 Worry is the antithesis of trust. You simply cannot do both. They are mutually exclusive. – Elisabeth Elliot
No one can pray and worry at the same time.- Max Lucado
Worry never robs tomorrow of its sorrow, it only saps today of its joy. – Leo F. Buscaglia
Worry often gives a small thing a big shadow. – Swedish Proverb
Our fatigue is often caused not by work, but by worry, frustration and resentment. – Dale Carnegie
If you ask what is the single most important key to longevity, I would have to say it is avoiding worry, stress and tension. And if you didn't ask me, I'd still have to say it. – George F. Burns
If you want to test your memory, try to recall what you were worrying about one year ago today. – E. Joseph Cossman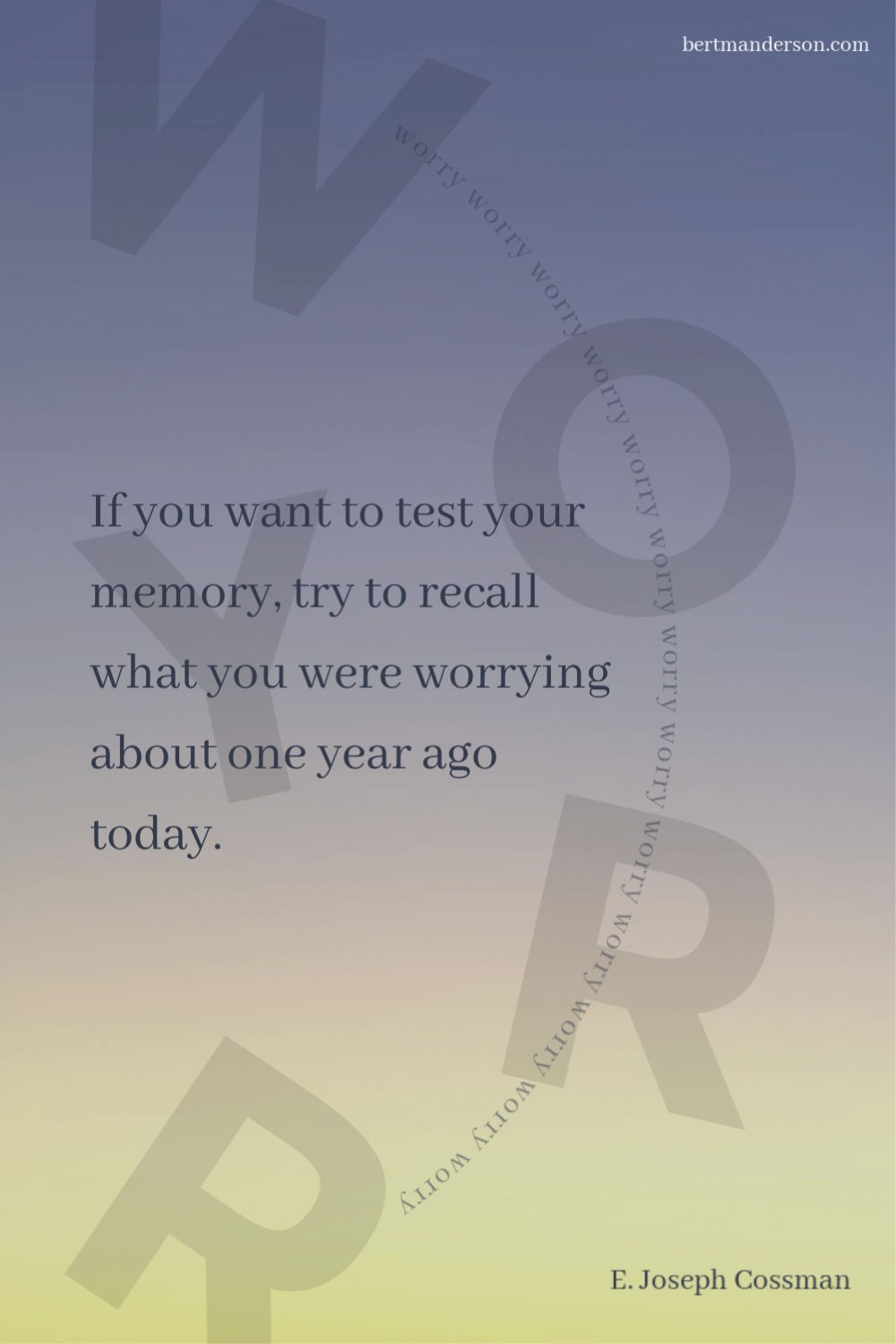 If you treat every situation as a life and death matter, you'll die a lot of times. – Dean Smith
Worry compounds the futility of being trapped on a dead-end street. Thinking opens new avenues. – Cullen Hightower
People get so in the habit of worry that if you save them from drowning and put them on a bank to dry in the sun with hot chocolate and muffins they wonder whether they are catching a cold. – John Jay Chapman
There is a great difference between worry and concern. A worried person sees a problem, and a concerned person solves a problem. – Harold Stephen
Don't worry about the future. Or worry, but know that worrying is as effective as trying to solve an algebra equation by chewing bubble gum. The real troubles in your life are apt to be things that never crossed your worried mind, the kind that blindside you at 4 p.m. on some idle Tuesday. – Mary Schmich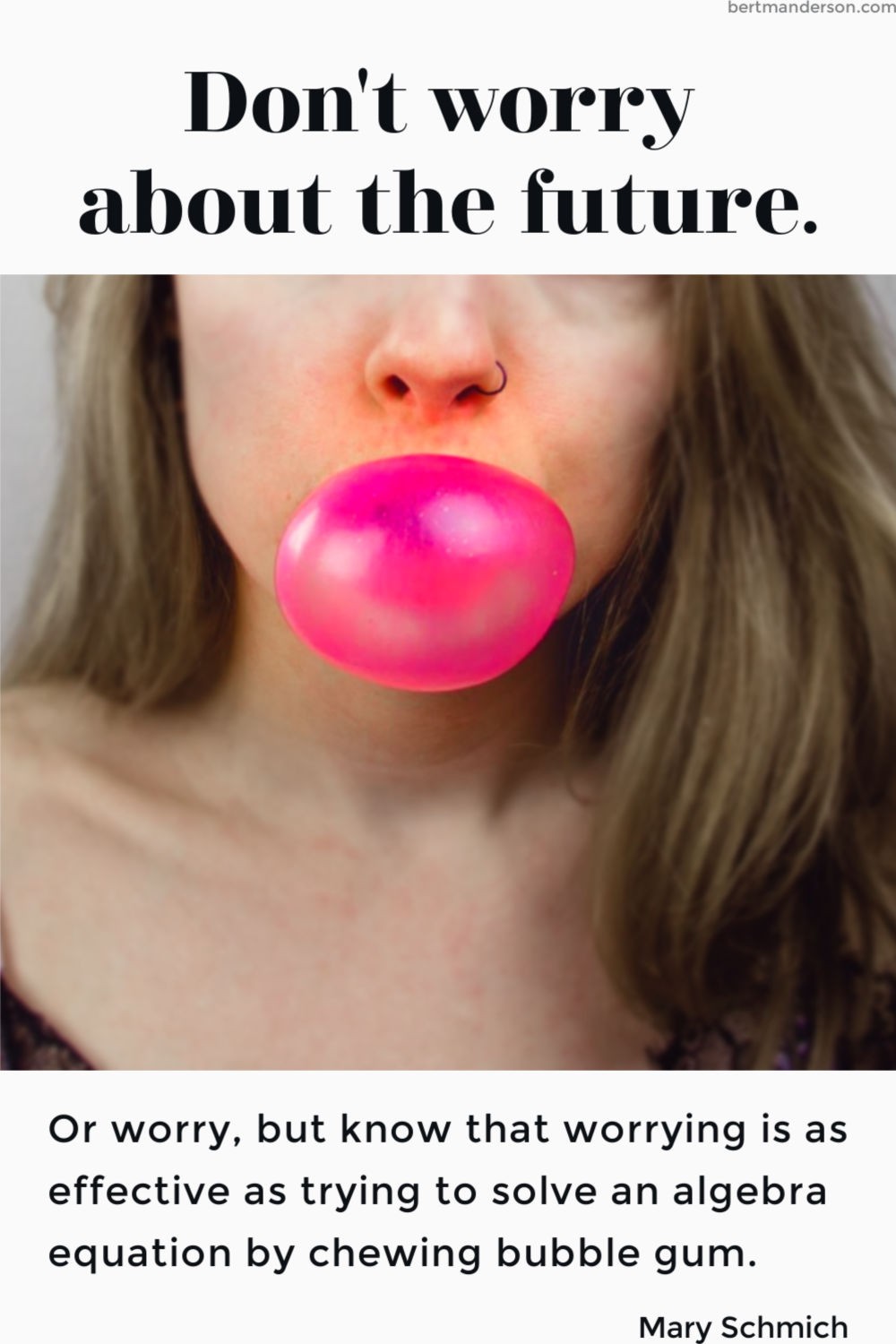 Depression and Anxiety Quotes
It's so difficult to describe depression to someone who's never been there, because it's not sadness. I know sadness. Sadness is to cry and to feel. But it's that cold absence of feeling—that really hollowed-out feeling.—J.K. Rowling
What they don't tell you about depression is that sometimes it feels a lot less like sadness and a lot more like the emotional equivalent of watching paint dry. —Alexis, Tumblr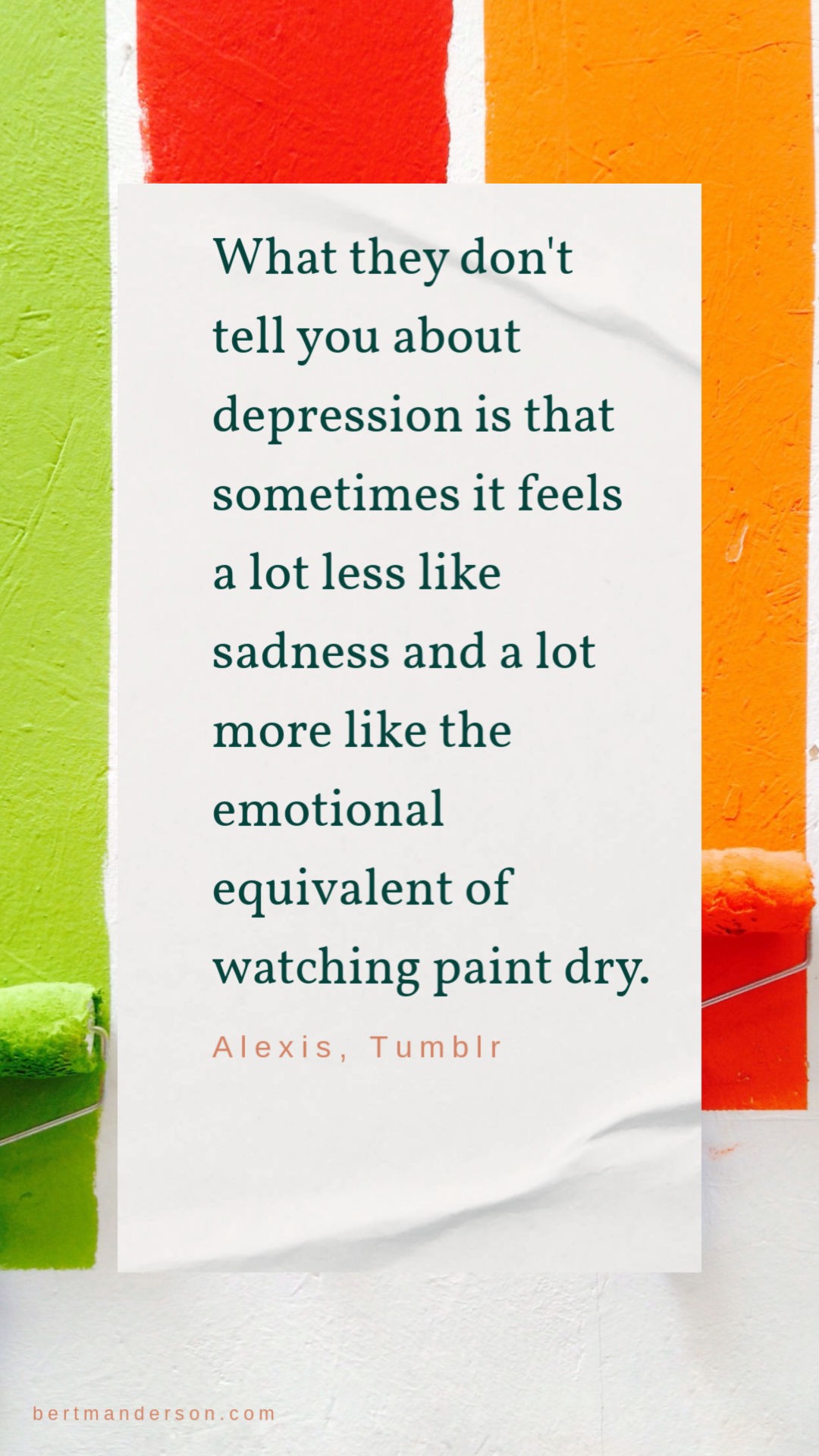 The only thing more exhausting than being depressed is pretending that you're not. —Anonymous, Twitter
Every man has his secret sorrows which the world knows not; and often times we call a man cold when he is only sad. ― Henry Wadsworth Longfellow
When you're surrounded by all these people, it can be lonelier than when you're by yourself. You can be in a huge crowd, but if you don't feel like you can trust anyone or talk to anybody, you feel like you're really alone. ― Fiona Apple
One swallow does not make a summer, neither does one fine day; similarly one day or brief time of happiness does not make a person entirely happy. ― Aristotle, The Nicomachean Ethics
Noble deeds and hot baths are the best cures for depression. ― Dodie Smith, I Capture the Castle
If we're going to combat depression we have to create a real life, real human interaction with the people we come in contact with every day. It can't be online, we weren't meant to do life through screens. – Bert Anderson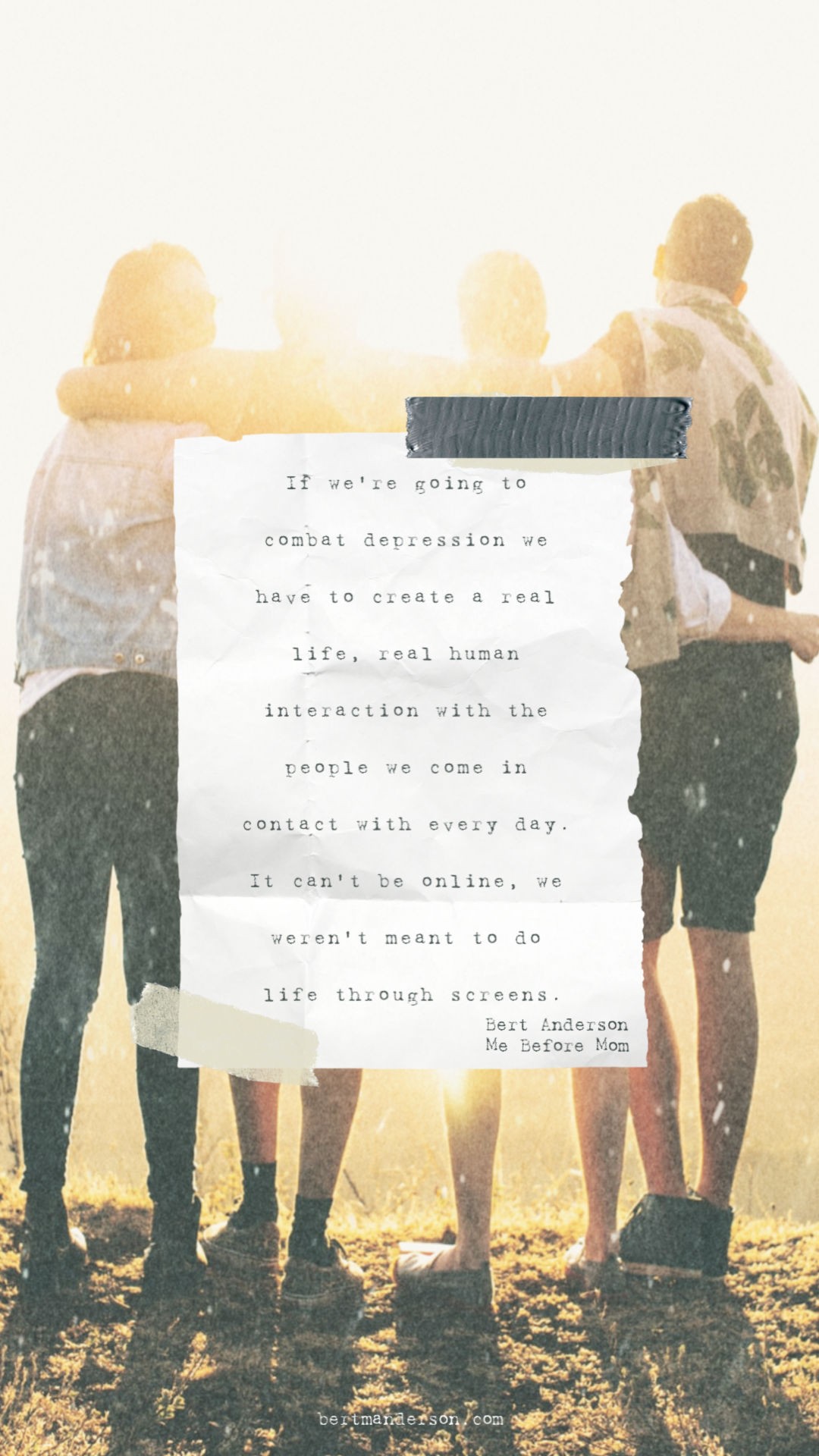 You don't have to live a lie. Living a lie will mess you up. It will send you into depression. It will warp your values. – Gilbert Baker
That's the thing about depression: A human being can survive almost anything, as long as she sees the end in sight. But depression is so insidious, and it compounds daily, that it's impossible to ever see the end. – Elizabeth Wurtzel, Prozac Nation
The pupil dilates in darkness and in the end finds light, just as the soul dilates in misfortune and in the end finds God. ― Victor Hugo, Les Misérables
You say you're 'depressed' – all I see is resilience. You are allowed to feel messed up and inside out. It doesn't mean you're defective – it just means you're human. ― David Mitchell, Cloud Atlas
Mental pain is less dramatic than physical pain, but it is more common and also more hard to bear. The frequent attempt to conceal mental pain increases the burden: it is easier to say, 'My tooth is aching' than to say, 'My heart is broken.' ― C.S. Lewis, The Problem of Pain
I am bent, but not broken. I am scarred, but not disfigured. I am sad, but not hopeless. I am tired, but not powerless. I am angry, but not bitter. I am depressed, but not giving up. — Anonymous
Depression is being colorblind and constantly told how colorful the world is. — Atticus, Love Her Wild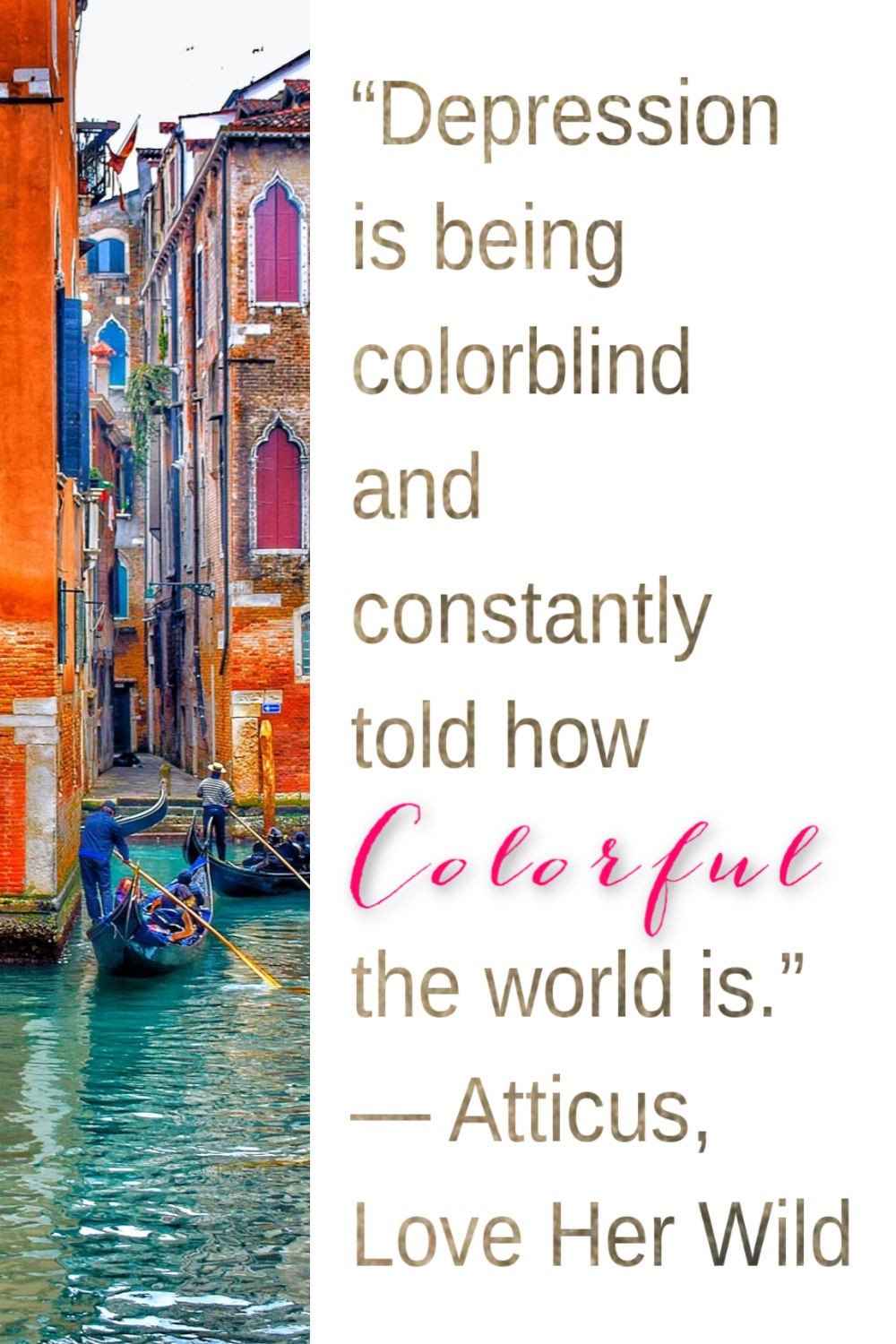 Social Anxiety Quotes
Though no one can go back and make a brand new start, anyone can start from now and make a brand new ending. – Attributed to Carl Bard
Whether you think you can or think you can't— you are right. – Henry Ford
The best way to gain self-confidence is to do what you are afraid to do. – Author Unknown
If you can find a path with no obstacles, it probably doesn't lead anywhere. – Frank A. Clark
Everybody ought to do at least two things each day that he hates to do, just for practice. – William James
Be who you are and say what you feel, because those who mind don't matter and those who matter don't mind. – Dr. Seuss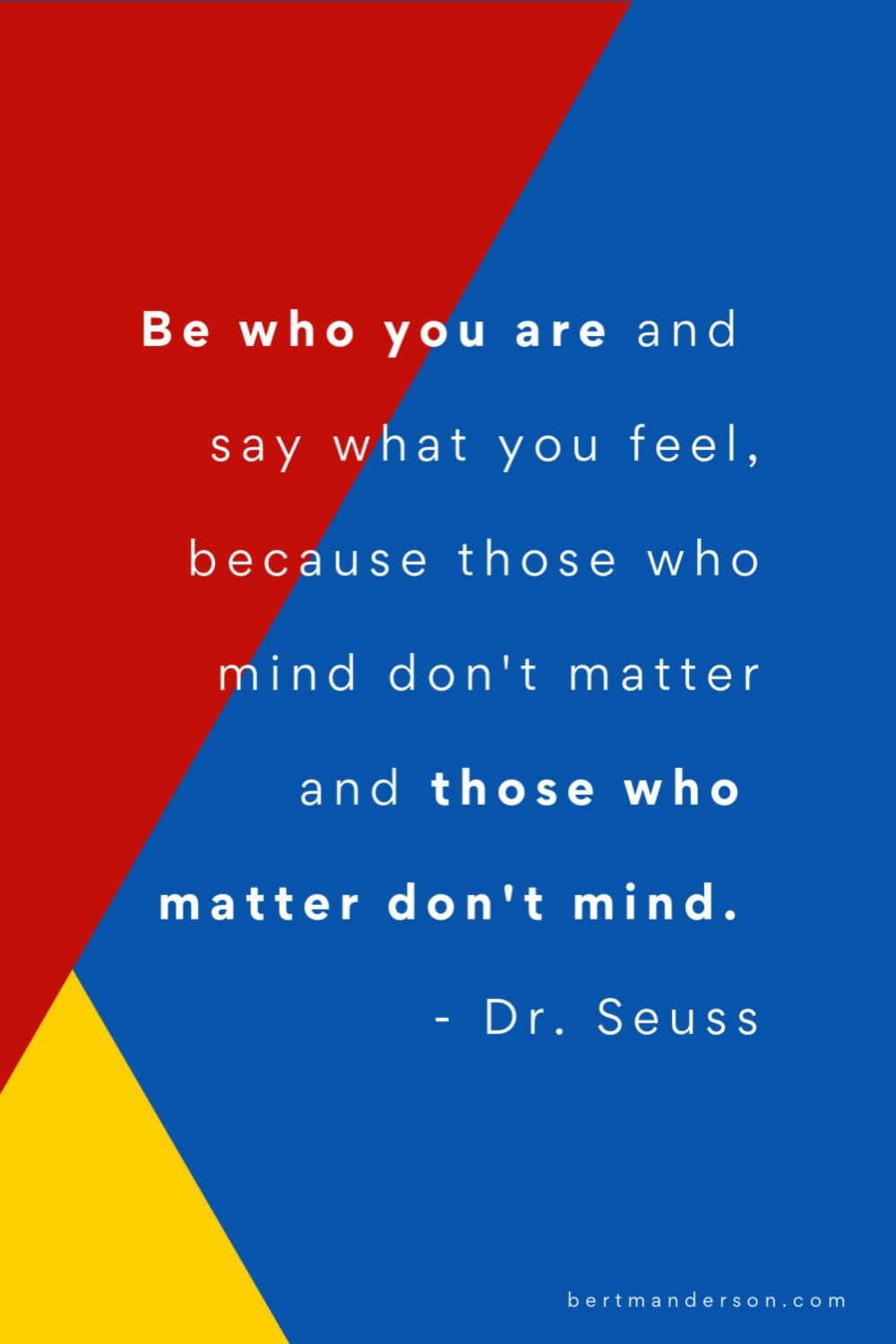 No one can make you feel inferior without your consent. – Eleanor Roosevelt
Fall seven times, stand up eight. – Japanese Proverb
Our greatest glory is not in never failing, but in rising up every time we fail. – Ralph Waldo Emerson
What is anxiety?
Experiencing anxiety is a natural part of everyday life. An anxiety disorder involves worries or fears that are relentless. It's not temporary the way anxiety induced by an event like public speaking, I mean most of us don't enjoy public speaking. Someone with an anxiety disorder experiences negative symptoms that affect their everyday life and their ability to function. If you or someone you know is experiencing constant anxiety and it is effecting your daily life, please reach out to someone for help.