Low-Carb Mixed Drink – The Crisp Pumpkin Spice Moscow Mule
I have got the best low-carb Moscow Mule recipe. Nothing screams fall like pumpkin spice. amiright? I am. As soon as Labor Day says good bye to the sweet summertime I'm ready to pack away my white pants and bring out cozy sweaters, then I head to the nearest Starbucks for that infamous Pumpkin Spice Latte. I was thinking that there's got to be a way to add a little pumpkin spice into a mixed beverage. I didn't want to do a warm beverage because so many times it's still warm during the fall. What other mixed beverage would work by a bonfire? Hmmm – yes! A crisp Pumpkin Spice Moscow Mule! If you're like me you may be watching your carbohydrate intake, it's really easy to make a low-carb, keto-friendly adult drink (like the low-carb Mojito I made this summer), add a hint of pumpkin spice and you're all set. We are a participant in the Amazon Services LLC Associates Program, an affiliate advertising program designed to provide a means for us to earn fees by linking to Amazon.com and affiliated sites.
As an Amazon Associate I earn from qualifying purchases.

Low-Carb Adult Beverage – The Crisp Pumpkin Spice Moscow Mule
When I put together this little mixed drink I was surprised by how easy it was to create. Making your own adult drinks at home is not only economical but you can put your own twist on classic recipes like the Moscow Mule. If you've never heard of a Moscow Mule, allow me to enlighten you.
How did the Moscow Mule come to be?
The origin story of the Moscow Mule is a really interesting one. The Moscow Mule has been around since 1941 when the drink was first made in a bar in Hollywood. Bar owner, John Martin, had bought a lot of Russian vodka, Smirnoff Vodka to be specific. He couldn't get rid of the stuff because the US hadn't really been exposed to vodka, the clear alcohol of choice was gin, so no one really wanted to drink it. Martin complained about his tons of vodka to his friend and fellow Hollywood bar owner, Jack Morgan. Morgan, in turn, complained about all of the ginger beer he had laying around. The two decided to turn their frowns upside down and began experimenting with the Smirnoff and ginger beer. After a few attempts they settled on the ratios we have today, as well as adding lime juice and a lime wedge to the beverages. Vodka's popularity in the US is indebted to the Moscow Mule.
Is the Moscow Mule from Russia?
No. It originated in Hollywood, CA at the "C" 'n Bull pub on Sunset Strip. The drink was given its name, kind of haphazardly, or at least it's not very clear where it came from. Smirnoff, from Russia, was the only vodka really on the US market and many joked at the time that the word "vodka" meant horrible in Russian.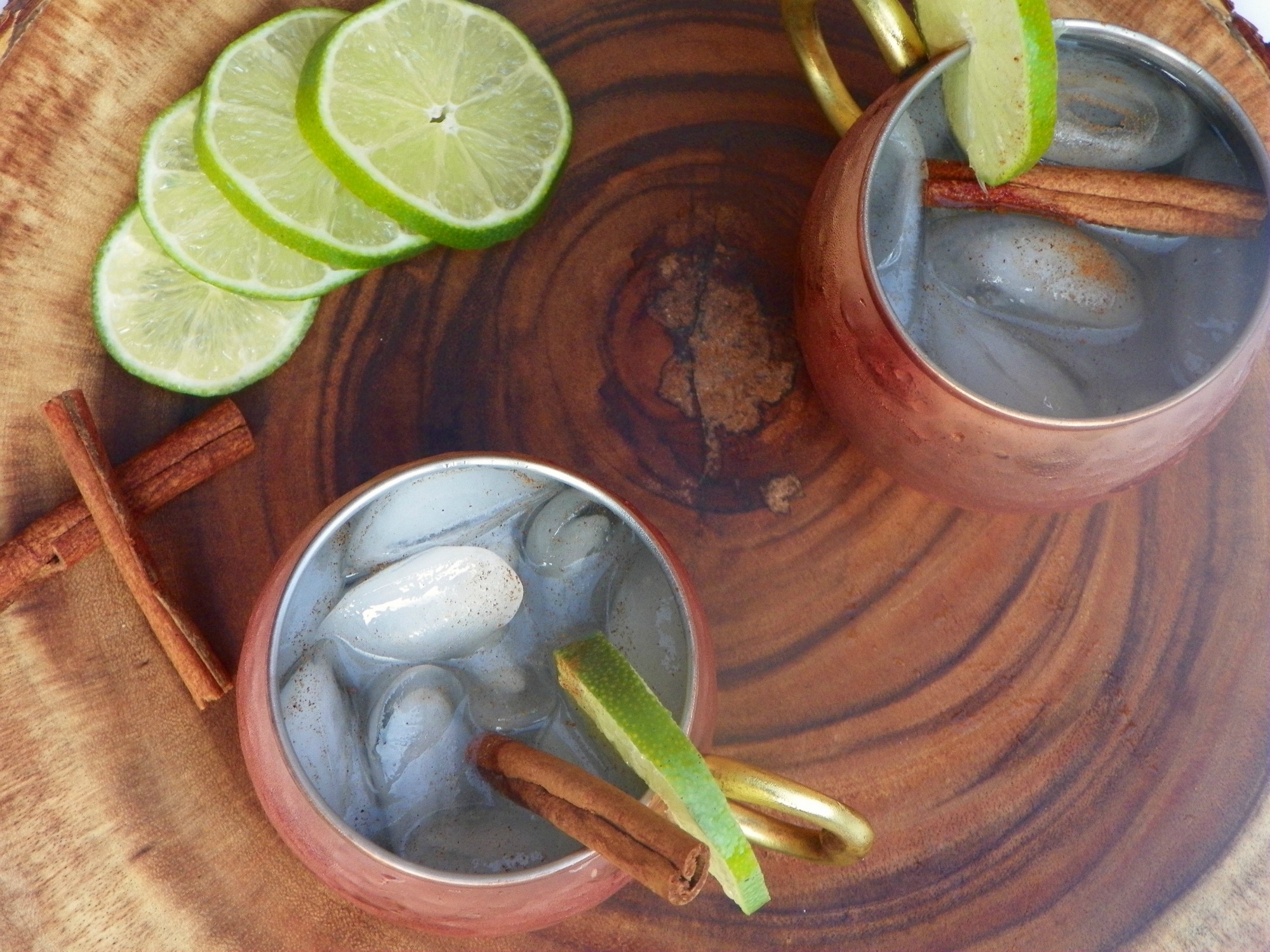 What is a Low-Carb Moscow Mule?
What makes the mixed beverages standout is it's pairing of vodka and ginger beer. Ginger beer is considered non-alcoholic because its alcohol content is under 0.5%. The drink also must be served in a copper mug. The adult bevvie  can be made into a low-carb Moscow Mule by using a diet ginger beer. A copper mug? That's ridiculous! No, there's more to that story.
Why is a Moscow Mule served in a copper mug?
Contrary to what you may think, at the time of its creation, the copper mug really had nothing to do with the Moscow Mule's ingredients and how the mixed drink scientifically needed to be served. It's tradition. When Martin and Morgan created the adult drink they met a woman who had a rather large assortment of copper mugs. She wasn't able to get anyone to purchase her copper mugs, which were rather popular in India and Ireland, however, the trend hadn't made it over to the US yet. Seeing that copper is useful at keeping drink cold, Martin and Morgan decided that in order to make the adult drinks stand out in a sea of gin fancy drinks, the Moscow Mule would always be served in a copper mug. Nowadays, copper mugs have become part of the experience and many have realized that it does matter what kind of glassware you serve your mule.
A low-carb Moscow Mule works best in a copper mug because of its ability to keep the drink chilled, as well as the temperature of the mug becoming chilled.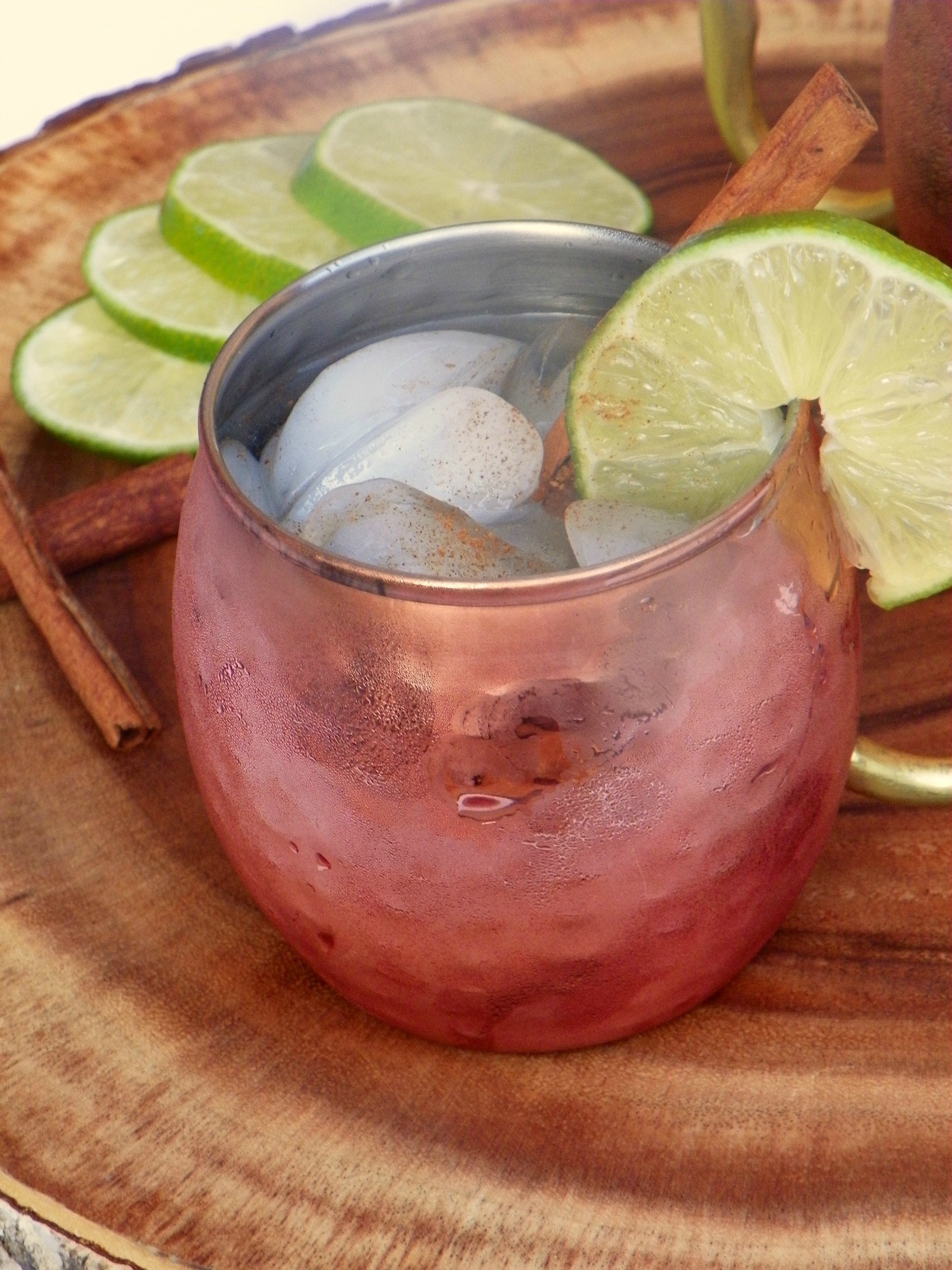 Is a Moscow Mule low-carb? Is a Moscow Mule keto-friendly?
Yes. Depending on the sugar count of the ginger beer that you use, it is considered low carb. If you use a sugar-free or diet, ginger beer in your adult drink there are zero sugars in your beverage. After the ginger beer the only ingredients you have are ice, vodka and lime juice. No sugar or carbs in those ingredients.
Low-Carb Pumpkin Spice Moscow Mule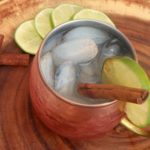 Low-Carb Pumpkin Spice Moscow Mule
This Pumpkin Spice variation of the Moscow Mule will become your favorite go-to mixed drink for those somewhat warmer fall days when you still want to celebrate autumn but can't stand a hot beverage. 
Ingredients
2

oz.

vodka

higher quality or Smirnoff

Juice from half a lime

4

oz.

Diet Ginger Beer

or Diet Ginger Ale

Ice

¼

tsp

pumpkin spice
Instructions
Combine all of the ingredients in a shaker and shake until cold. About 15 shakes

Poor into a brass mug and top off with more ginger beer, lime slice, and cinnamon stick.

Enjoy!! 
Recipe Notes
You can made this adult drink using regular ginger beer, however, it will not be low-carb or keto-friendly.
Where should I get copper mugs for my Moscow Mule?
I love shopping and there are so many awesome copper mugs you can buy for your homemade Moscow Mule! Here are a few that I personally love.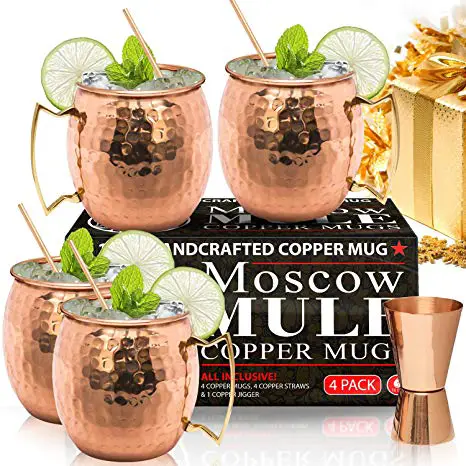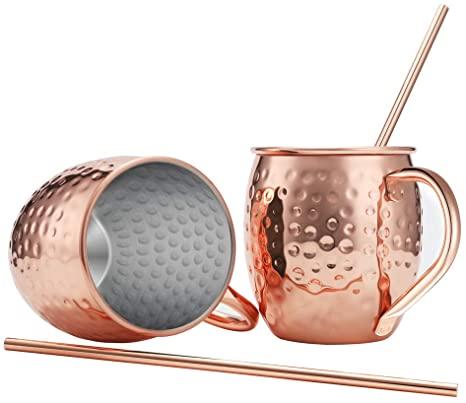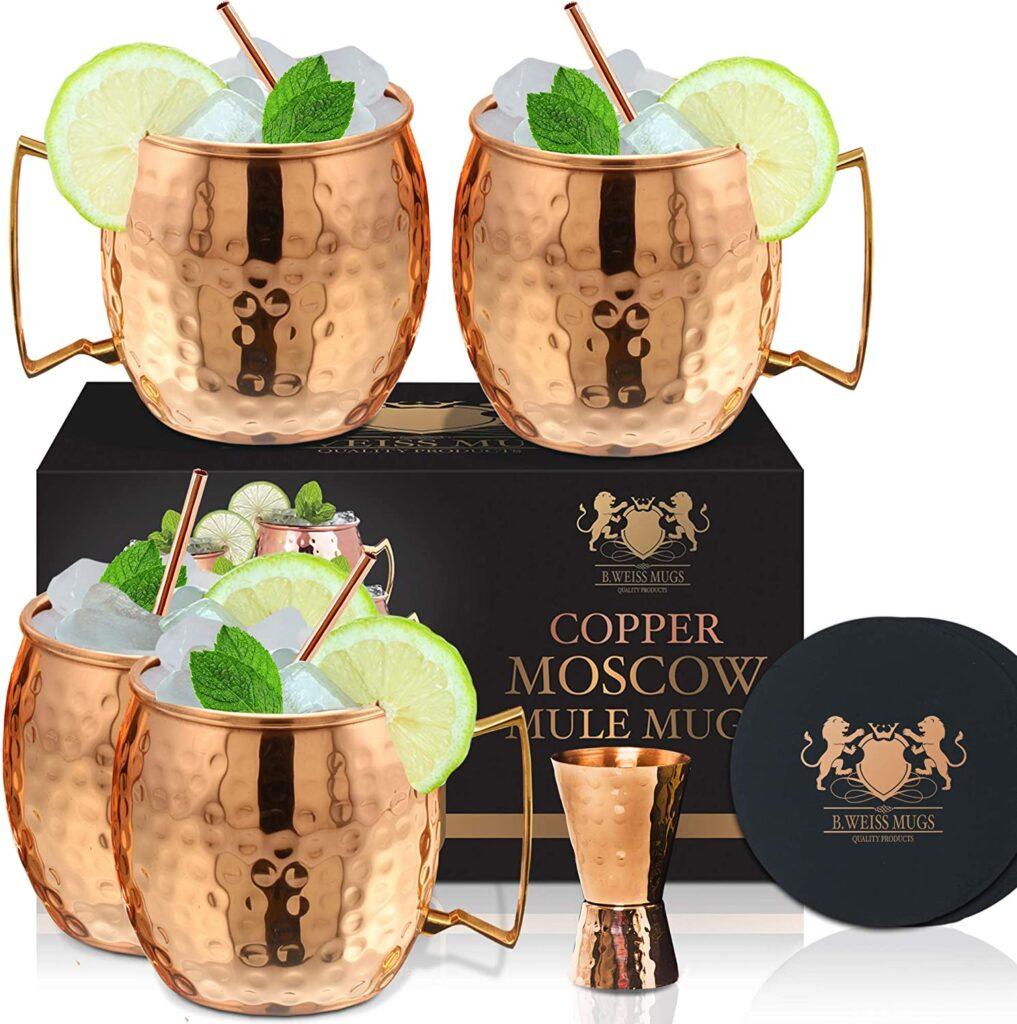 Pumpkin Spice Moscow Mule
2 oz. vodka
Juice from half a lime
4 oz. diet ginger beer (or diet ginger ale)
Ice
¼ tsp pumpkin spice
Combine all of the ingredients in a shaker and shake until cold. About 15 shakes. Poor into a brass mug and top off with more ginger beer, lime slice, and cinnamon stick.
Enjoy!!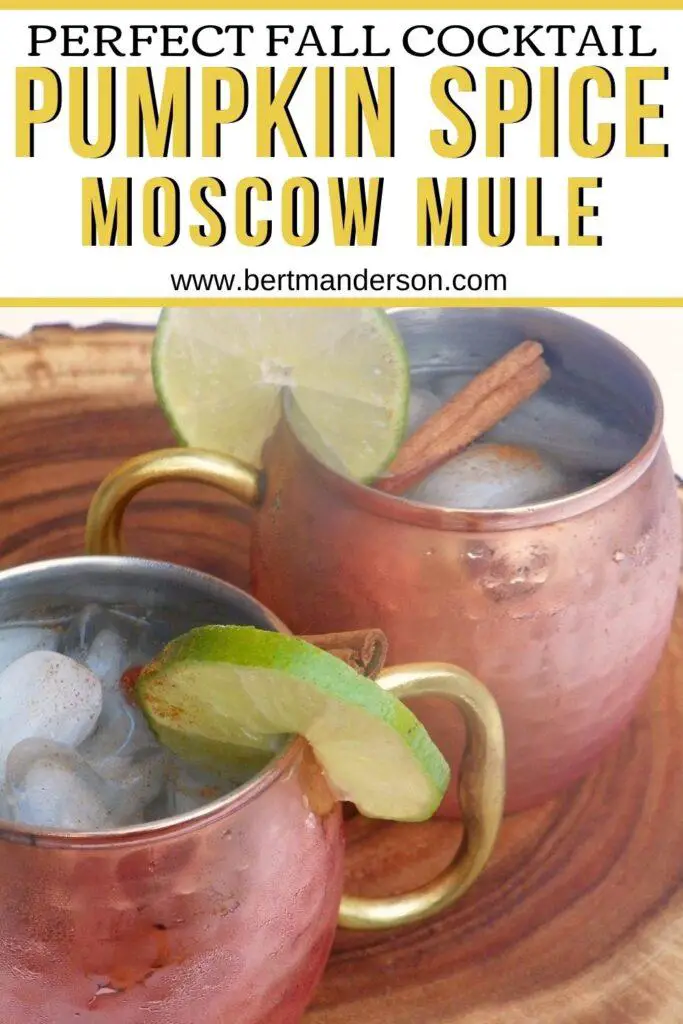 Want more fall-inspired recipes?
THE BEST GINGER MOLASSES COOKIES
Pumpkin Spice Protein Shake Recipe
Restaurant Style Autumn Squash Soup