Grand Old Flag Donuts | A Fourth of July Treat!
Nothing screams patriotic and Fourth of July like some good, homemade donuts. Making donuts at home is actually quite easy to do, even if you are unskilled in the baking department like I am. If you can read directions, you can bake. I like to call these, adorable and easy to make Fourth of July donuts, Grand Old Flag donuts. They're so easy to decorate and yet they look so festive on a patriotic table spread. Want to see how you can make your own Grand Old Flag Donuts? Read on for the details.
As an Amazon Associate I earn from qualifying purchases.
We are a participant in the Amazon Services LLC Associates Program, an affiliate advertising program designed to provide a means for us to earn fees by linking to Amazon.com and affiliated sites.
Grand Old Flag Donuts | A Fourth of July Treat!
Before we can get started on our doughnut making adventure let's make sure you have the proper supplies:
How to make easy homemade baked donuts
First things first you're going to measure out and set aside all of your ingredients: flour, baking soda, cinnamon, salt, sugar, whole milk, melted (that's important) unsalted sweet cream butter, sour cream, eggs, canola oil and the cookie icing.
Pay attention to this part, if you skip these instructions and dump everything together at once your doughnut will not turn out. Add all of the dry ingredients together in a bowl and whisk together until blended. You can do this by hand or use a stand mixer. Then, whisk together the whole milk, sour cream, and eggs into a separate bowl. When they're blended together add in the melted butter, vegetable oil, and vanilla to the bowl that has the milk, sour cream and eggs. Slowly, and I mean slowly, add the wet ingredients to your dry ingredients and whisk together. This is when having a stand mixer is perfect.
Once everything is mixed together, put the dough into the donut pan.Bake in the preheated oven at 400 degrees for approximately 9 minutes. Once the donuts are finished baking allow them to cool in the pan for a few minutes. Then put them on the wire rack to cool completely.
While the donuts are baking you should make your vanilla glaze. It's really easy to do so don't be too intimidated. First, add all of the glaze ingredients together and mix until smooth. Once the donuts are completely cooled on the drying rack, pour the glaze over them. Let the glaze dry on the doughnuts for one hour before decorating.
Now that everything is cooled and the glaze is dry it's time to make your cute American flag donuts!
Use the blue icing and pipe a line on the top left corner of the doughnut.
After you make those pipe lines, fill it in with blue icing.
Then, pipe five to seven lines of the red on the rest of the glazed donut.
Then, using the white icing make dots for the stars on the blue part of the donut.
That's it! You're ready to rock these adorable and yummy patriotic doughnuts to your next gathering or maybe make them for the 4th of July weekend at the lake. Whatever you do with them, get the kids together and let them decorate some of the donuts. Although, if you're like me that may prove to be more difficult than it should, you know, letting go of that need to control!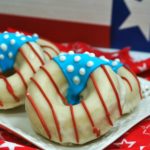 Recipe for Grand Old Flag Patriotic Donuts
Ingredients
Donut Ingredients:
2 2/3

C

Flour

1 1/2

tsp

baking powder

1/4

tsp

baking soda

1

tsp

cinnamon

3/4

tsp

salt

3/4

C

sugar

1/2

C

whole milk

1/4

C

melted unsalted sweet cream butter

1/2

C

sour cream

2

large egg

1/4

C

canola oil

light blue

white, and red cookie icing
Vanilla Glaze ingredients:
1/2

C

milk

2

C

powder sugar

2

tsp

vanilla extract
Instructions
Donut Directions:
Preheat oven to 400 degrees.

Use a baking spray to prep your doughnut pan.

Set the pan to the side.

Whisk together the flour, baking powder, baking soda, cinnamon, salt and sugar in a large bowl.

Whisk together the whole milk, sour cream , and eggs into a separate bowl.

Whisk in the melted butter, vegetable oil, and vanilla

Gradually whisk in the wet ingredients into the dry ingredients and stir just until combined

Spoon the batter into the doughnut pan.

Bake at 400 degrees for 9 minutes.

Allow doughnuts to cool a few minutes in the pan.

Transfer the donuts to a wire rack to completely cool.
Glaze Directions:
Combine all ingredients into a large mixing bowl and mix until smooth

Pour glaze over doughnuts and let dry for an hour before decorating

Once dry, using the blue cookie icing, pipe a line on the top left corner of the doughnut and fill it in

Pipe 5-7 lines using the red icing onto the doughnuts

Using the white icing, pipe on 10-12 dots on the blue part for the stars in the flag

Let dry for another hour to two hours before enjoying.