Spring Cleaning: How long do dry spices last?
Who hasn't kept that gift set of beautiful spice jars two or three years before even trying some of them? Maybe you made an Asian dish that required Chinese Five Spice mix…two years ago; the question is, is the Chinese Five Spice still okay to use after its expired? How do we know when dried herbs are expired or when spices are no longer good? With most spices, the question is not readily answered because they maintain their flavor and potency for a long time.
As an Amazon Associate I earn from qualifying purchases.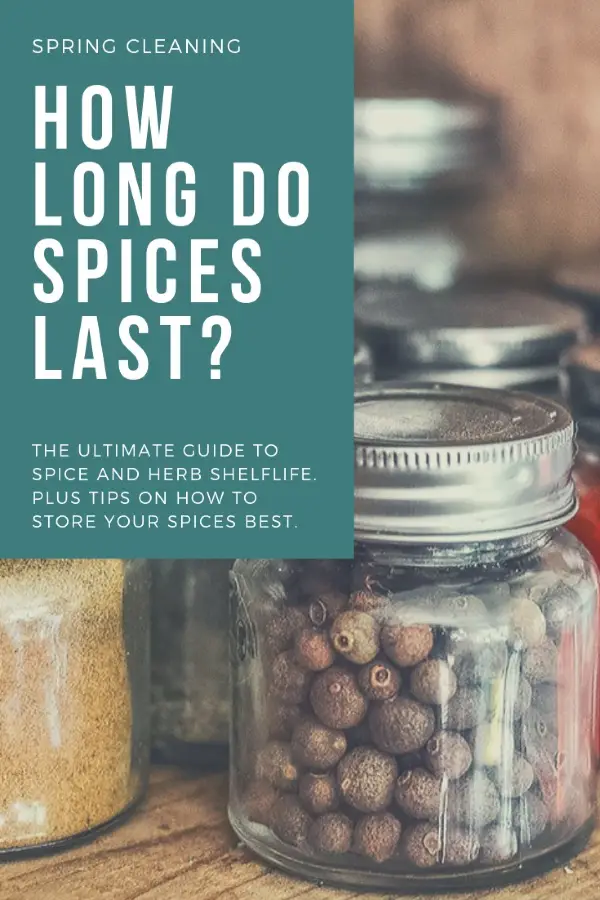 We are a participant in the Amazon Services LLC Associates Program, an affiliate advertising program designed to provide a means for us to earn fees by linking to Amazon.com and affiliated sites.
How long do dry spices last?
Woman's Day says that while dry herbs won't make anyone sick from being expired they will taste less potent. A lot of people abide by the six-month rule which isn't very long. Okay, if I'm being honest, I have some spices in my spice rack that was a present when I got married in July of 2005! Those are probably not even close to tasting the way they should!
The McCormick Spice Company says to check the expiration date on the spice bottle. McCormick also offers a "Fresh Tester" and a shelf life chart for their spices. To use the "Fresh Tester" feature on the site, enter the code on the bottom of the jar or bottle to find out if the spice is still in it's prime of life! McCormick stopped using tins (except for pepper) about 15 years ago, so if a McCormick spice is in a tin and is not pepper, it's at least that old! The tin might be great to keep as a collectible item, but the spice inside has to go!
The Lifetime of Dried Herbs, Spices and Extracts:
Ground Spices: 2-3 years
Whole Spices: 3-4 years (cinnamon sticks are whole spices)
Seasoning Blends: 1-2 years
Herbs: 1-3 years
Seeds: 4 years
Extracts: 4 years, except for vanilla which lasts indefinitely.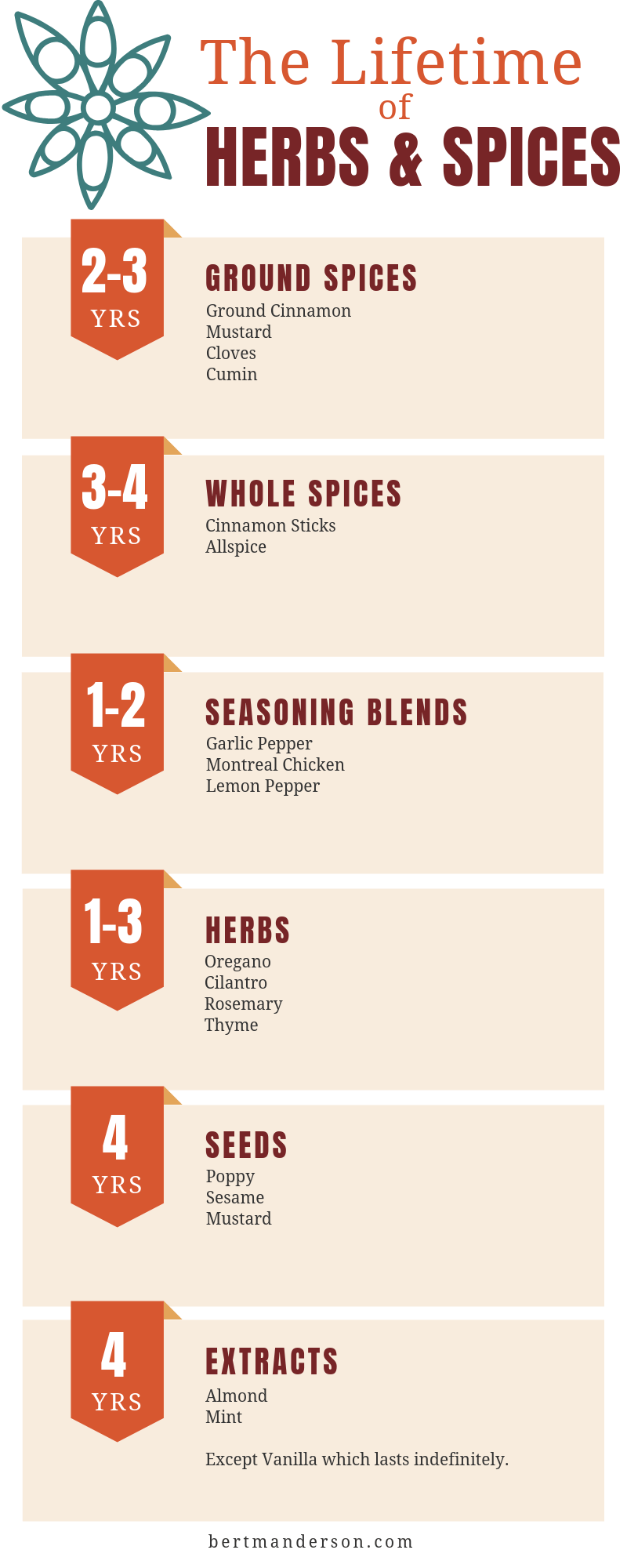 Schilling Spices have not been made for years, so any Shilling labeled spices that are still in the cabinet are old and the bottles might be cool collectibles.
Tips for Checking Herbs and Spices Expiration
Check to see if the spice or herb looks fresh and still has a vibrant color. Green leaves should still look green, not faded and red spices should still be red, not brown.
As a rule of thumb, potency can be checked by crushing some of the herb and sniffing it. If the herb does not release the full, original scent, it may have aged out. Spices with a hard shell, as with pepper and cinnamon, will have their scent enclosed and protected. So crush a bit and sniff test.
Check the difference in smell between a newly purchased herb and the herb from an older bottle, but be aware that different crops may have differing levels of potency.
For very oily seeds, such as sesame seeds, the oils can go rancid. Others, like fennel and poppy seeds have hard shells to protect the flavors. So crush and sniff to see if the smaller seeds are still potent, fresh and flavorful.
How to store your spices so they last
Store your spices in a dry, cool place like a drawer or cupboard. Try to avoid humid areas so that the potency of the spice or herb remains strong. To maintain that nice red color, store your paprika, crushed red pepper and chili powder in the refrigerator. Your spice should be in airtight containers and when you use them use a dry measuring spoon, being careful to not get any steam into the spice. Don't put the open container over a steaming pot of sauce, measure the sauce with a dry utensil and place into the pot to avoid letting humidity into the container.
Avoid storing your spices above the stove, dishwasher, microwave or refrigerator, or near a sink or heating vent. The heat and humidity will shorten the lifespan of the herbs and spices so keep that in mind when you're organizing your kitchen.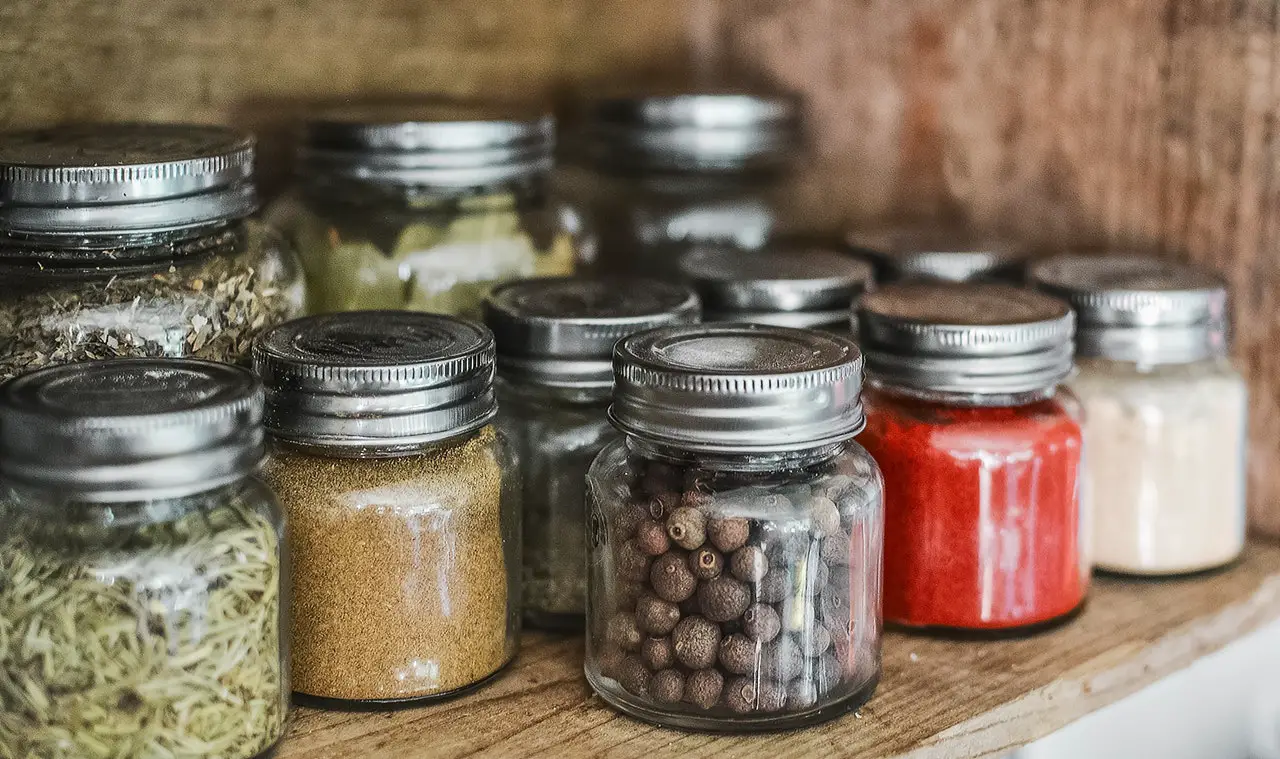 Quality Counts – Buy Quality Spices
The final advice concerns the quality and price! There are different qualities of herbs and spices.  A higher quality and carefully processed herb or spice will have better flavor and will last longer than a lower quality herb or spice. A good quality product can be bought on sale, but check the expiration date to see if it will be used before it loses most of its potency.
For most shoppers, the decision whether to purchase in bulk or to buy large amounts depends on how frequently the spice will be used. For spices that are used only during the holiday season, it might be best to buy a smaller amount and use it all up. For spices, herbs, and spice mixes that are used every day or week, then bulk purchases and stocking up during the sales is the way to go.
It is best to put cellophane bagged or bulk spices into good and well labeled spice jars if they are not going to be used up at once.
Again, spices should not be stored next to the stove or in high moisture or heat zones of the kitchen. While outdated spices will probably not make anyone sick, keeping the containers clean and away from raw meats, poultry or eggs will help.