Leprechauns, rainbows, pots of gold and St Patrick's Day drinks! St. Patrick's Day is upon us so that means it's time to dust off the ole Kiss Me I'm Irish (for a day) shirt and whip up one of these tasty St. Patrick's Day drink recipes. If you're looking for a lower carb cocktail option be sure to check out my Low Carb Mojito.
Thanks to Zak! for sending me the fancy gold fractal barware and the party decorations for St. Patty's Day! We are a participant in the Amazon Services LLC Associates Program, an affiliate advertising program designed to provide a means for us to earn fees by linking to Amazon.com and affiliated sites.
Ways to up your cocktail party game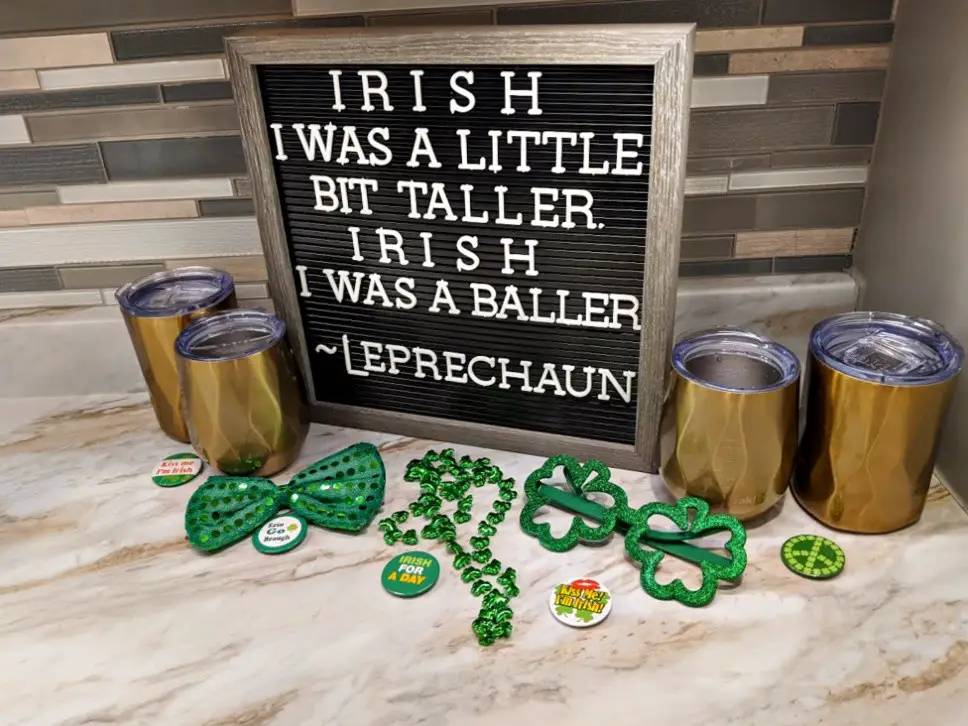 We all know that decor is everything so here are a few tips to help step up your St. Patrick's Day party game.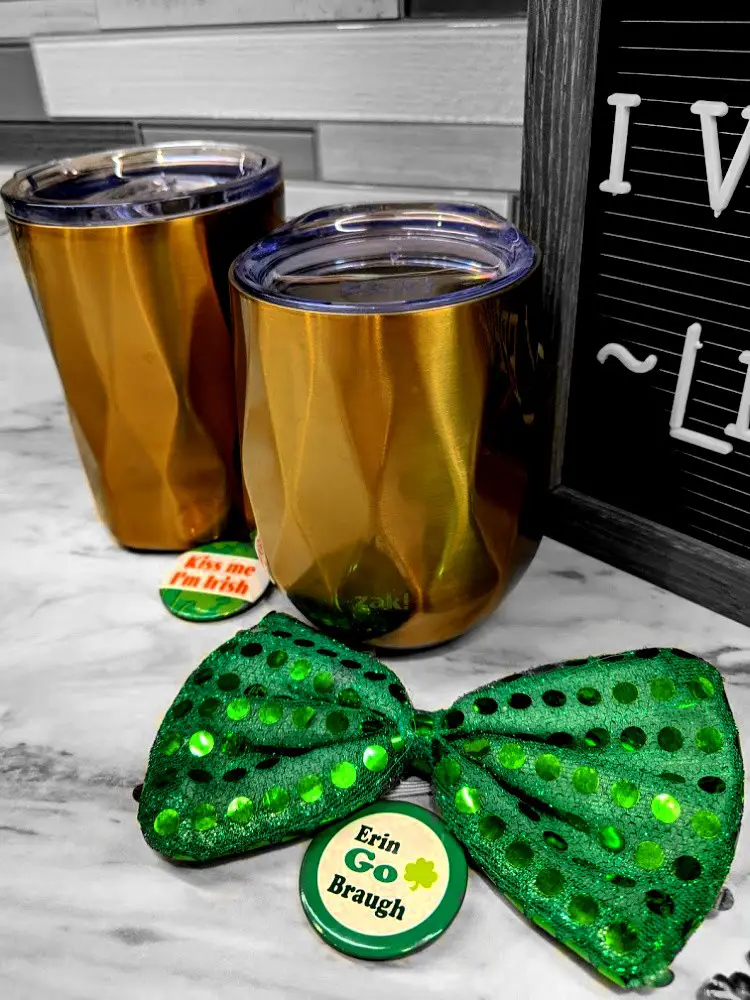 Use a letter board with a quote as the centerpiece. Check out these letter boards.
Find pins, necklaces, glasses, anything in the Dollar Spot at Target that's got that glitzy flare you want to show off for a party.
7 Lucky St. Patrick's Day Drinks
TOASTED CREAM IRISH COFFEE – AN IRISH WHISKEY COCKTAIL from Gastronom
With words like toasted and cream and Irish, you can't go wrong. Plus look at the Lucky Charm marshmallows as the garnish! Adorable. Click here for the recipe.
IRISH COFFEE SHOTS from Tipsy Chickens
I know, I know, I apparently have a thing for coffee but how can a mother not have a love affair with caffeine. Plus doesn't this look adorable?! Get the yummy St Patty's drink recipe here.
SHAMROCK SHAKE from Crayons & Cravings
You can make your favorite seasonal March drink right at home rather than getting it the drive-thru. Get the recipe for this mint chocolate chip shake here from Crayons & Cravings.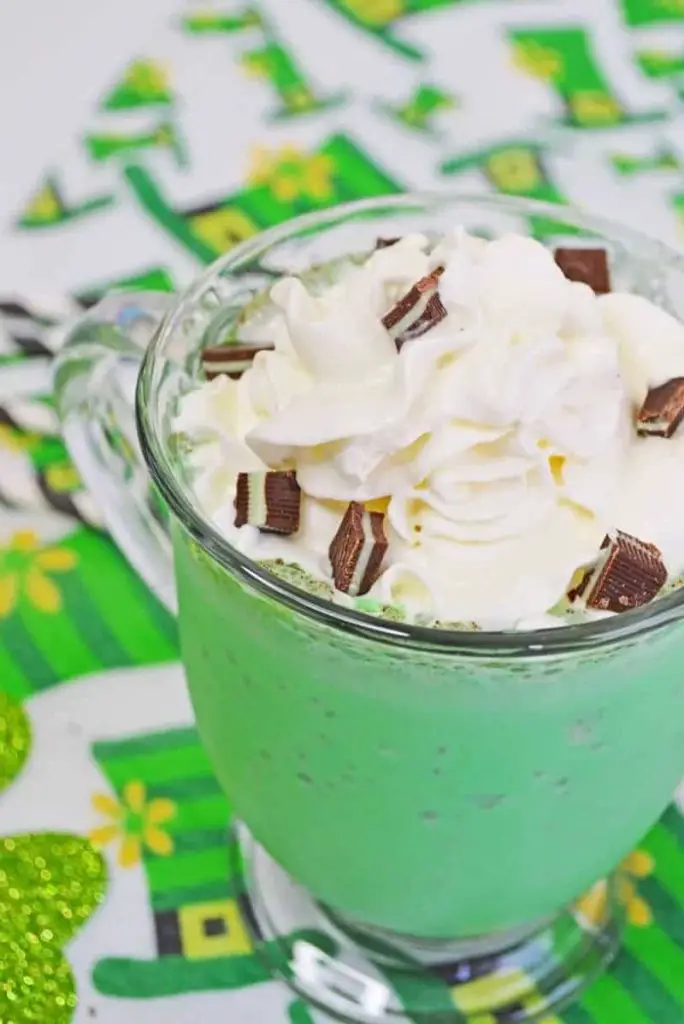 MINT CHIP COOKIETINI RECIPE from Snappy Gourmet
My daughters are in Girl Scouts so I had to include this Thin Mint inspired cocktail in my St Patrick's Day roundup! It's from Snappy Gourmet and it looks pretty easy to make. Click here for the recipe.
MINTY SHAMROCK VEGAN SMOOTHIE from Just Beet It
For my vegan friends, this one is for you and from the looks of it, it's the best vegan shamrock smoothie out there when it comes to St. Patrick's Day drinks. Plus there's tons of fiber and the beautiful green color is all natural. Check out Just Beet It for the recipe.
Dirty Irishman Cocktail from Aspiring Winos
Anything with Bailey's Irish Cream makes my mouth water. This cocktail is for you if you have a sweet tooth like me. Find the cocktail recipe right here.
Frozen Grasshopper Cocktail from Basil & Bubbly
I love the brilliant green in this festive cocktail. The blogger said it's inspired by a drink she had in Charleston. Think of it as mint chocolate ice cream with an adult twist. Click here for the recipe.
Whatever you end up doing I hope the luck 'o the Irish is with you this March 17th!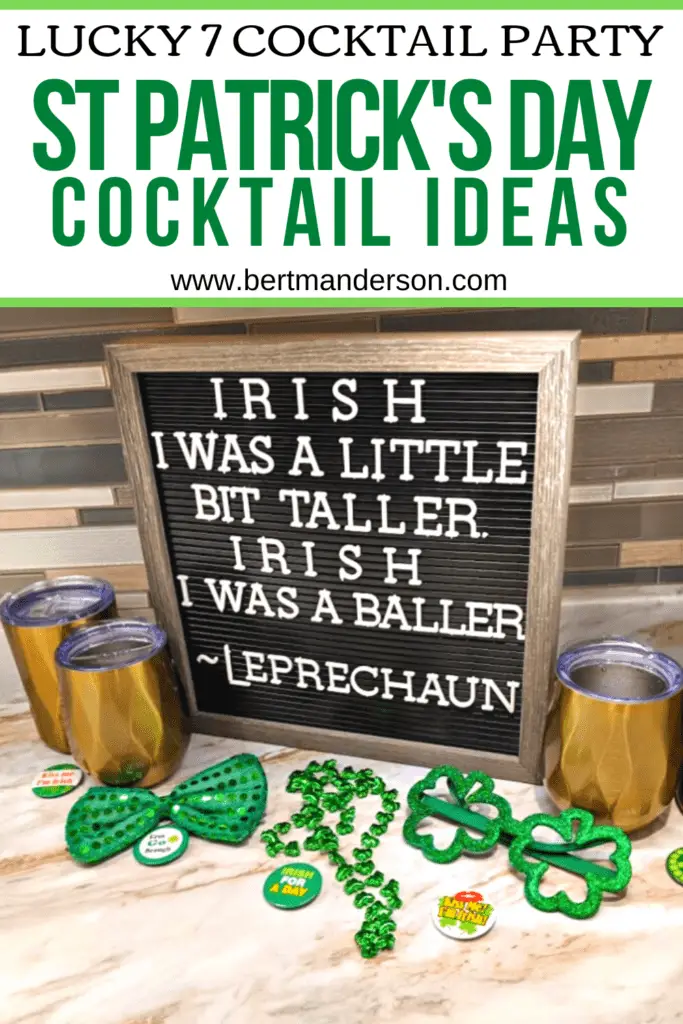 As the creator of the lifestyle blog and book, Me Before Mom, Bert supports millennial moms facing the challenges and changes of motherhood. Me Before Mom is an online community that offers support through real life stories, encouraging advice, and answers to questions about how a woman maintains herself during this self-sacrificial time of parenthood. Stories from Bert Anderson have helped women across the globe through the Huffington Post, Today's Parent, and on the Harry show. Whether weathering the first year of motherhood or walking through the later stages of motherhood, Bert has helped many continue to find herself while still in the throes of motherhood. Purchase your copy of Me Before Mom: Putting Your Oxygen Mask on First today!