Being A Single Car Family in the Suburbs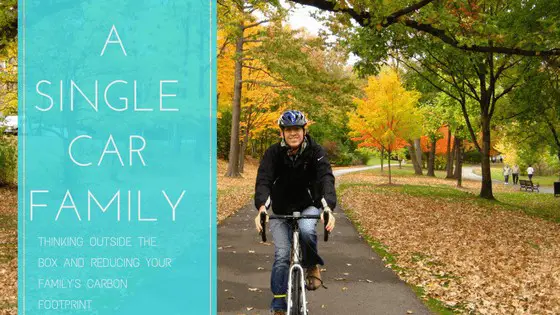 We are a participant in the Amazon Services LLC Associates Program, an affiliate advertising program designed to provide a means for us to earn fees by linking to Amazon.com and affiliated sites.
As an Amazon Associate I earn from qualifying purchases.
Have you considered your family's environmental impact? What about being a single car family? One way my family goes green is by being a single car family. Hopefully, our story helps inspire you to get creative about living a more sustainable lifestyle.
Being a Single Car Family in the Suburbs – Our Story
Truth be told we started off as a single car family out of necessity. Shortly after getting married, we moved to Boston where my husband started a graduate program. We experienced a lot of sticker shock moving from the Midwest to the East Coast. It was clear that having more than one car simply wasn't in the cards financially. Luckily we lived close to campus so I could drive to work while hubs walked to class.
When it comes to city living having a car is often more of a hassle than an asset. Parking and insurance are EXPENSIVE and traffic is ANNOYING. In many cases driving to work is actually the slowest way to get there. When hubs and I moved away from campus he started commuting on his bike and soon he was hooked!
Ten years and two moves later we're still a single car family, now by choice, not out of necessity. Being back in the Midwest, most families in our community have two cars. In fact, most of our friends and neighbors have a hard time imaging life without their family's two cars and we would too if we had not experienced city-living.
How to make having one car work for your family
We have to make intentional lifestyle choices to be a single car family in our college town setting. First, when looking for a house, considering my husband's bike commute to work was a top priority. Living closer to downtown makes biking accessible for the entire family. Sometimes on the weekends we actually go car-less and opt to bike on family outings inside of driving.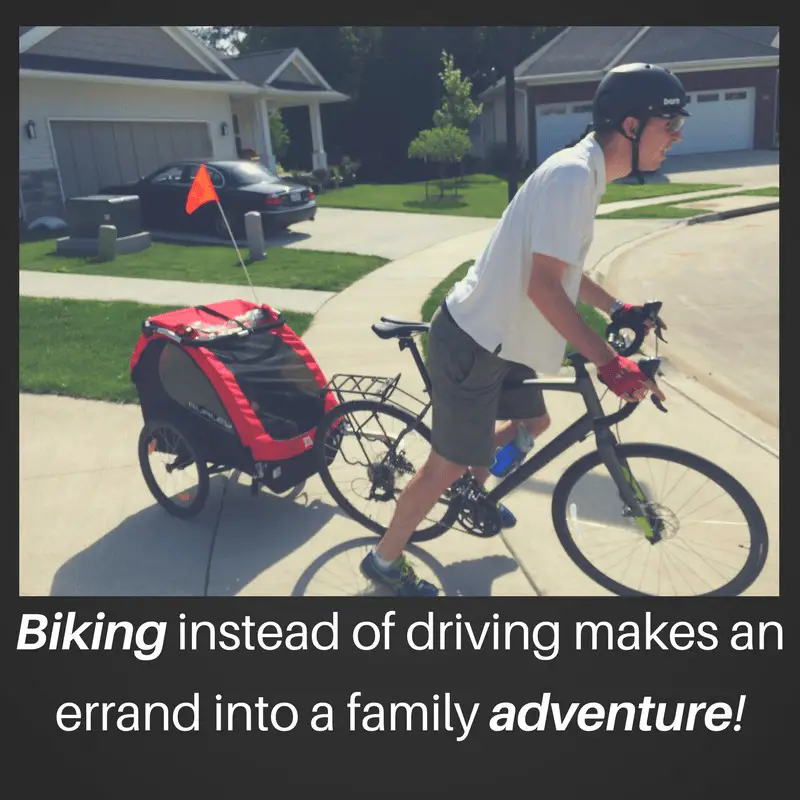 Being a single car family forces us to be efficient with how we use our one car. In general, we keep a fairly simple family schedule so we're not having to haul folks off to too many different places. If we do have schedule conflicts they're easily resolved by carpooling, taking the bus, or occasionally catching an Uber.
What products should you buy if you want to be a single car family?
Pannier – A pannier is a bag that's designed to carry breakable items such as laptop, tablet, groceries, etc on your bike rack. The best panniers are shaped to avoid heel strike (hitting the bag with the back of your shoe as you pedal) and made to keep the load's center of gravity low.
What about having to bike in bad weather?
Saving money by not having a second car gives hubs the green light to buy the bike gear needed for a safe and comfortable ride. For example, this winter hubs' fat tire bike made riding in on snowy days fun… and a real workout! Sunshine, rain, or snow he bikes in it all, thanks to the right bikes and a lot of great weather gear!
What are the benefits to being a Single Car Family?
Like our choice to use cloth diapers, being a single car family started out of financial necessity but soon turned into simply the better choice for us. Here are some benefits of being a single car family and the hub's bike commuting:
Financial savings

Car expenses
Insurance
Parking
Gas

Scheduling efficiency
Reduces carbon footprint
More garage space (hubs had me include this one)
Exercise (bike commuting)
Avoids sitting in traffic
I know being a single car family won't work for everyone, but we can all take steps to living a more sustainable lifestyle. There are so many ways to go green: living simply, shopping local,  buying natural, and thinking reusable are great places to start. Sometimes all it takes is a little creativity and intentional thinking about how we use our time and resources.
What steps could you and your family take to move towards a more sustainable lifestyle?