Print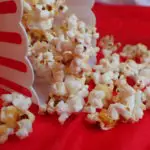 Homemade Kettle Corn
To make your own kettle corn you only need a few basics. If you do not have an oil popcorn maker you can make kettle corn right on the stove with a large pot and lid right on your stove top. This easy project is sure to get the kids excited if you let them join you and watch the popcorn pop.
Large pot with lid

2

tbsp

Cooking or popcorn oil

3

tbsp

Popcorn kernels

1/2

cup

sugar

1/4

teaspoon

salt
Place your pan on the stove over medium heat.

Place three popcorn seed in the bottom of the pan. Add enough oil to cover the seeds.

Dump in the salt and sugar. Stir until the oil heats enough to pop one of the seeds.

Fill a single layer of seeds along the bottom of the pan.

Place the lid over the top of the pan and gently shake the pan as it heats.

Continue to shake as the popcorn pops stopping for a few seconds here and there to help keep the temperature.
Want an extra sweet kettle corn? Add more sugar. Like a bit of a salty kick to your sweet and salty kettle corn add more salt. The best part about homemade kettle corn is you can make it the way you like.