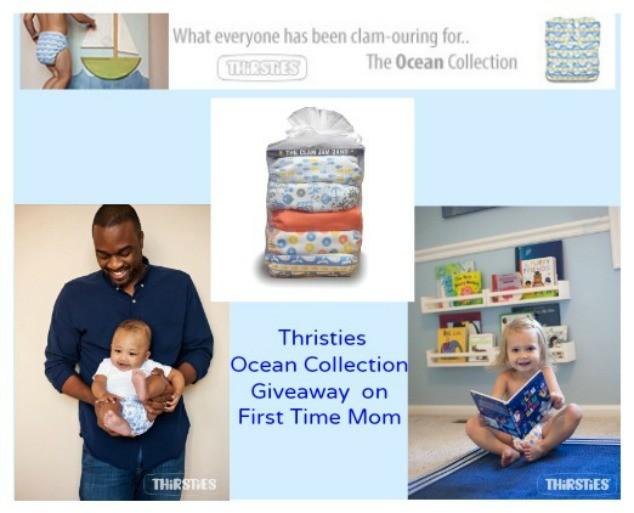 It's no secret that I'm a big fan of Thristies! Well friends, they wowed me again with their new Ocean Collection. This nautical line up features two new colors: coral and fin, and five adorable prints: school of fish, sand dollar, silver dollar, whale tale, and ocean life. I love that Thristies new colors and prints adorable and pleasantly gender neutral. These sea-loving colors and prints are available in Thristies' One Size All in One diaper, One Size Pocket diaper, and Duo Wrap.
But wait there's more! Thristies also commissioned a children's book to accompany the Ocean Collection. The Clam Jam Band written by Amiee White Beazley and illustrated by Riley Hutchens, is a rhyming delight of ocean fun. The book is included in the Ocean Collection Packages and is also available for individual sale at Thristies' many wonderful retailers.
The Ocean Collection Packages are a real treat. There are two packages available: Ocean Collection Coral and Ocean Collection Fin. Each is pleasantly gift wrapped and includes five diapers as well as a copy of The Clam Jam Band. It's the perfect baby shower gift! Retailing much less than the cost of individual diapers, the Ocean Collection Packages are a great deal.
Duo Wrap $66.25
One Size AIO $98.75
One Size Pocket $103.75
I love Thristies new One Size All in One Diaper and coral is the perfect color to brighten up any winter day so one lucky First Time Mom reader will win an Ocean Collection Coral Package of One Size All in Ones! Simply fill out the giveaway form below for your chance to win. Thank you Thristies for creating these fun new colors and prints and for sharing the cloth diapering love with our readers! Happy cloth diapering!
Winner will be contacted via email and will have 48 hours to claim their giveaway prize. Failure to contact First Time Mom to claim prize will result in a redraw. First Time Mom is not responsible for prize fulfillment.  
As the creator of the lifestyle blog and book, Me Before Mom, Bert supports millennial moms facing the challenges and changes of motherhood. Me Before Mom is an online community that offers support through real life stories, encouraging advice, and answers to questions about how a woman maintains herself during this self-sacrificial time of parenthood. Stories from Bert Anderson have helped women across the globe through the Huffington Post, Today's Parent, and on the Harry show. Whether weathering the first year of motherhood or walking through the later stages of motherhood, Bert has helped many continue to find herself while still in the throes of motherhood. Purchase your copy of Me Before Mom: Putting Your Oxygen Mask on First today!