I'm a major STAR WARS fan; you probably know this but in case you didn't I'm gonna tell you again. I LOVE STAR WARS!!!! I am so excited about the new Han Solo movie SOLO A STAR WARS STORY. Have you seen the SOLO movie trailer? When ROGUE ONE was released in 2016, I was apprehensive to see if Lucasfilm and Disney could pull off a STAR WARS film that was not part of the original saga (if you don't get what I'm talking about, the original STAR WARS saga consists of the original films, the prequel movies that star Ewan McGregor and Natalie Portman and the newly released films). I was really impressed with ROGUE ONE and surprised by the film. After seeing the teaser trailer for SOLO: A STAR WARS STORY, I'm confident that the film will live up to its STAR WARS affiliation. Let's watch this Han Solo movie, SOLO: A STAR WARS STORY movie trailer shall we?
SOLO A STAR WARS STORY Movie Trailer
Board the Millennium Falcon and journey to a galaxy far, far away in SOLO: A STAR WARS STORY, an all-new adventure with the most beloved scoundrel in the galaxy. Through a series of daring escapades deep within a dark and dangerous criminal underworld, Han Solo befriends his mighty future copilot Chewbacca and meets the notorious gambler Lando Calrissian, in a journey that will set the course of one of the Star Wars saga's most unlikely heroes.

The film stars Alden Ehrenreich, Woody Harrelson, Emilia Clarke, Donald Glover, Thandie Newton, Phoebe Waller-Bridge and Paul Bettany.
Initial Thoughts on the Hans Solo Movie SOLO A STAR WARS STORY.
Now that we've watched the Han Solo movie trailer let's digest some of it. Like I said, never doubt Lucasfilm and Disney. It'll be a good film, trust me. If there's one thing I know about this company it's that they strive for perfection every single time. Sure, there'll be some fans who disapprove but it's entertaining. It's supposed to be fun. Yes, STAR WARS is life but is it really life? Anyway, I am so stoked after watching the SOLO trailer. May 25th can't come fast enough. Here are my initial thoughts after watching the trailer:
It's weird to see Han with someone other than Leia but I like Emilia Clarke.
Who does Woody Harrelson play in the Han Solo movie, SOLO: A STAR WARS STORY? 
There's something that I just love about Woody Harrelson's voice. Harrelson plays a character named Beckett.
Who plays Han Solo in SOLO: A STAR WARS STORY?
Alden Ehrenreich can do this role. I wasn't sure at first but I think he may have the swagger to fill Harrison Ford's shoes.
Look at that new, clean Millennium Falcon in the SOLO: A STAR WARS STORY.
Is Lando Calrissian in the new Han Solo movie?
Yes, and he's played by Donald Glover in the 2018 STAR WARS movie, SOLO A STAR WARS STORY. I really want to see how Solo and Lando Calrissian get to the point where we see them in EMPIRE STRIKES BACK. They seem chummy in the trailer but you can sense the tension in the air. Something tells me that we'll get to know these two galaxy smugglers very well.
Is Chewbaca in the new Han Solo movie, SOLO: A STAR WARS STORY?
Yes and we know how old Chewbaca is…CHEWY IS 190 YEARS OLD?! Let that one sink in. It looks like Chewy has a girl Chewy! Awe love for the big furry guy is a good thing.
Who directs SOLO: A STAR WARS STORY?
Ron Howard. I repeat Ron Howard. After several directorial changes on the Han Solo STAR WARS film, a final director was finally settled and it is Ron Howard. Phil Lord and Chris Miller both took stabs at directing SOLO: A STAR WARS STORY, however, it wasn't a good fit so Oscar winning director, Ron Howard, was vetted and signed on. Both Lord and Miller have received executive producer credits on SOLO: A STAR WARS STORY.
What is the movie poster for SOLO: A STAR WARS STORY?
Here is it, the fabulous, vintage looking movie poster for the Han Solo movie, SOLO: A STAR WARS STORY! I love it and I am so excited for the new STAR WARS film!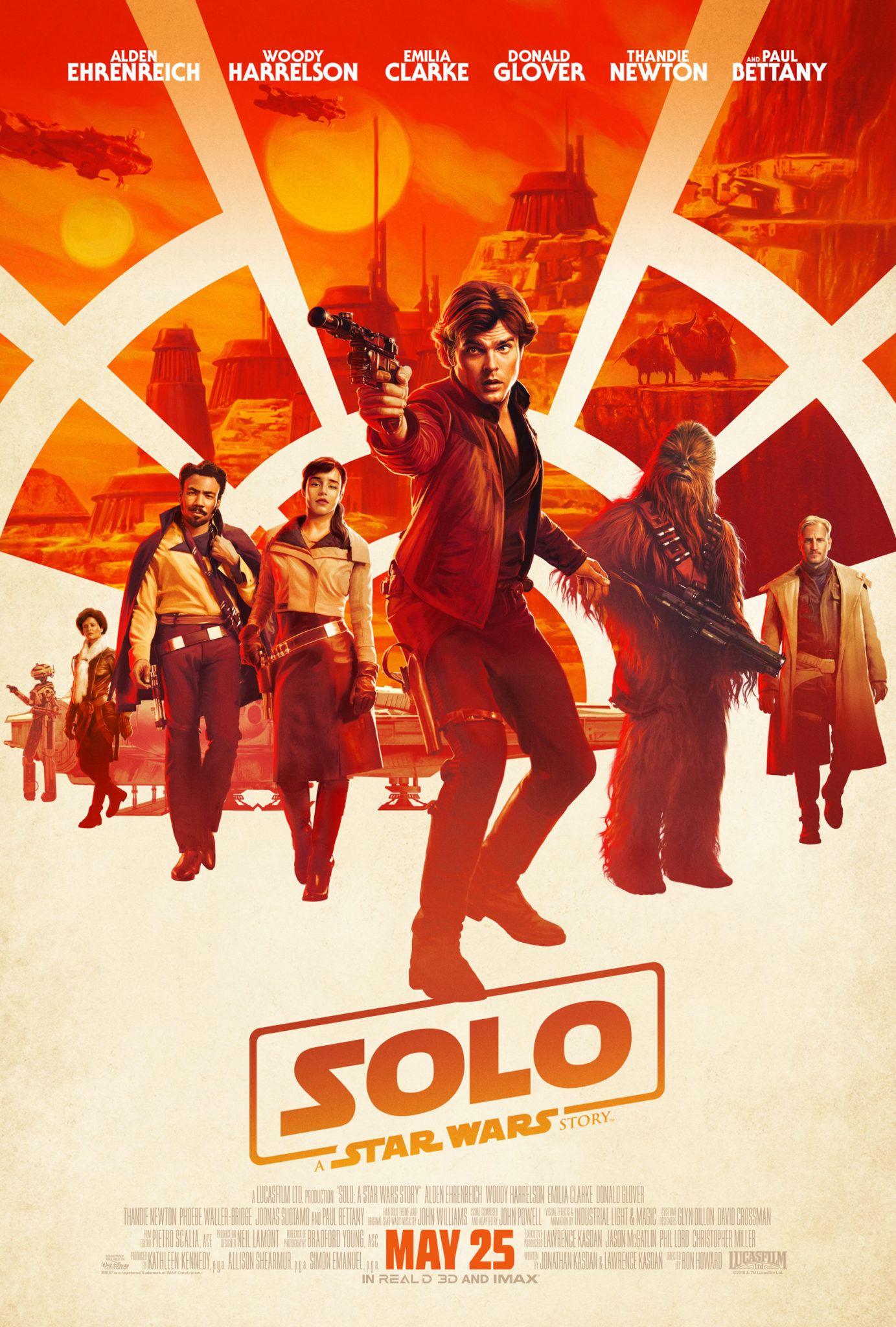 Follow SOLO: A STAR WARS STORY
#HanSolo
Like STAR WARS on Facebook: https://www.facebook.com/starwarsmovies/
Follow STAR WARS on Twitter: https://twitter.com/starwars  
Follow STAR WARS on Instagram: https://www.instagram.com/starwars/ 
SOLO: A STAR WARS STORY opens in theatres everywhere on 
May 25th

!
Bert Anderson is a blogger and social media manager mom of three living outside of the Twin Cities in Minnesota. She's the author behind the blog First Time Mom, where she honestly chronicles the peaks and valleys of parenting. Even though she has more than one child, Bert maintains that whether you have one child or 19, there's a first time for everything. She's a lover of coffee, conversations, pop culture, healthy living and fitness.