This shop has been compensated by Collective Bias, Inc. and its advertiser. All opinions are mine alone. You must be 21+ years old to try Poise Impressa Bladder Supports. #LifeAfterLeaks #CollectiveBias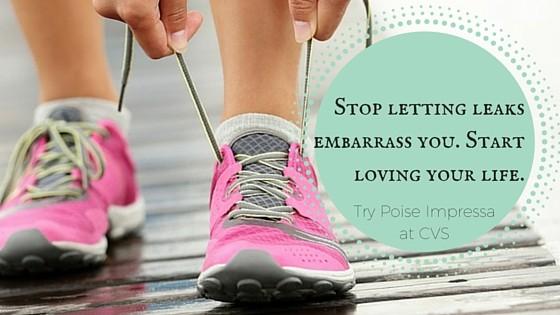 In just one week my feet will be hitting the pavement in a 10k race. Am I ready for it? Maybe. I don't think I will be running the entire time. One thing I am sure of? I won't smell like pee afterwards and that's because I've found a little product. I'm dying to tell you about it.
I'm going to level with you though. When the opportunity first came to me to review Poise Impressa I had to think long and hard about it. What exactly is it? Poise makes pads and I know this because I've used them when I was pregnant and had a cold. What makes Poise Impressa different from those pads I used so many times during pregnancy? Okay I'm going to backtrack a little bit so you can understand why I was even remotely interested in Poise Impressa.
You see, ever since I had children I cannot jump, dance (the kind that has lots of jumping and hopping) or run without experiencing Stress Urinary Incontinence. You know that annoying leak of urine that's just enough to make you smell but not enough to really be noticeable to the entire group fitness class? Yeah I totally have that going on; it's annoying but I just figured it's the way things had to be. I certainly wasn't going to wear a pad while I worked out, I don't even wear pads when I'm menstruating. I just figured I'd go about the rest of my life making due: staying away from trampolines with my kids, making certain I'm wearing black pants when I workout or run and always have a change of undergarments with me if I'm at a comedy club and plan on laughing a lot.
That's where Poise Impressa comes in. The way it works is it's inserted into the vagina, the same way you'd insert a tampon, only it's not a tampon. It's not even meant to absorb urine. What it does is it gently lifts and supports the urethra prevents urine from leaking when you're involved in those activities that usually cause leakage. The Poise Impressa is made out of medical-grade silicone that's flexible so it moves with our body as you exercise (squats anyone?) and is covered with non-absorbent polypropylene that's soft; it also has a string attached so it's easy to remove.
You'll want to purchase the Poise Impressa Starter Kit first and lucky for you it's available at CVS stores nationwide as well as online. There are three sizes that the Impressa comes in; determining a size has nothing to do with your age, weight, height, etc. It's all based on how Impressa works for you. Start with Size 1 (it's blue). Insert Size 1 the way you would a tampon, go about your daily life and if you don't experience any leaks then you've found your fit. If you do, however, experience leaks don't get discouraged just move up to Size 2 (red) and then if necessary you can move up to size 3 (green). Once you've found the size that works best for you, you can purchase that size at your local CVS store. I've even got a handy little coupon for a $1 off a Starter Kit at CVS available until they've run out; click here.
I plan on using Poise Impressa when I'm working out and when I'm training for a race. I can leave it in for a maximum of eight hours within a 24-hour timeframe. I can even go to the bathroom with it in if I need to (and I have). It's designed support the urethra, not block it, so you're still able to go if you need to. You cannot use Impressa if you are pregnant or are menstruating and it is not recommended for anyone under the age of 21.
Fingers crossed that I'm not horrifically slow during my race next weekend. At least I won't smell like pee, right? What have you done about your leaks while exercising?
For more information on Poise Impressa visit their website, Twitter, and Facebook.
As the creator of the lifestyle blog and book, Me Before Mom, Bert supports millennial moms facing the challenges and changes of motherhood. Me Before Mom is an online community that offers support through real life stories, encouraging advice, and answers to questions about how a woman maintains herself during this self-sacrificial time of parenthood. Stories from Bert Anderson have helped women across the globe through the Huffington Post, Today's Parent, and on the Harry show. Whether weathering the first year of motherhood or walking through the later stages of motherhood, Bert has helped many continue to find herself while still in the throes of motherhood. Purchase your copy of Me Before Mom: Putting Your Oxygen Mask on First today!