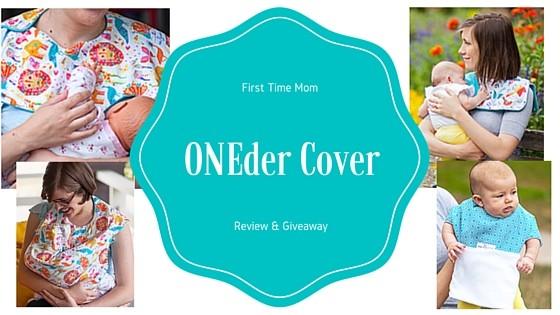 Moms should be comfortable breastfeeding their babies when ever and where ever they wish. For me personally that involves using a nursing cover when I'm breastfeeding in public. The problem is starting around four months my babies become fidgety while nursing. Conventional covers that cover me while completely encompassing baby start to become a real nuisance. Enter the ONEder Cover!
Overview The ONEder Cover is a breastfeeding cover that is also a burp cloth, bib, wearable baby blanket for stroller rides, seat cover, and smock for toddlers through adults. How can one item achieve all these uses? The ONEder Cover's patent-pending design includes strategically cut fabric with a variety of snap closures that can be configured for different uses. It is also the only nursing cover I've seen that can be used for full coverage of mom and baby or used to cover mom without covering  baby.
The ONEder Cover's creator, Amber Elbon, says, "The ONEder Cover is a product I designed for babies like mine. Babies who are wiggly. Babies who are curious. Babies who want to nurse everywhere. And for mothers! Mothers who want a cover that can actually keep them covered when and where they want. Mothers who also want a cover that can still be used when they stop breastfeeding (or stop covering up while nursing.) Mothers who want to streamline the diaper bag and have fewer things to pack before heading out of the house."
The ONEder Cover is CSIPA complaint and made of designer quilting cotton on the front and soft cotton velour on the back. It is available in two colors retailing $39.00 each and two stylish prints for $42.99 each.
Nursing Cover Configurations Being such a unique design, I found using the ONEder Cover takes some figuring out and a little practice. There are nine ways to use it as a nursing cover. The best way to learn is to see it yourself so check out the video below:
I'm a visual learner so I've broken down these nine different configurations, snap by snap. First for a frame of reference let's check out those snaps.
1. Apron Configuration– Snap interior neck snaps and simply drape over baby. The benefits of this configuration is that it's easy to put on and there are no peep shows up top. There is little side coverage and you have to pull out the fabric at the neck to peak at baby.
2. Shoulder Mini View– Snap interior neck snaps and snap the exterior shoulder snap  chest snap on the side where you are nursing. This configuration has easy set up, great top coverage, and a small discrete window to view baby. Like the Aprin Cover this configuration has little side coverage.
3. Shoulder Large View– Snap interior neck snaps. Snap exterior shoulder snap with lap snap on the side that you're nursing. Pull bottom crease of fabric up to create a large viewing window. With this configuration it's easy to view baby while maintaining good top and front coverage. While it takes a bit more set up, if this is your preferred configuration you could store the ONEder Cover snapped and folded as is.
4. Shoulder Drape Large View-Snap interior neck snaps and drape the ONEder Cover over the shoulder on the side that you're nursing. Then snap exterior shoulder snap that is now laying on your chest with the lap snap.  All Shoulder Drape configurations have good side coverage with some back coverage. This configuration has easy viewing for mom with less fabric on baby.
5. Peak a Boob– (Sorry I couldn't help myself with the name of this configuration!) Use the same snapping as the configuration above but lay baby on top of cover. Mom is covered but there is no fabric on baby. You'd have to be sneaky to get baby latched in this cover configuration without giving anyone a quick peep show.
6. Shoulder Drape Open– Snap interior neck snaps and drape the ONEder Cover over the shoulder on the side that you're nursing and leave open. The strategically cut fabric covers mom while leaving baby uncovered. This configuration works well for Little Girl because it provides good side coverage but isn't covering her. You can discreetly latch baby in Apron Configuration and then slide the front fabric over your shoulder.
7. Shoulder Drape Mini View Snap interior neck snaps and drape the ONEder Cover over the shoulder on the side that you're nursing. Snap the exterior shoulder and corresponding chest snap. This provides some additional front coverage while creating a small window to view baby and putting little fabric on baby.
8. Hanging Shoulder Drape Large View With fabric draped over the shoulder snap front interior neck snap with the lap snap on other side of cover. This creates a sizable viewing window for mom and little tent for baby's head.
9. Sleeve Configuration– Fasten interior neck snaps. Then fasten exterior neck snaps to create a sleeve opening. Put arm through sleeve opening. This gives you full side and back coverage which is great if you have to lift your shirt up from the bottom.
To see other ways you can use the ONEder Cover look check out Amber's video below and be sure to follow Milk and Sugar on social media.
The ONEder Cover is so versatile! One lucky First Time Mom reader will win her choice of "coin" or "venus." Simply fill out the giveaway form for your chance to win.
Wife, work at home mom, and bassoonist, Laura Ankrum lives in Iowa City, Iowa. Prior to the arrival of her two children Laura taught elementary music and band in the Boston area. Now her home is her classroom and music studio. Laura is passionate about education, encouraging other moms, and eco-friendly living. She is the social media coordinator at Thirsties Inc and regularly contributes to First Time Mom.