"Your mother was a great inventor." That's the one line that stood out to me as I watched the newly released trailer for Disney's THE NUTCRACKER AND THE FOUR REALMS. Girl power is highlighted again. It's a great time to be a woman; the entertainment industry is setting the tone and that means that society will hopefully follow suit. More than that I'm excited because as a mother of two girls, I'm happy that they're seeing strong female leads who can hold their own. Check out the new trailer and poster for THE NUTCRACKER AND THE FOUR REALMS and let me know what you think.
THE NUTCRACKER AND THE FOUR REALMS Trailer and Movie Poster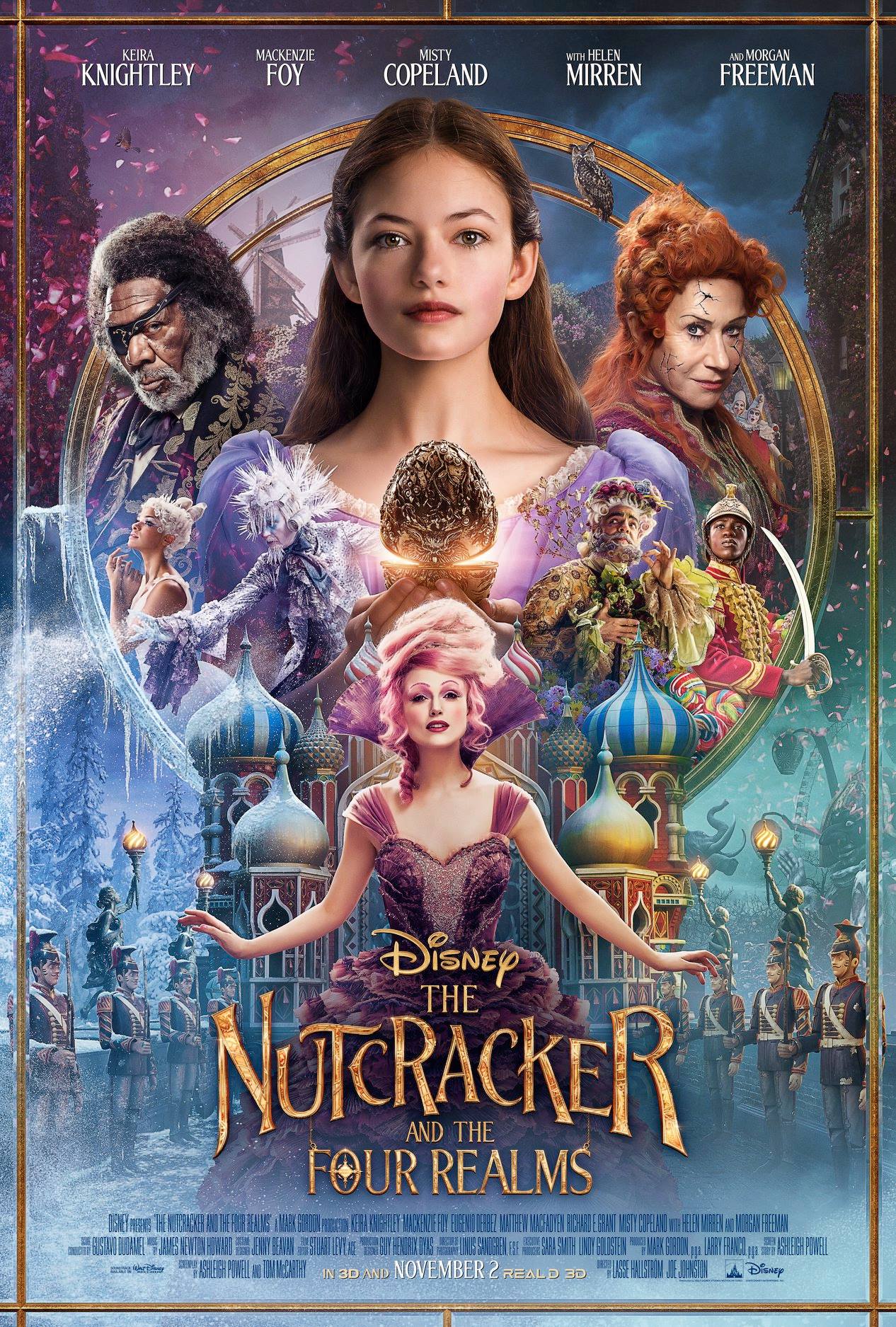 What is THE NUTCRACKER AND THE FOUR REALMS about?
All Clara (Mackenzie Foy) wants is a key – a one-of-a-kind key that will unlock a box that holds a priceless gift. A golden thread, presented to her at godfather Drosselmeyer's (Morgan Freeman) annual holiday party, leads her to the coveted key—which promptly disappears into a strange and mysterious parallel world. It's there that Clara encounters a soldier named Phillip (Jayden Fowora-Knight), a gang of mice and the regents who preside over three Realms: Land of Snowflakes, Land of Flowers and Land of Sweets. Clara and Phillip must brave the ominous Fourth Realm, home to the tyrant Mother Ginger (Helen Mirren), to retrieve Clara's key and hopefully return harmony to the unstable world. Starring Keira Knightley as the Sugar Plum Fairy, Disney's new holiday feature film "The Nutcracker and the Four Realms" is directed by Lasse Hallström and Joe Johnston, and inspired by E.T.A. Hoffmann's classic tale.
What we learn now in this new trailer is that Clara's mother created the world The Nutcracker takes place in. She has passed away recently, it's Christmastime, and Clara doesn't feel like enjoying Christmas. Drosselmeyer (played by the incredibly talented Morgan Freeman) stands as a guide for Clara and she must save her mother's world.
THE NUTCRACKER AND THE FOUR REALMS cast
Keira Knightley (The Sugar Plum Fairy)
Mackenzie Foy (Clara)
Eugenio Derbez (Hawthorne)
Matthew Macfadyen (Mr. Stahlbaum)
Richard E. Grant (Shiver)
Miranda Hart (Dew Drop Fairy)
Sergei Polunin
Jayden Fowora-Knight (Philip)
Omid Djalili (Cavalier)
Jack Whitehall (Harlequin)
Meera Syal
Ellie Bamber (Louise)
Misty Copeland (The Ballerina)
Helen Mirren (Mother Ginger)
Morgan Freeman (Drosselmeyer)
THE NUTCRACKER AND THE FOUR REALMS Teaser Trailer
To be honest, I wasn't sure how Disney was going to create a new story from an old classic. I know, silly old me, this is what Disney does. They really do re-invent the wheel; every time I question whether or not they can deliver, they exceed my expectations.
Here's the first trailer that came out for the film in December 2017.
Follow THE NUTCRACKER AND THE FOUR REALMS
#DisneysNutcracker
THE NUTCRACKER AND THE FOUR REALMS opens November 2nd, 2018!
Bert Anderson is a blogger and social media manager mom of three living outside of the Twin Cities in Minnesota. She's the author behind the blog First Time Mom, where she honestly chronicles the peaks and valleys of parenting. Even though she has more than one child, Bert maintains that whether you have one child or 19, there's a first time for everything. She's a lover of coffee, conversations, pop culture, healthy living and fitness.